MATHS - Liverpool Counts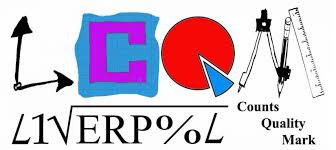 Our school has successfully achieved the Gold Award Liverpool Counts Quality Mark, which aimed to promote a positive attitude towards maths and show how important maths is in school and at home. We achieved this thanks to the support of the children, parents/carers and teachers.
We love maths! Maths is fun!
We will update our website about how we use and learn maths, showing you the different learning activities from across the school. Click the links below to find out more.
Maths at Home
There are a wide variety of resources for families to use to support children at home. Some can be found on the following links.
Supporting your child with maths at home
Cbeebies Numberblocks https://www.bbc.co.uk/cbeebies/shows/numberblocks
https://www.oxfordowl.co.uk/for-home/advice-for-parents/maths-at-home/maths-skills-ages-5-6/
https://www.topmarks.co.uk/maths-games/5-7-years/counting
http://www.mathematicshed.com/maths-at-home-shed.html
Numberjacks videos https://www.youtube.com/channel/UCWKuiktSh-V3E4ysPU0VC3Q/videos
Jack Hartman number videos Jack Hartman
Family Maths Toolkit
"Helping children improve their everyday maths"
The Family Maths Toolkit is full of ideas to help parents, families and children aged 13 and under enjoy everyday maths activities together.
http://www.familymathstoolkit.org.uk/
The site also offers resources to help teachers support family engagement with children's maths learning.
Money Matters
Understanding money and personal finance is a really important ability to have achieved in life.
The 'Personal Finance Education Group' https://www.pfeg.org/ are a registered charity whose aim, in their own words is, "We are here to help those teaching young people about money. We empower young people to develop financial skills in preparation for work and life".
They produce 'Get Money Smart' posters which you can download from the section below.