MATHS - Liverpool Counts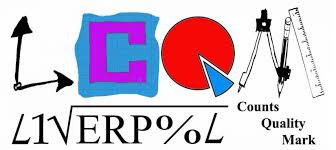 Last year, our school successfully achieved the Gold Award Liverpool Counts Quality Mark, which aimed to promote a positive attitude towards maths and show how important maths is in school and at home. We achieved this thanks to the support of the children, parents/carers and teachers.
Have a look at all the different projects that we were involved in and we hope to be involved in similar events this year.
We love maths! Maths is fun!
We will update our website about how we use and learn maths, showing you the different learning activities from across the school. Click the links below to find out more.
Events Celebrating Maths/Maths Games Afternoon
Maths Hub and Outdoor Learning
Maths at Home
There are a wide variety of resources for families to use to support children at home. Some can be found on the following links.
Supporting your child with maths at home
Cbeebies Numberblocks https://www.bbc.co.uk/cbeebies/shows/numberblocks
EYFS https://padlet.com/jholder_llp/EYFSathome
KS 1 https://padlet.com/jholder_llp/ks1athome
https://www.oxfordowl.co.uk/for-home/advice-for-parents/maths-at-home/maths-skills-ages-5-6/
https://www.topmarks.co.uk/maths-games/5-7-years/counting
http://www.mathematicshed.com/maths-at-home-shed.html
Numberjacks videos https://www.youtube.com/channel/UCWKuiktSh-V3E4ysPU0VC3Q/videos
Jack Hartman number videos Jack Hartman
Family Maths Toolkit
"Helping children improve their everyday maths"
The Family Maths Toolkit is full of ideas to help parents, families and children aged 13 and under enjoy everyday maths activities together.
http://www.familymathstoolkit.org.uk/
The site also offers resources to help teachers support family engagement with children's maths learning.
Money Matters
Understanding money and personal finance is a really important ability to have achieved in life.
The 'Personal Finance Education Group' https://www.pfeg.org/ are a registered charity whose aim, in their own words is, "We are here to help those teaching young people about money. We empower young people to develop financial skills in preparation for work and life".
They produce 'Get Money Smart' posters which you can download from the section below.
Developing Maths Eyes - Resource pack
This pack is a resource to help bring the "real world" into maths. It is a collection of ideas to adapt and build on for use with all age groups. The resource can be downloaded in the section below.
Developing Maths Eyes Means:
New ways of looking at familiar things

New ways of considering familiar things

New insights into our daily lives, leisure and work

New approaches to teaching and learning
Structure of the Resource Pack
The resource pack includes 6 Maths Eyes Posters as example of "Real World" starting points for introducing mathematics.
Six Maths Problem Posters
Gingerbread men

Hopscotch

Mosaic Floor

Footpath

Airport

Butcher Shop window
The pack can be used with adult learners and includes a number of activities for parents or guardians of children to work together to develop their Maths Eyes.
Developing Maths Eyes Download