English:
Lesson 1
In class we are learning about noun phrases. A noun phrase is part of a sentence which has a noun and one or two adjectives to describe it. For example, the black, fluffy dog.
We have been looking at this image.
We wrote down the nouns (the words that name things) that we could see.
the boat
the horse
the fox
the scarecrow
What else can you spot in the picture?
If you are having trouble seeing the details in the picture, look at a picture from a book you have got at home or choose some toys.
Next we need to think about adjectives to describe each noun. We are going to try to be really clever and think of two adjectives for each noun.
the small, wooden boat
the tall, brown horse
Now you try…
the _________ , ___________ fox
the _________ , ___________ scarecrow
Have you noticed that I haven't used a capital letter or a full stop?
That is because these are not complete sentences.
Write some noun phrases about the picture or your toys.
Keep your work as you will need it for lesson 2.
Lesson 2
Well done for your noun phrase work yesterday. Today we are going to turn our phrases into sentences by adding more information. You need to look at your noun phrase work from yesterday.
The small, wooden boat sailed along the river.
The tall, brown horse ran across the field.
We have turned our noun phrases into sentences so they need a capital letter and a full stop.
Now it's your turn.
Lesson 3
Look at a picture from a story in a picture book. The setting of a story is the place where a story happens.
We are going to write a description of the setting. Make a list of nouns that you can see in the picture. Write adjectives to describe them.
Write about the setting using your noun phrases in sentences. Remember to use adjectives to describe the nouns.
Lesson 4
Choose a book from the Oxford Owls site.
Who were the characters in your book?
What was your favourite part? Why?
Have you read any other stories like this?
Phonics
We are looking at long vowels.
Watch these videos.
Can you write the words? Can you find any more?
Play buried treasure on Phonics Play
Maths:
Here you will find the maths learning for the rest of the week.
Fact families
There are 2 addition and 2 subtraction facts for each fact family in the part, part whole model.
Can you find them all?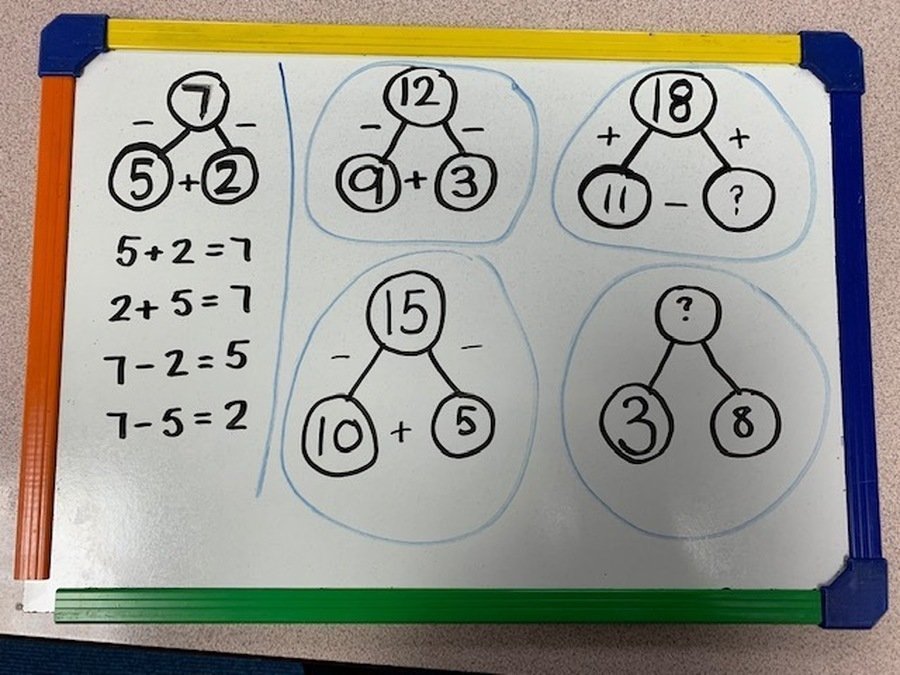 Make some of your own up for different numbers within 20.
Bonds within 10 linked to multiples of 10
Watch Bonds to 10 then write out your number bonds for 10 like this:
0 +10 = 10
1 + 9 - 10
2+ 8 = 10
3 + 7 = 10
4 + 6 = 10
5 + 5 = 10
6 + 4 = 10
7 + 3 = 10
8 + 2 = 10
9 + 1 = 10
10 + 0 = 10
Now watch the video link below which shows that if you know your bonds for 10 then this can help you to work out bonds that are multiples of 10. For example 3 + 7 = 10 so 30 + 70 = 100. Then also you can apply this so if you know 3 + 4 = 7 then you know 30 + 40 is 70.
White Rose Home Learning Bonds to 100 (tens)
If your child is not secure with their bonds to 10 then please keep practising.
Now have a go at some of you own questions similar to the model below.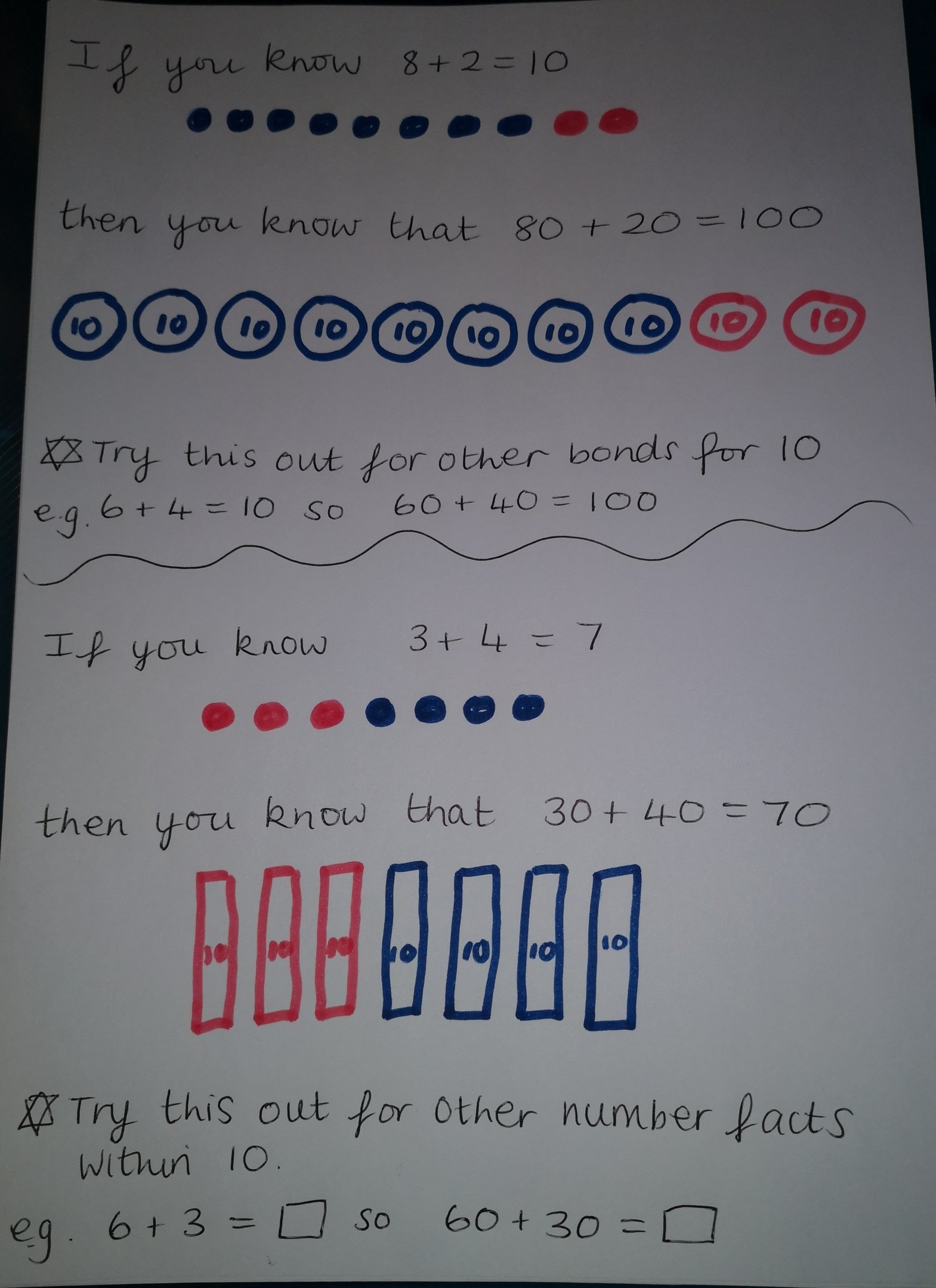 Your child may just need repetition of the above activity and practise of addition facts by drawing out the pictures. If they are secure with linking their understanding to multiples of 10 and they understand the concept then they can move on to the next step below.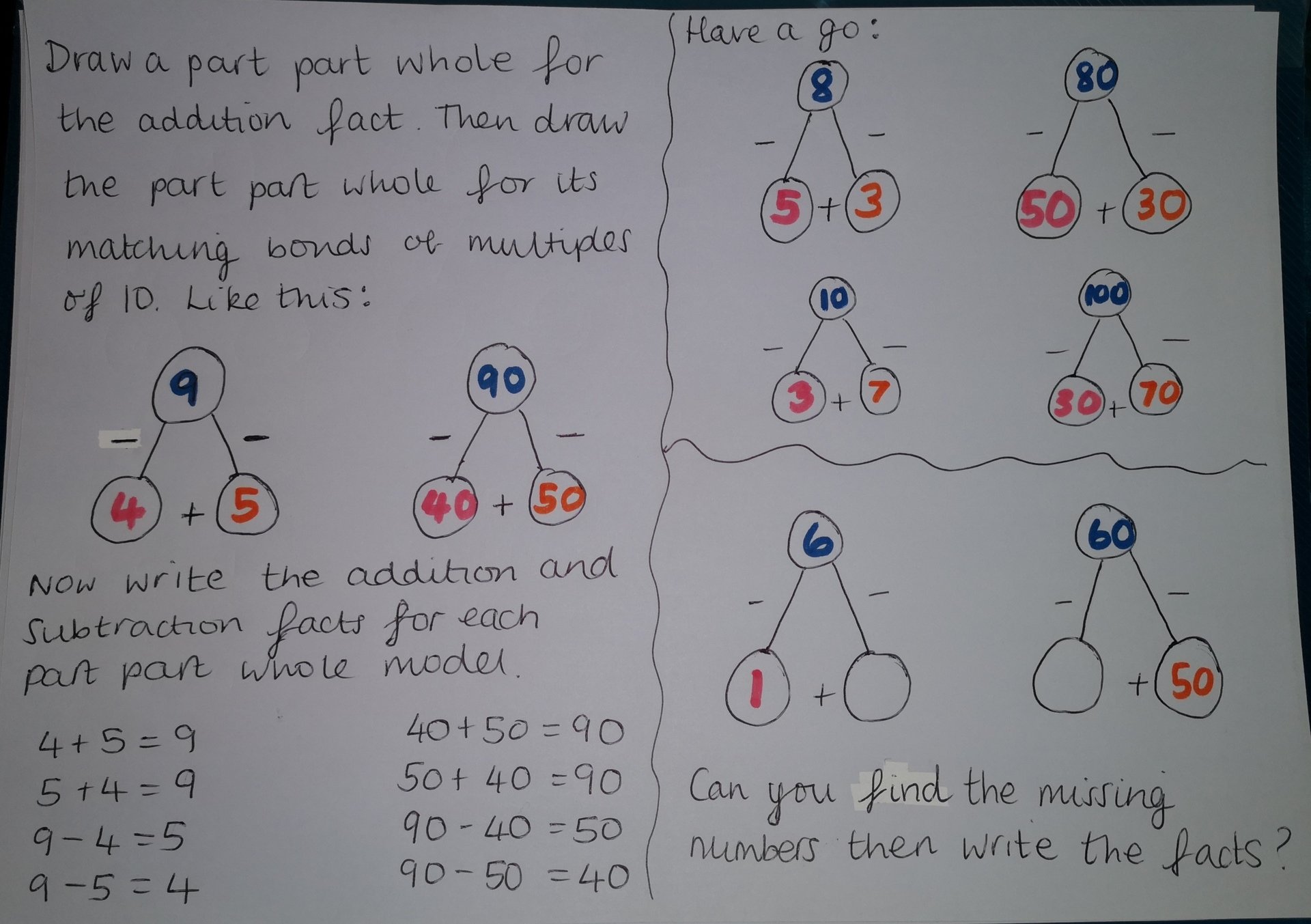 Adding and Subtracting in ones
Having a quick mental recall of one more than and one less than any given number up to 120 is very important. Children often struggle when the numbers change to the next group of tens e.g. one more than 59 is 60, and one less than 40 is 39. Lots of counting out loud will help this and using 100 squares for your child to look at.
Have fun playing this game online: one more and one less game
Now watch this video adding and subtracting ones. This will develop the skill of adding and subtracting in ones using objects and then moving to a number line.
Now practice adding and subtracting ones from different numbers. You can use objects (lego bricks or coins maybe) to make the number and then add or subtract 2, 3, 4 or 5.
Try these questions:
12 + 4 = ___ 23 + 3 = ___ 30 + 5 = ___ 46 + 3 = ___ 51 + 4 = ___
18 - 2 = ___ 27 - 3 = ___ 35 - 2 = ___ 49 - 4 = ___ 56 - 5 = ___
Challenge: Show your answer on a number line like in the video.
If you have a printer then below are some blank number lines you could use or if you don't then you could maybe draw some to help your child.