Year Two Week Beginning 13th July
Hello Year Two! We hope that you are all well and happy. We are almost at the end of your home school journey for the moment. It would be lovely if you could email your teachers this week please. We really enjoy hearing from you. By now you might have received your school report in the post and so you will know how proud we are of you all. In your envelope, you will have received a transition booklet to work through and that will be most of your home learning for this week.
Please click the link below to enjoy a weekly Collective Worship with your family.
Maths:
This is your final White Rose Maths for Year 2. You have all worked so hard with your White Rose Maths during your time in the Infant School and have learned so many maths skills to take with you to the juniors. We are so proud of you and all of your hard work.
Practical Maths:
Telling the time to five minutes
We are going to continue learning about time.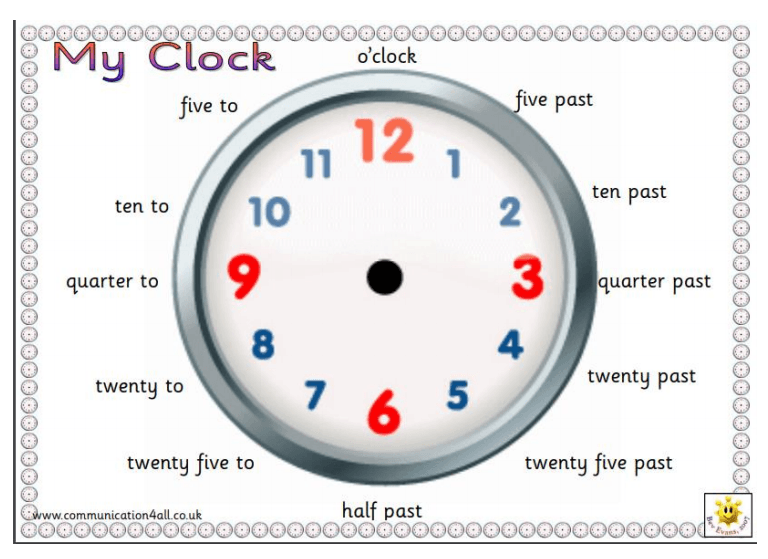 This clock shows what all the numbers on a clock mean. The minute hand tells us how many minutes past or to the hour it is. The hour hand tells us which hour it is past or to.
When the minute hand points to 1 and the hour hand is just after the 3, it is five past 3.
When the minute hand points to 5 and the hour hand is between 8 and 9, it is twenty five past 8.
When the minute hand points to 10 and the hour hand is between 6 and 7, it is ten to 7.

Look at the time on these clocks. Can you tell your grownup what time it is on each clock?
How many minutes?
How many minutes in one hour? (You can count in your 5s around the clock to work it out.)
How many minutes in half an hour?
How many minutes in quarter of an hour?
How many minutes in three-quarters of an hour?
Look at a clock or a watch (analogue) in your house.
What time is it now?
What time will it be in 20 minutes?
What time will it be in half an hour?
What time will it be in three-quarters of an hour?
What time will it be in 1 hour?
Answer these questions a few times throughout the day.
Durations of time
Write down some of the activities that you will do today then write down what time you start the activity and what time you finish (to the nearest 5 minutes). Try to include as many activities as possible. Then work out how long you spent doing each thing. You can record it in a table to make it easier as below.
| | | | |
| --- | --- | --- | --- |
| going for a walk | quarter past 10 | 11 o'clock | 45 minutes |
| drawing a picture | | | |
| eating dinner | | | |
Use the online teaching clock https://www.topmarks.co.uk/time/teaching-clock to help if you want.
Comparing duration of time
Look at your table of activities from yesterday.
Which activities were longer than half an hour?
Which activities were shorter than half an hour?
Which activity lasted the longest?
Which activity took the shortest amount of time?
Tell your grown up all the activities you recorded in order from the shortest to the longest.
Remember to practise telling the time as much as you can. The more you do it, the easier you will find it.
English:
This week in school, the children are reading a lovely book about a knight who didn't want to do what knights usually do. He had something better to do. Here is the author, Helen Docherty, reading it.
Leo met lots of other story characters along the way. Can you add another story character from a different book that you have read that Leo could meet?
Spellings:
one
won
to
too
two
Put the words into sentences. What do you notice about these words?
https://readingagency.org.uk/ has lots of resources, activities and book suggestions.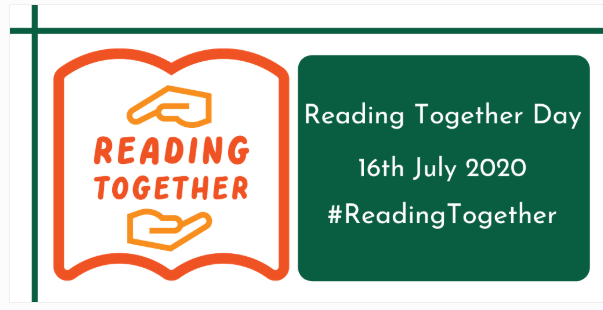 Over 15 organisations collaborating to highlight the importance of reading together.
Families invited to take part in a celebration of reading together on 16 July
Shared schedule of events throughout the day featuring collaborators across books, publishing and education sectors
Families across the country are invited to take part in the celebration of reading together on 16 July as part of the Reading Together Day, coordinated by The Reading Agency. The day will showcase a shared schedule of events featuring collaborators including Authors Aloud UK, Arts Council England, ASCEL, BookTrust, British Library, CILIP, Coram Beanstalk, Department for Digital, Culture, Media and Sport, Department for Education, Dollywood Foundation, Libraries Connected, National Literacy Trust, Open University, Pearson, Publishers Association, School Library Association and World Book Day.
As families and individuals grapple with the challenges of school changes, loss of support networks and the implementation of social distancing, the aim of the Reading Together Day is to bring families, friends, schools and wider communities together - starting conversations, sharing stories, making connections, celebrating reading and having fun. People of all ages are invited to take part in sharing the love of reading for pleasure, to help build skills, increase confidence, support educational attainment and improve wellbeing.
All collaborators will participate in a shared schedule of events, delivering a programme of activities to get everyone reading together, with the aim to reach as many families and young people as possible. More details, including the schedule of coordinated events and ambassadors taking part in the day will be announced next week.
For further information on The Reading Agency please contact Saffeya Shebli - saffeya.shebli@readingagency.org.uk
Maybe you could join their reading challenge over the summer https://summerreadingchallenge.org.uk/book-sorter
Keep a record of the books that you read. Uses these cards to help you discus your books with someone.
Science – Keeping Clean
Germs are everywhere! They are on the inside and the outside of our bodies and on everything we touch. Many of these germs are harmless but some can make us ill. When you get poorly, it is often a germ to blame. This is why it is important for humans to keep clean. Talk to your grownup about all the things you do to keep clean.
We wash our skin and our hair to stop looking and smelling dirty. We do this when we wash our faces and have a shower or a bath. We also have to cut our nails to stop germs and dirt getting underneath them. If these germs get in our mouths, they can make us ill.
We brush our teeth because germs in our mouths can cause holes or cavities in our teeth. This can be very painful. It also makes our mouths feel fresh and smell fresh. You should clean your teeth at least twice a day – every morning and every night.
It is also important to wear clean clothes as they can start to smell as they become dirty. Underwear and socks are worn close to the body so they need to be changed every day. Outer clothes such as jumpers and cardigans can be worn more than once as long as they still smell fresh.
Handwashing is very important. We use our hands to touch things and to pick things up so they can pick up lots of germs. These can get inside our bodies and make us ill. We can also pass these germs onto other people. Do you remember the handwashing song that we learned in assembly? https://www.youtube.com/watch?v=S9VjeIWLnEg
Watch again to remind yourself how to wash your hands properly. You should wash your hands before eating, after touching animals, after messy play, before cooking, after using the toilet and after you sneeze.
Investigations
Here are some ideas for experiments to show how important it is to wash our hands with soap and warm water. Try to do at least one of them this week.
Pepper and water
Put some water in a bowl then sprinkle some pepper on the water (not too much). The pepper acts in the same way that germs do on our skin. Put your finger in the water. What happens to the pepper?
Now smear some washing up liquid onto your finger. This is a type of soap. Now dip your soapy finger into the water. What happened to the pepper this time?
The washing up liquid pushes the germs away and makes them scatter away from your finger.
If you want, you can watch this experiment here.
https://www.bbc.co.uk/cbeebies/watch/germs-experiment
Glitter experiment
Put a little bit of hand lotion on your hand then sprinkle it with glitter. In this experiment, the glitter represents the germs. Shake hands with your grown up using your glittery hand. What has happened to their hand? What happens when you touch something with that hand?
Now it's time to get rid of the glitter. Get some kitchen towel or toilet roll and try to wipe the glitter off your hand over a sink. Did it work?
Now try rinsing your hands in cold water. Did the glitter come off?
Finally wash your hands properly using soap and warm water. Are your hands clean?
Explain to your grownup how this shows the importance of washing your hands with soap and warm water.
Bread experiment
This experiment takes a couple of weeks. You will need three slices of bread and a sealable plastic bag for each slice.
Use some tongs or a fork to get the first slice of bread out of the pack without touching it. Place it in the plastic bag, seal it and label it with a number 1.
Take the next slice of bread and smear your unwashed hands all over the bread. Put this slice in another plastic bag, seal it and label it number 2.
Finally, wash your hands very thoroughly with soap and warm water. Dry them carefully, then take the final slice of bread and smear your clean hands all over it. Place it in a plastic bag, seal it and label it number 3.
Over the next two or three weeks, your bread may start to go mouldy. Which piece of bread do you think will be the mouldiest? Why do you think this? Which do you think will look the freshest? Keep checking your experiment and see if you are correct.
Look at all of the ways we have learned about keeping healthy this term https://www.bbc.co.uk/bitesize/clips/zgtr82p
Have a lovely week everyone. Work hard, be good and stay safe.
With love from your Year 2 grown ups xx