Week Beginning 29th June
Hello again Year 2,
Please click the link below to enjoy a weekly Collective Worship with your family.
I hope you all enjoyed your piratical learning over the past two weeks and that you are ready to work just as hard this week. Don't forget to email your teacher and say how you are doing or just to say hello.
Look back to last week's learning page to continue your Come and See work.
Maths:
The measure topic is continuing and there are some number activities too to keep your number brains active! You might recognise them from May. Try to do a little each day.
Again, there is White Rose Maths and/or practical activities to try at home. Don't forget the challenge on the White Rose website each Friday. Click on this link to find it https://whiterosemaths.com/homelearning/year-2/
Practical Maths For The Week:
This week we are continuing with our topic of measure and today we are learning more about mass. Lighter objects are measured in grams (g) and heavier objects are measured in kilograms (kg).
We are also learning about volume which is how we measure liquids. Small amounts are measured in millilitres (ml) and larger amounts are measured in litres (l).
Watch this clip to see how we measure different things. https://www.bbc.co.uk/bitesize/clips/zk8jxnb
Here are my kitchen scales. The numbers around the outside show grams and kilograms. You can see that 200g is marked on the scales and that the longer line between 0 and 200 shows 100g. There are four little lines between each longer line and each one marks another 25g.
With your grown-up, look at your kitchen scales (if you have them). Can you work out which numbers show grams and kilograms? How many grams does each little line show on your scales? The pointer needs to be on 0 before you weigh things. Can you find out how to set the pointer to 0? If you have digital scales, ask your grown-up to show you how to use them. Do you have any other type of scales in your house? What are they used for?
1kg is 1000g. Collect some objects from around your house and decide if you think they weigh more than 1kg or less than Use your scales to weigh each object. Were you correct? How could you record your results?
Here is my measuring jug. The scale on my jug starts at 200ml and every 100ml is marked after that. There is a little line halfway between 200ml and 300ml. How many millilitres do you think that shows? My measuring jug holds 1000ml which is equal to 1 litre.
Have a look at your measuring jug and see what the scale is. Your measuring jug is empty. How much water would it hold if it is full? Fill your jug so that it is half-full. How many millilitres of water did you put in? Bottles of liquid, such as drinks, are marked with how much liquid is inside. Have a look on any bottles in your house. Can you find a bottle that holds more than 500ml? Can you find a bottle that holds less than 500ml? Can you find a bottle that holds more than 1 litre?
Ask your grown-up to put some water in a measuring jug. How much water did they put in? Do this a few times until you feel confident that you can do it.

Friday Challenge:


You need to find a selection of cups, bottles and jars of different sizes and shapes.

I wonder which holds the most/least liquid?

Use estimation first of all.

How could you find out? Explore!

Can you find a way of counting how many "small containers full" each will hold?

Can you find a better way?
Spelling:
I'll
you'll
he'll
she'll
we'll
they'll
it's
wouldn't
couldn't
shouldn't
You will probably remember that these are contracted words. This means that they are a word made up of two separate words that have been shortened then joined together to make a new word.
I'll is made up of I and will.
What about the others?
Put each word into amazing sentences.
Reading activities for the week:
This week we are looking at a new book. This is one of our favourites, especially for Mr McManus as it is a very funny story.
Watch it here There's A Lion in My Cornflakes
Activity 1 and 2- Read along with the story. Can you change your voice to match the different characters? You might have to watch it a few times.
Activity 3- Write a book review about the book or tell someone in your household about it.
Did you enjoy the story? Why?
Which bit did you like best? Why?
Who is your favourite character? Why?
Who would you recommend this book to? Why?
Giving your reasons for your answers is very important as it helps you to think about the story and to be able to explain what you think.
Activity 4- Make a list of other stories/poems/films that have:
a lion
someone who didn't get what they wanted
cross parents
breakfast
Did you find something for each idea?
Can you link the story with any other ideas?
Activity 5: Here is another story about a lion with comprehension. Choose which level you want to do, there are 1, 2 or 3 stars on the bottom of each level.
Writing:
Your writing this week is about our story There's A Lion In My Cornflakes
Here is the children's author Michelle Robinson herself with some ideas for your writing this week. Click on the link There's A Lion In My Cornflakes- Read, Write and Play
Try to complete one activity each day.
1. Make a list of all the breakfast foods you can think of. Which is your favourite? Why?
Make a list of favourite breakfasts for everyone in your house.
2. Can you write instructions to tell someone how to make breakfast? (This idea isn't from the video but it's a great way to practise your instruction writing skills)
3. What pet would you choose and why?
4. Write a letter about your pet- plan your letter first.
5. Write a letter about your pet- write your letter using your plan from yesterday.
Science – Exercise
We are continuing to learn about how to stay healthy and this week we will be thinking about exercise. Exercise is an important part of staying healthy. It includes anything that makes your body work hard and when you exercise you are helping to make your body strong so that it can do all the things it needs to. You exercise all the time without even thinking about it. Talk to your grown-up about things do you do that count as exercise? You might have talked about running around the playground, playing football, jumping on a trampoline or riding a bike.
Put your hand on your chest so that you can feel your heart beat. How fast it is beating is called your heart rate. Now jump up and down on the spot for one minute. Feel your heart rate again. What has happened to your heart rate? You can also check your heart rate by feeling your neck or wrist. We call this your pulse. Can you find your pulse?
Why is exercise important?
This is a picture of a heart. It is a muscle that works very hard pumping blood all around your body. When you exercise, your heart pumps faster, you may sweat and your breath gets quicker.
Like all muscles in your body, when you exercise it regularly it gets stronger and better at doing its job – delivering oxygen to every part of your body.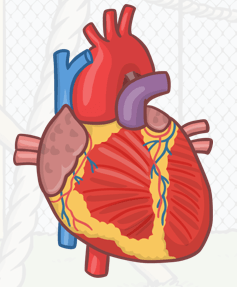 It is also important to exercise other muscles in your body. Can you feel the muscles in your arms and legs? By using these muscles to do powerful things, you make them stronger. Talk to your grown-up about the type of exercises could make the muscles in your arms and legs stronger?
Some exercises stretch your muscles and this makes you more flexible. This means that your body can move your arms and legs freely without them feeling tight or painful.
Exercise also makes you feel good. It is fun to run, jump and play with your friends and it can be fun to try new things like learning to ride a bike and to swim. But you may not know that exercise can put you in a better mood! When you exercise, your brain releases a special chemical that can make you feel happier.
Activity:
Think of 5 exercises that you can do in 1 minute. Ask your grown-up to time you doing each exercise and write down a few words to say how your body feel after each one. Think about your heart rate, how your muscles might feel and any other changes that you notice. You could record your results in a table.
Click on the links below to watch a series of videos throughout the week.
At the end of the week, make a poster or fact file of what you have found out.
PE:
Make sure that you are doing lots of exercise to keep your heart and muscles healthy. Try keeping a diary of your exercise or make a fitness plan to follow.
Art:
In English, we are reading There's a Lion in My Cornflakes so this week in Art you could make a collage of a lion using things you find around your house and garden. You could use scraps of different coloured paper, tin foil and fabrics. You could make a 3D picture so that your lion stands up. Or you could use a paper plate as the lion's face. What could you use for the lion's mane? In the pictures below one child used pasta and another curled pieces of coloured paper. Don't forget that we love to see your pictures so email your teacher with photos of your creations.
Geography:
Find out where lions live in the wild. What can you find out about them? Are they endangered? Can you find any fun or really interesting facts?
History:
Ask a grown up to help you research 'famous lions' using google. Maybe your grown-ups will recognise some of these or maybe even your grandparents. As always, work with a grown up and stay safe online.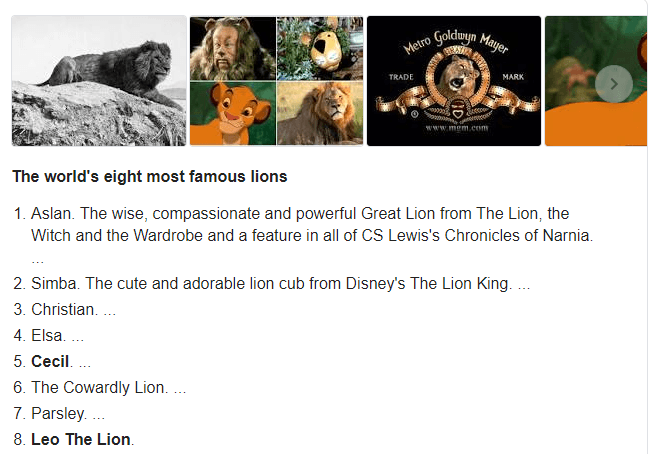 Music:
Listen and sing along to I just can't wait to be king
How does this song make you feel? Can you explain why?
Is the rhythm fast or slow?
Now listen to Can you feel the love the tonight? and The circle of life
How do these songs make you feel? Do they make you feel the same or different? Do they all have the same beat and rhythm?
Have a lovely week Year Two and hopefully the sun will shine. Please keep in touch with your teacher as we love to hear from you.
Love from all of your Year 2 grown ups xxx