Week beginning 27th April
Hello Year 2,
Please click the link below to enjoy a weekly Collective Worship with your family.
Please check the website home page and click on the link to a letter which has important information regarding phonics support for children during the summer term. The phonics resources will be live from Monday 27th April. They are primarily for Reception and Year 1 but it will be a handy refresher for many Year 2 children.
There is also a link to well being activities which are important during these challenging times.
Here is some of your home learning for this week. Keep checking back to see more activities.
Phonics: see note above. You will find additional activities on http://www.phonicsplay.co.uk/
English:
Well done if you are following the link we put up last week from English Mastery There are plenty of ideas for the next few weeks. There are also activities Literacy Counts if you sign up on their website. https://literacycounts.co.uk/free-home-learning/
Choose activities from the correct year group and that are manageable.
We will add new ideas weekly that don't rely on you having access to laptops, tablets or printers etc.
In school, we have looked at question sentences and question marks so we will practise these again this week. One fun way is to look at jokes as they often have a question sentence first followed by the answer which is a statement sentence, which ends in a full stop or maybe an exclamation mark.
Q Why do giraffes have long necks?
A Because their feet stink.
Q Why do dragons sleep in the day?
A So they can fight knights.
Have fun finding, copying and writing joke questions and answers. This will also help with your reading skills too.
Another way to practise your question writing skills is to write questions to ask someone else so get busy writing questions for your family to answer.
Maths:
Well done if you are following the links we put up for White Rose home learning and Maths 4 kids. There are plenty of ideas for the next few weeks. This week's lessons on https://whiterosemaths.com/homelearning/year-2/ are: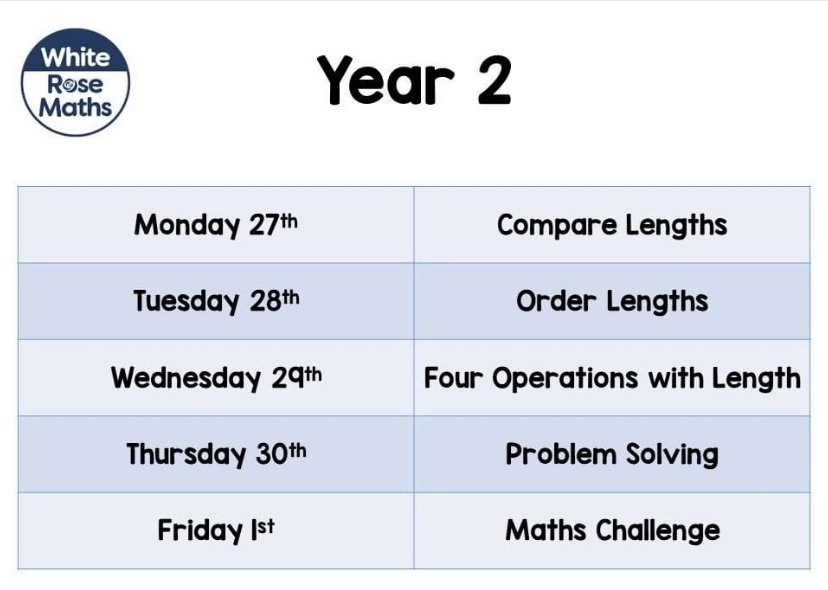 Again, we will add new ideas weekly that don't rely on you having access to laptops, tablets or printers etc.
----------------------------------------------------------------------------------------------------------------
My grandson sorted his blocks the other day and made a chart with them.
Which colour is most popular?
Which colour is least popular?
How many more blue blocks than yellow are there?
How many less yellow blocks than red are there?
How many blocks are there in total?
Which colour blocks have the same amount?
What is the difference between the total of red and orange blocks?
How many more orange blocks are need to make the same total as the blue blocks?
Can you draw the chart on some paper?
Make and draw a chart with some of your own toys. Ask questions about you chart. Include these words and phrases:
How many, more than, less than, total, difference, most, least,
Can you make it more challenging?
Use packets of sweets like smarties. Ask your family about their favourite ice cream or crisp flavours.
Look for ideas on the Twinkl website for data handling year 2.
Science:
Science is the study of the world around us. Scientists learn about their subject by observing, describing, and experimenting. There are many subjects and branches of science. Some study outer space like astronomy. Other sciences study life (biology) or the earth (geology) or even matter and energy (physics).
Scientists are very important. Right now, all over the world, scientists are working hard to find a way to stop people from becoming ill with this virus. Are you ready to be scientists this week?
This is the knowledge organiser for our Everyday Materials Topic.
https://www.bbc.co.uk/bitesize/topics/zrssgk7
I was cleaning the drawers in my kitchen yesterday and I found lots of spoons. They are all both similar and different in some way. Some of the properties and materials are the same and some are different. What can you remember about properties of materials from year 1?
Look at the spoons that I found.
What materials are they made from? Why are these materials used?
What would be a silly material to make a spoon from? Why?
How could you sort them?
Are they all used in the same way?
Can you find other things in your home that look the same but have different jobs and are made from different materials? What are their properties?
While I was cleaning, I accidently knocked over a glass of water left on the table in the kitchen. I wanted to be able to mop up the water quickly, before it ruined the wood on the table and then dripped on the floor, but I didn't know what to use to mop it up with. I tried to use all of these. Which do you think worked best? Why?
I had to use the one that was most absorbent. Can you find out what that word means?
Try these experiments to test how absorbent different types of paper are. I used kitchen roll, disposable cloths, writing paper/newspaper and grease proof paper.
You will need:
Kitchen roll, disposable cloth, paper, grease proof paper for example.
A beaker of water
Tape or elastic bands
A timer
Scissors (be careful!)
Dangly Strips: Cut a strip from each of the papers and then dangle these over the side of a beaker into some water so the edge of the paper just touches the water. Time how long it takes for the water to reach a line drawn on each of the papers, or count to a number and then take out each of the pieces of paper and see how far up each strip the water has travelled.
Count the Drops: Stretch the papers over beakers and then count the number of drops you can drop on the paper until you can see it leaking through and into the beaker. Draw what the paper looks like each time, or describe the amount of water that was left on the top of the paper.
You can record the results of your investigation like a real scientist on the templates below. Just copy them out and off you go..
Here's another experiment to watch and maybe to try yourself. https://www.youtube.com/watch?v=FAdmTzD46Kg
Look at the packaging on kitchen roll. Does it tell you how absorbent it is?
A note for the grown ups:
Here are some other fun, practical science experiments you can do at home with everyday objects and to look at three of the different states of materials (solid, liquid and gas)
Ask 'What happens when you mix food colouring in milk?' Then add washing up liquid and watch what happens.

Why not try making your own mini exploding volcano? Just add bicarbonate of soda, food colouring, washing up liquid and vinegar. Then stand back and watch the eruption!

Cooking is also a great opportunity to mix ingredients, add heat and examine changing states.

Try exploring changing states with ice and water to begin to see those changes that can be reversed and those that can't.

A real favourite would have to be 'gloop' — use water and cornflour (add food colouring too if needed) to explore solids and liquids. Just be prepared to get messy!

Of course, there are also some wonderful science kits available to buy to push your scientists further – making crystals, rockets and even bouncy balls.
Anything where the children can be hands-on and see the science happen in front of their eyes is guaranteed to be get them interested.
One thing that I really miss is merit assembly time. Why don't you try to have your own merit assembly at home. Start by saying the morning prayer. Pray the Our Father and Hail Mary together. Make some of your own prayers up. We usually begin with, Thank you God for… , Dear God our Father... or Jesus please help me to...
Maybe you could read a story from the bible.
Make your own certificates to give to your family members. These could be for all kinds of reasons. Here are some ideas but I'm sure you will think of lots yourself:
Funniest joke teller
Best cook
Bedtime story reader of the week
Tidiest bedroom.
There are lots of John Burland songs on Youtube to join in with such as Gather, Come Gather and One Family to sing during your assembly.
Don't forget Golden Time too, I'm sure that you've all earned a lot of that!
There are many activities to supplement and extend your learning on https://www.bbc.co.uk/bitesize so keep checking there every week too.
Enjoy your learning for this week Year 2 and remember to keep active too. We miss you but we still all need to be safe at home.
Keep Smiling and remember to check back here for more activities.
Love from all of your Year 2 grown ups xx
Wednesday 29th April
Hello year 2,
I hope you are keeping busy despite the rain. Have you managed to write any jokes or do any science investigations yet?
There are just a couple of things to let you know about today.
The Book Trust have a fantastic website dedicated to getting children and families reading. There are hundreds of activities. On Friday, they are inviting us all to a special pyjama party!
Pyjamarama: Friday 1 May
To celebrate the bedtime story and reading together, this year's Pyjamarama will be a day when families across the country can join in a festival of story-filled fun at home.
There'll be loads of activities and events for children to take part in – the only requirement is that they're done in pyjamas!
Join in here https://www.booktrust.org.uk/books-and-reading/have-some-fun/pyjamarama/
I can't wait to join in!
I can't wait to hear what you did to join in.
Also, we all love singing at St Margaret Mary's Infants so here are some singing lessons that you can all join in with.
Diocese of Leeds Schools Singing Programme launches daily singing sessions
Daily virtual singing sessions from the Diocese of Leeds Schools Singing Programme are now available at 2pm every weekday. Aimed at primary school children every session includes sacred music, RE and music curriculum learning, and lots of vocal fun and songs to keep children engaged in lifting their voices to God. They're led by the Diocese's expert Choral Directors, and sessions for younger and older children are also available.
Enjoy the rest of your week Year 2. I hope you are taking lots of pictures and keeping your best work to show us. Make sure you are reading.
Love from Mrs Jennings