Week Beginning 11th MAY
Hello Year Two, I hope that you are all safe and well and enjoying your learning at home. We have really enjoyed reading your emails and seeing all the hard work you are doing and the fun you are having. Your grown ups are doing an amazing job of being your teachers so try to make sure that you are on your best behaviour and trying your best.
Please keep the emails and pictures coming if you can, they brighten up our day. Don't forget you can always email us if you need any help with your work. We may not answer straight away but we will reply.
Here is the link to https://www.stmargaretmarysinfant.com/re-catholic-life/collective-worship-at-home-1
I love these and some of you have sent fantastic pictures of your collective worships at home. I'd love to see some more.
Maths:
Look back to last week's (week beginning 4th May) Maths ideas especially the daily counting and number facts and see what you can try this week too. Try to do the daily counting and number facts every day while you are home from school.
White Rose Maths are focusing on adding and subtracting 2 digit numbers which is what we would be doing in school this week. https://whiterosemaths.com/homelearning/year-2/ Follow the link from there to BBC Bitesize for more practise.
A good way to practise is by using coins.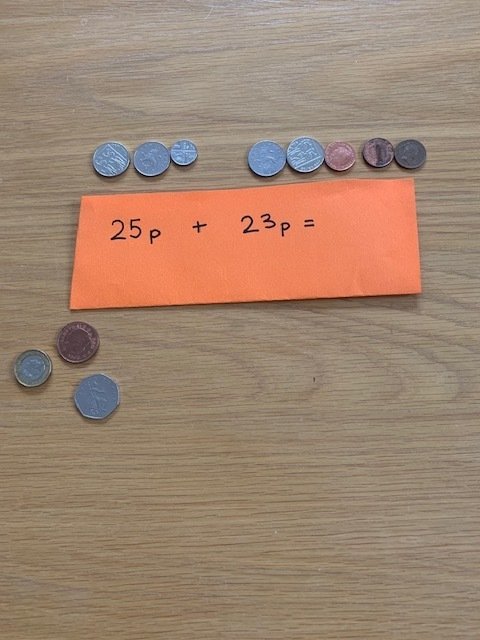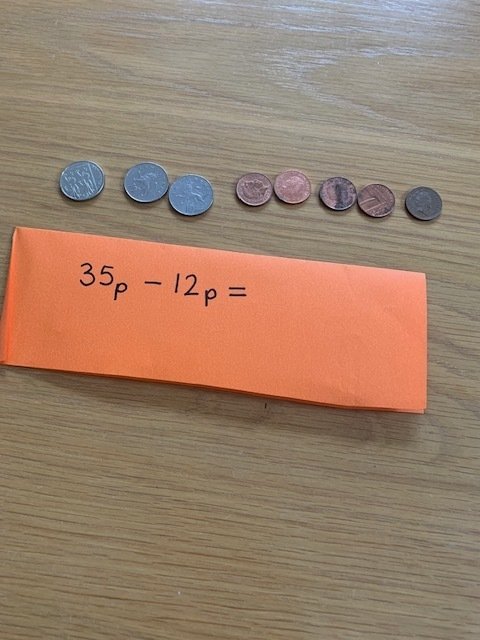 English:
Did you enjoy learning your poem last week? You could try learning one regularly from the website Miss Horder told you about http://poetryroundabout.com/
I hope that you enjoyed the story of The Three Little Wolves and the Big Bad Pig that you looked at as part of your science work last week.The Three Little Wolves and The Big Bad Pig
It reminded me of lots of different stories. Can you guess which ones?
(Here's a clue... every story about either pigs or big bad wolves!)
Using your knowledge from last week's and this week's science investigations about the properties of materials, can you write an advertisement for a house for sale for each of the three little pigs from the traditional tale?
This would be a great opportunity to practise using the conjunctions that we were learning about in school: because, and, but, or, so, that, when.
Read the story of The Three Little Pigs if you have it at home or read along here The Three Little Pigs
Look at the list of useful words in the document below.
Can you read them all?
Can you find out what each word means?
Try to use these in your writing. Take care to spell them correctly.
Science:
How did you get on last week investigating the properties of the building materials used in your homes?
This week we are going to investigate waterproof materials.
If a material does not absorb water, it is said to be waterproof.
Can you think of any things that are made from waterproof materials? Make a list.
Why do these need to be waterproof?


Click on the links below to find out more.
Which materials are waterproof?
Can you sort the waterproof and absorbent materials using the cards below?
If you have any of these items at home you might be able to check if you are correct. Ask your grownups first though.
Did you know that if you have a piece of fabric and a wax crayon, you can make you own waterproof material?
Investigating fabrics

1. Choose a fabric.

2. Drop a little water onto it. Keep the droplets on just one side of the fabric.

3. Watch the droplets. Do they get absorbed into the fabric or do the droplets sit on top?

3. Rub wax (a wax crayon) onto the dry side of the fabric.

4. Drop water onto the waxy side.

5. Watch the droplets carefully.
What do they do?
Is it different to the side with no wax?
P.E.
As well as your daily walk, there are plenty of fun ideas for keeping active as well as ideas for relaxing and mindfulness on the P.E. section of the website. https://www.stmargaretmarysinfant.com/parents/curriculum/pe
Geography:
The next bridge to find out about for our bridges topic is the Ponte Vecchio in Florence, Italy.
Can you find Italy on a map?
What continent is Italy in?
What does the flag of Italy look like? Can you draw it?
What language do the people of Italy speak?
Can you learn to say hello and goodbye in Italian?
Are there any famous football teams and footballers in Italy?
What foods is Italy famous for? Maybe you could have an Italian meal soon.
How many people live there? (This is called the population)
What is the weather like in Italy?
Can you find where about in Italy Florence is?
Look at the image of the Ponte Vecchio. What do you notice?
It is an arch bridge. Why do you think it is called an arch bridge?
Do you notice anything unusual about this bridge?
Try to find some more images of the bridge and look closely at the shops and houses on it.
What is the name of the river that it crosses?
In 1333, 686 years ago, the Arno River flooded and destroyed the old bridge.
What a disaster that was!
City leaders decided to rebuild the bridge. They needed to make it stronger.
What materials do you think they used?
What shapes did they use?
In 1345, the new bridge, the Ponte Vecchio was opened, 674 years ago.
What a strong bridge they built!
The Ponte Vecchio is so crowded with shops and little houses that it can look more like a city street than a bridge.
The bridge became famous for the goldsmiths that sold Florence's jewellery directly above the river.
Can you make a fact file about Italy using your answers to the questions above? Add any more interesting facts that you discover and illustrate it. Maybe you or someone you know has been to Italy or even to the Ponte Vechhio. Ask them all about it.
Enjoy your activities this week Year Two. Check this page every day for more updates.
Love from your Year Two Team xx
Tuesday 12th May
Hello Year 2,
I thought it would be fun to try some drawing this week. I found a picture of The Gruffalo and had a go at drawing it myself. What do you think?
Why don't you have a go? There are videos on YouTube that you can follow:
https://www.youtube.com/watch?v=5HmWS5PEHJM
I would love to see your Gruffalo pictures.
Can you draw your favourite book character?
Invent your own strange creature – draw it then describe it.
Love from Miss Horder xx
Design Technology:
We have been looking at different bridges all over the world in our geography topic. There are lots of different types of bridge. Find out about them here All about bridges.
Can you build a bridge strong enough to hold the weight of a toy car, person or animal?
First you will need to decide on the type of bridge you want to build. You will know more about what these are when you have looked on the link above.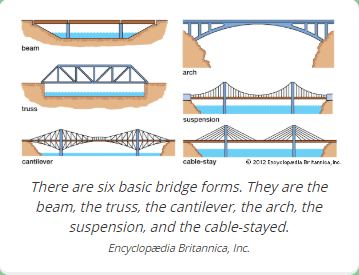 Next, you will need to decide what to use to build your bridge. Here are some suggestions of materials you could use:
Lego
Blocks
Paper
Card
Straws
Lolly sticks
Egg cartons
Cereal packets
Food packaging
Kitchen or toilet roll tubes
Here are some ideas to inspire you and to get you thinking:
Print off the planning sheet or copy it out.
When you have built your bridge, test it and write an evaluation. Things to include in your evaluation are:
Did it work?
Were there any problems?
What went well?
If you were to build the bridge again, what would you change or do differently?
Write a set of instructions so that someone else could build your bridge too.
Take a picture of your bridge and evaluation and email it to your teacher. We would love to see it!
Don't forget to keep in touch and email your teachers. Check back here tomorrow for more ideas xx
Wednesday 12th May
A few of you have told us that you would like some more Maths and English work books to do.
Mrs Smith came across these if you would like to try them. If you do, and there is absolutely no expectation for this, just do one page each day. There is a lot to print off so you could always copy the activities into your yellow book. Let us know how you get on!