Weekly Updates
Tuesday 21st April
Dear Parents/Carers,
I hope that you are all well. Our next Come and See topic is 'Spread the Word'. Its focus is the gift of the Holy Spirit which is celebrated at Pentecost and strengthens Christians to share in the mission of the Church by spreading the Good News of the love of the risen Christ. Liverpool Archdiocese have produced a pack to support you and your children. You will find Reception and Year 1 group work on their pages if you would like to complete those too.
Monday 20th April
Hello Year 2,
I hope that you all had a very Happy Easter and enjoyed some fun and some rest. We sent quite a lot of work home with you so well done if you have been able to complete some. If you have finished the pack, remember to keep practising the spellings and putting the words into different sentences. Keep practising your number fact families, addition & subtraction and multiplication and division (2s, 5s and 10s)
Don't worry if you haven't been able to, we realise that this is a very strange time and lots of families have different things going on. So please don't get stressed or upset about it. Don't forget, we will be back in school when all this is over and we will be working incredibly hard to make up for this time. The main thing is that you are safe and well.
If you are looking for some work to do, try keeping up with the White Rose Maths daily lessons and other activities from the home learning link on their website https://whiterosemaths.com/homelearning/year-2/ . Maths 4 Kids have active maths activities on their You Tube channel.
In response to Coronavirus (COVID-19) and the announcement of school closures, English Mastery have developed a bespoke selection of resources to ensure that students receive the same routine, structure and learning that they would normally benefit from in school.. You can find the resource you need by clicking on the resource relevant to your year group or key stage (Years 1 to 9).
If you find the Y2 resource tricky, you can try Y1.
https://www.englishmastery.org/our-response-to-coronavirus-covid-19/
Mrs Nolan found a really good website for you www.teachitprimary.co.uk They have ideas for parents for home teaching. Eight ideas for planning home learning activities and 20 ideas for families to try at home. There are also other resources for to look at for different subject areas. The site is free throughout April.
Mrs Harris has been busy thinking about you all too and she has passed on this information from Living Streets, the team who run the Walk on Wednesday (WOW) programme:
While WOW remains suspended, we'll be sharing updates and activities. More details will follow soon.
For the time being, why not turn your daily walk with children into a fun scavenger hunt (see attached).
If taking part, please make sure you follow the Government's rule to only leave the house once a day for exercise, keep at least two metres away from others and wash your hands when you get home.
Mrs Harris has also found a useful template to use when you are being like Samuel Pepys and keeping a diary of events while you are at home,
There is more than enough to be getting on with there. There is absolutely no expectation to complete it all, just try and keep busy if you can.
Keep checking back here to see if there are any more messages for you.
Don't forget to read, read, read and share lots of stories, poems and facts. Cressida Cowell is reading her book, 'How to Train Your Dragon' aloud in her garden shed and you can see this on You Tube. It's always nice to listen to someone reading you a story and we are missing you all reading to us.
Keep being superstars Year 2 and keep washing those hands!
Monday 6th April 2020
Hello Year 2,
I hope that you and your families are all well. This week we are thinking about Holy Week. All of us are really missing you and your teachers have written messages for you to read. You will find them below the Holy Week Activities.
I've seen some important messages recently and read about heroes doing kind and wonderful things for others , but I think that this is one of the most important things I have read...
Everybody is applauding everyone but our children. These little heroes have had to follow new and unfamiliar rules. They have had to stay indoors more than they have ever known. Everything is new and unknown. No school, no friends, no grandparents unless on a screen without really understanding what is going on. Their poor little minds must be racing with this. They are living in times they could not have imagined. But what have they done? They have painted rainbows as sign of hope. They have put them in windows and chalked them on the ground for the heroes in our world. They have adapted and carried on.
So Year 2 children, you are our heroes and we are all incredibly proud of you all. When everyone is clapping for the heroes on Thursday, we will be clapping for you!
Wishing you all a Happy Easter,
With love from Mrs Jennings. xx
Holy Week Activities
The days and week before Easter, also known as Holy Week, can be a wonderful time of encouraging children to understand the significance of the days before Christ's crucifixion and the resurrection. Holy Week is the week before Easter, beginning with Palm Sunday (5th April) and ending on Easter Sunday (12th April). This week, as your home learning, try to focus on encouraging children to embrace Easter and Holy Week.
Palm Sunday – 5th April
Palm Sunday marks the beginning of Holy Week, the day Jesus arrived in Jerusalem on a donkey. The day is called 'Palm Sunday' because the people of Jerusalem threw palm leaves to the floor as a greeting when he arrived.
You could read the story of Palm Sunday and make 'palms'. You could go out in your garden and wave your palms to greet Jesus, just as the people of Jerusalem did.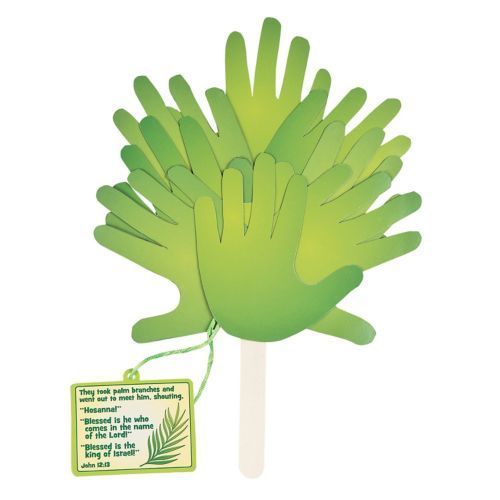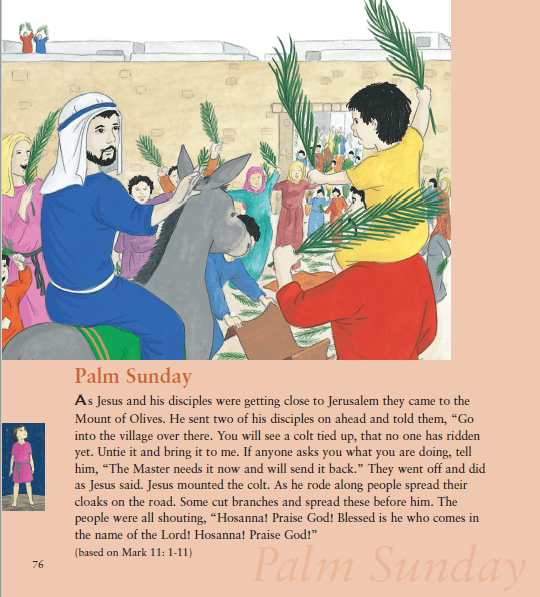 Maundy Thursday - The Last Supper – Thursday 9th April
We remember that at the Last Supper, Jesus washed his friends' feet and said, "I have given you an example of what you must do." You could also wash your children's feet, just as Jesus did to his friends.
You could also act out the story of the Last Supper, breaking and sharing bread with your family. Here are some words and prayers to help you.
Jesus took some bread and thanked God for it. He broke the bread saying, "Take this all of you and eat it. This is my body which will be given for you. Do this in remembrance of me" He then shared the bread with his friends.
After the meal he took the wine and said, "This is my blood. It will be poured out for all so their sins may be forgiven. Do this in remembrance of me." All his friends drank some of the wine.
Dear Lord,
Help us to always follow your example and care for others, just as you care for us.
Amen.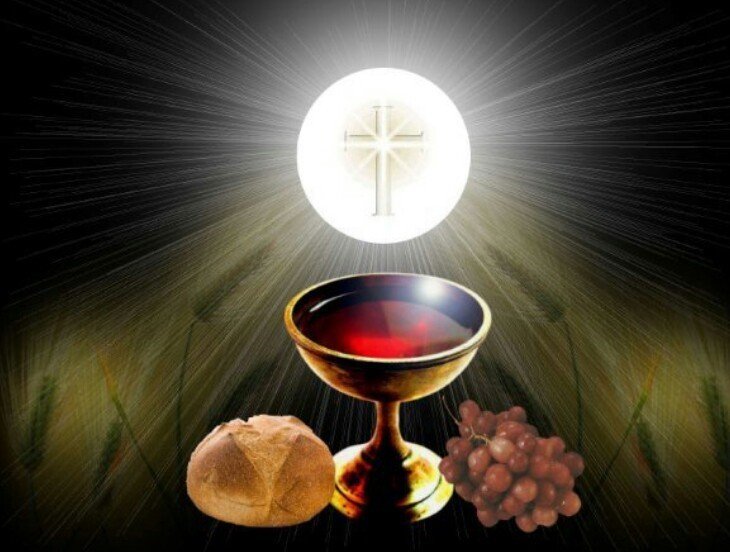 Calvary and Stations of the Cross – Friday 10th April
We remember Jesus died on Good Friday on the cross. On Friday 10th April, we would like to invite families to make their own crosses at home to remind us of this day. The cross is a symbol of hope – so join us in making crosses from household items to encourage others that God cares, and brings us hope during this time.
Here are some ideas…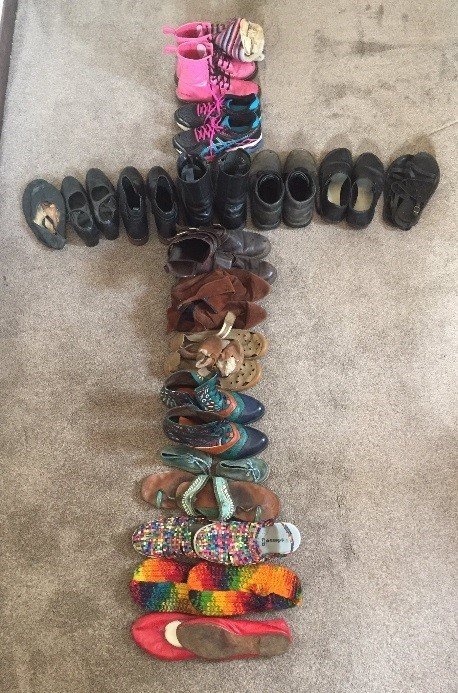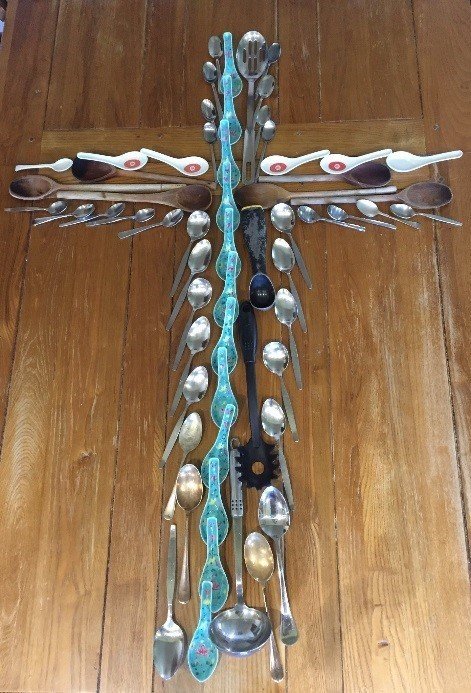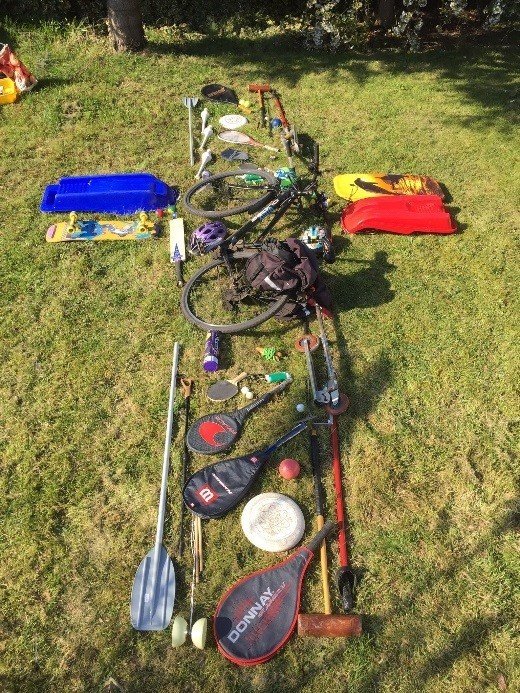 Easter Sunday – Sunday 12th April
Easter Sunday is a happy day because Jesus rose from the dead on this day. Jesus' resurrection shows that death is not the end of everything. Enjoy eating your Easter eggs today! You might also like to go on a 'new life' hunt in your garden and look for signs of new life in nature.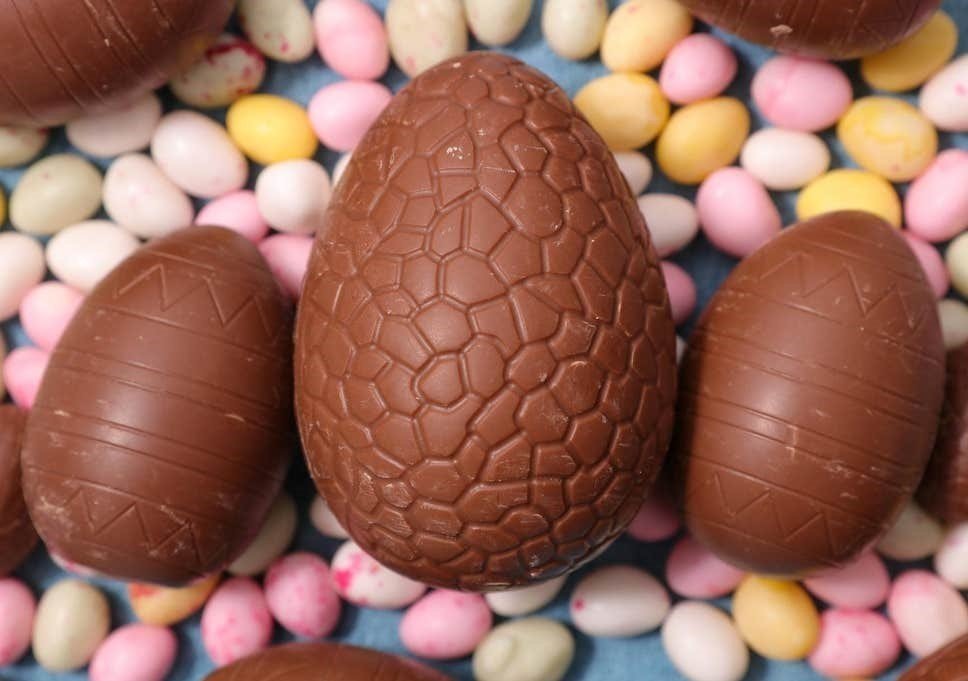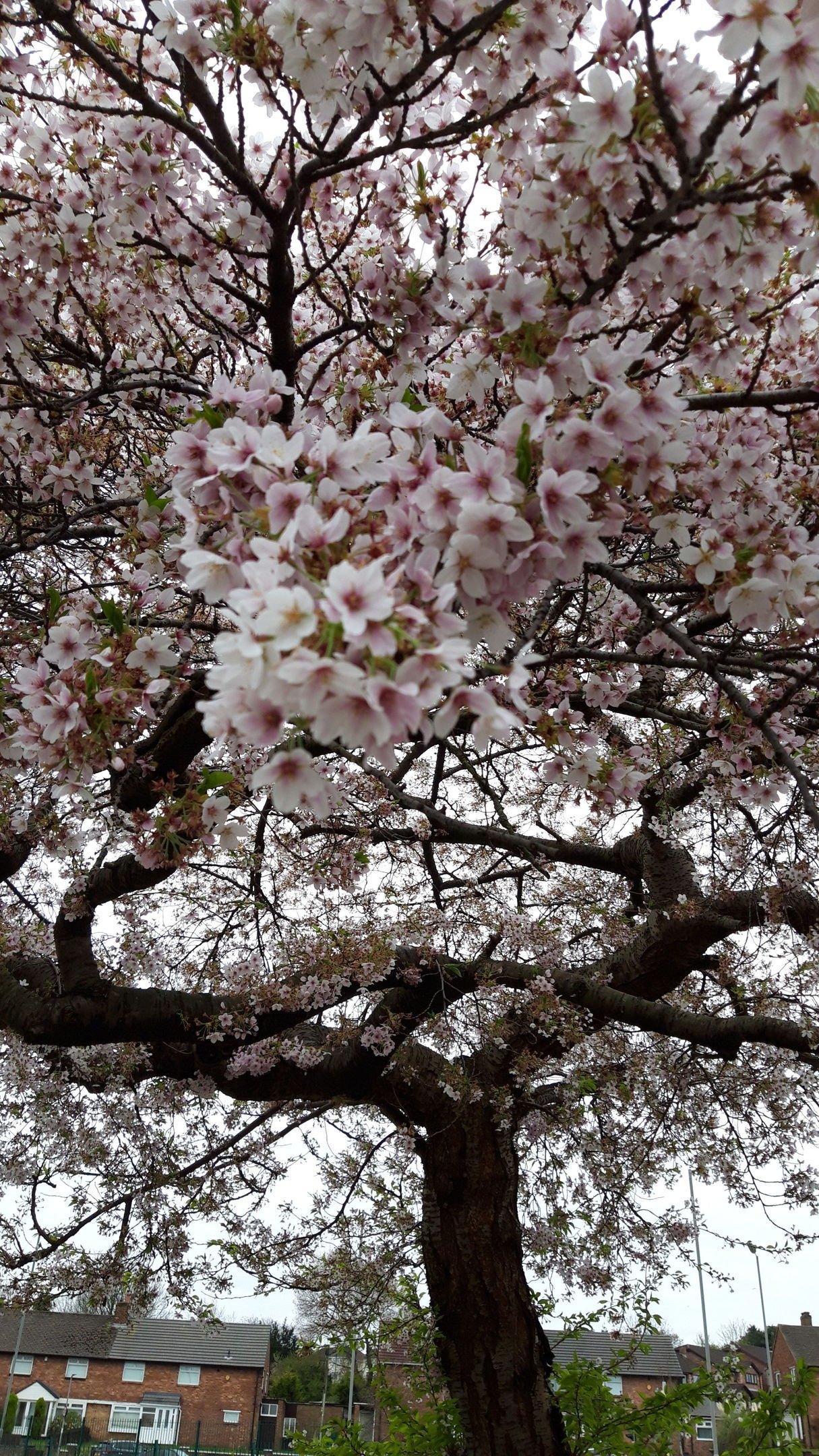 We miss you all in school and are looking forward to being together again soon.
Lots of love,
Mrs Byrne, Mrs Maddocks and all the staff x
Hello Children,
It is a little unusual for all of us at the moment but I hope you are all keeping well and busy at home. This week, I've been in school having lots of fun with some children whose parents have had to go into work. We have played football, rode on the bikes and there has been lots of colouring and painting. School is very quiet without you all.
At home I've been keeping fit and doing exercises. I hope you have all been lucky enough to get outside for a play or a walk. I've heard lots of children in my road laughing and having fun in their gardens. It has been lovely to see the beautiful spring flowers growing and I've enjoyed having a cup of tea outside in the sunshine. There is some work to do in my garden so that will keep me active over Easter. I have planted some marigold seeds this week and I can already see some shoots. I must remember to water them and keep them in a sunny place to help them to grow strong. Maybe you could have a go at growing some plants too.
Keep smiling and be kind to everyone in your family.
Love to you all
Mrs Nolan
I hope that you and your families are all keeping safe and well. I'm sure that you have been doing lots of lovely things over the last two weeks. I wonder if some of you have painted rainbows to put in your windows or seen some teddy bears in windows if you have been out on your once a day walk. I know that your families will be wonderful in their new job of being your teachers. They will be helping you learn all the lovely things that we do in school like reading, writing, maths, art, science and so much more! I hope Joe Wicks has been helping with all your P.E. too. I hope that you are listening to all the things that they are helping you with.
I miss all of you but staying at home is the right thing to do at the moment to keep you safe. So keep smiling and being the wonderful superstars that you all are. I look forward to seeing you all as soon as I can.
Hope you are all well and making the most of your time at home. I have been very busy over the last two weeks looking for exciting things for us to do when we go back to school and spending time with my family.
It feels very strange to stay at home and not be allowed to go out so I have been keeping active joining in the PE with Joe sessions on YouTube which are fun but very hard work! I have also been spending lots of time in the kitchen cooking for Grandad and baking delicious shortbread with my daughter.
I can't go for walks at the moment but I have been getting plenty of fresh air in the garden. I have planted the bulb that we looked at in our Science lessons and I can't wait to see what it grows into. I will try to take photos and show them to you when we return.
If you would like to, you can take pictures of the things that you are doing, making or creating and we can share them when we are back together. I would love to hear your stories of this time away from school.
I miss you all very much and look forward to seeing you again.
Stay active and stay safe
Hi everyone,
I hope you are all safe and well at home with your families. It has been lovely to see some of you in school, but I have missed seeing all our Year 2 family together. I hope you have been busy having lots of fun at home with your family. This is a lovely time to be able to play games with everyone at home and spend time with each other. I'm sure your parents are doing a great job as your teachers at home and you are still learning lots of different things and being creative. It is really important to listen to your adults at home just like in school when they are trying to help you learn. I hope you have been doing lots of exercise to keep yourselves fit and healthy. I have been practicing lots of hockey at home in the garden for when I can play again for my team.
I miss seeing you all in school together playing with your friends and I hope we can come back to school soon when it is safe to do so.
Look after yourselves and your families but most of all have fun!
Love from Mr McManus
Hello Year 2,
One of our favourite authors, Julia Donaldson has redesigned some of the images and verses from her lovely books to help us remember the important messages about staying safe. Can you recognise the characters and the stories they are from? What is the message in each image? Find the rest on Julia Donaldson's website. You can read all about her too. What questions would you ask her?
Monday 30th March 2020
Hello Parents, Carers and Children,
We hope that you are all keeping well. We are missing you all and look forward to seeing you again as soon as is possible.
There are many fabulous online resources and activities to help you to keep busy and have some fun. Don't forget to keep fit too. We are enjoying the Joe Wicks workouts on youtube and Cosmic Kids yoga for our wellbeing. Chester Zoo has lots of activities on their website and a link to their virtual tour. David Walliams, Michael Rosen and other popular authors are reading their stories aloud. Don't forget bedtime stories too.
Pope Francis has asked that each day at 11 0'clock we all pray the Our Father together.
This Sunday, 5th April, it is Palm Sunday. Unfortunately, we are not able to go to Mass but here are some ideas to help you talk about it at home.
Discuss the pictures. The priest is wearing red not purple. Red signifies someone who has died for what they believe. On Palm Sunday there is a procession into Church, which remembers the story of Jesus going into Jerusalem just before he was put to death. Everyone has a Palm or a Palm cross. At Mass the story of Jesus' suffering and death is read: this is called the Passion. This is the beginning of Holy Week in the Church, a week of remembering the events that lead to the Death and Resurrection of Jesus. It is a very special time. Palm Sunday of the Passion of the Lord celebrates the time when people were cheering Jesus and waving palm branches as Jesus rode into Jerusalem. Palms were easy to get hold of, as there were lots of palm trees in the Holy Land where Jesus lived.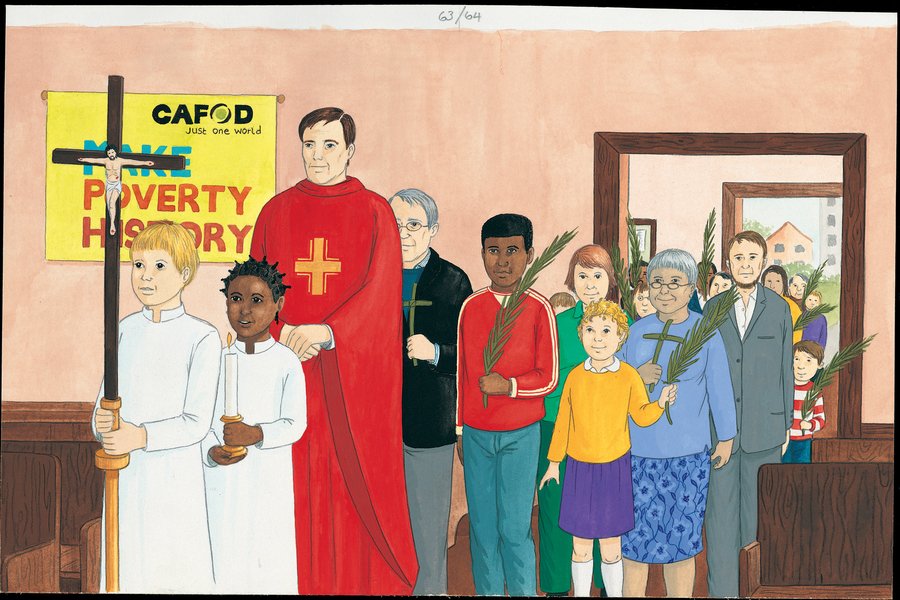 Why do you think the people were cheering?

How do you think Jesus felt?

How would you have felt if you had been there?

What is Palm Sunday the beginning of?

Why is Holy Week so special?
Make Palm branches out of paper and have your own Palm procession, sing a suitable hymn; for example hymn about Hosanna or rejoicing.
Maths:
At school we use White Rose Maths and so any activities of theirs that you access from their great home learning page will be in a familiar format for your children. There are online lessons for each year group and a 'problem of the day' to solve. They have also put up a link for fun ideas to use maths at home. You will find the link on the list of useful websites for home learning below.
This is their message on their website:
As schools worldwide close for now in response to COVID-19, you might be wondering how best to help your child or children with their studies at home.
Always happy to help, the White Rose Maths Team has prepared a series of five maths lessons for each year group from Year 1-8. We will be adding five more each week for the next few weeks. Every lesson comes with a short video showing you clearly and simply how to help your child to complete the activity successfully.
There are also March Problems of the Day that you might wish to work with your child to do. The orange problems are suitable for Year 2 not the blue problems as they are for junior age children.
Also this number fact game will help to develop your child's recall of key facts which is really important such as number bonds for all numbers to 20, bonds for 100, doubles, halves, times tables for 2, 3, 5 and 10 as well as the corresponding division facts.
During our Great Fire of London Topic, the children learned that much of what we now know about it was because a man called Samuel Pepys kept a diary. I came across this on social media and thought it was a nice idea. Channel their inner Samuel Pepys and let them document living history. Tailor it to the level of your child, maybe not focus on fears too much, if at all, without lots of reassurance.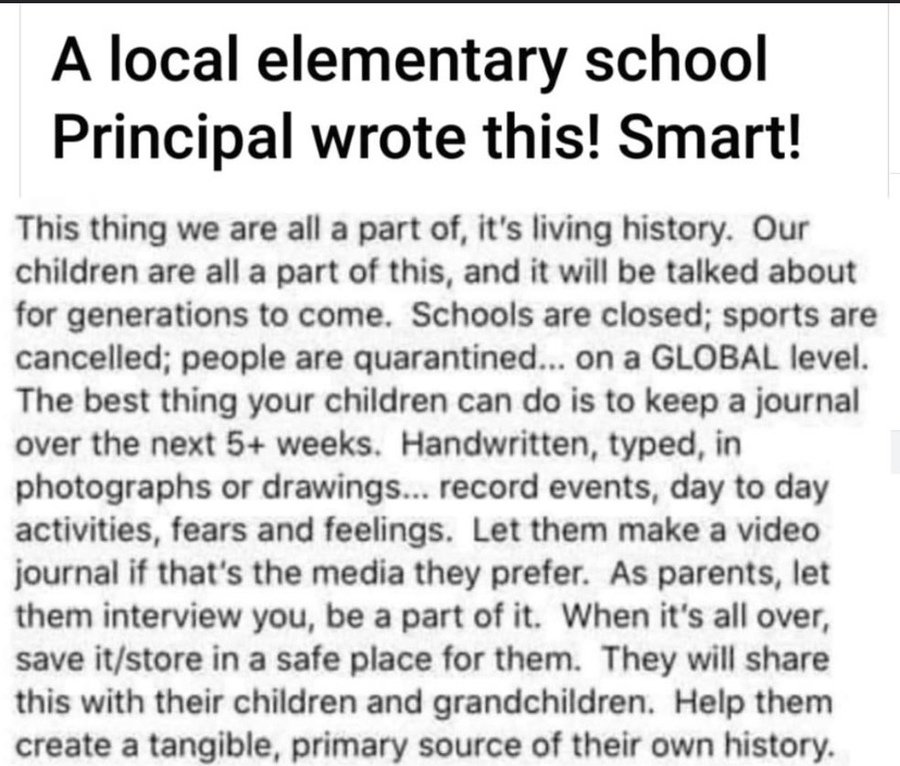 Simple recipes are a great way of learning and having fun and there are lots of these online for young children. Read them and look at the format of them: a heading, list of ingredients and utensils, pictures to help the reader, numbered and sequenced sentences, warnings and tips. We have looked at command sentences (sentences which give an instruction) and these are used in recipes. Most will begin with a 'bossy' verb: mix, cut, chop etc. Once you have followed them, copy them out or write your own version of them to make a recipe book.
There are lots of maths opportunities too: weighing ingredients, sharing or portioning the finished items- division and fractions.
Keep safe everyone and we'll keep in touch,
God Bless, we are always thinking of you all, love from the Year 2 Team xx
This is a great website with fabulous ideas for things to see, make and do at home, indoors and in the garden.