Week beginning 4th January 2021
Hello everyone, and Happy New Year! We hope that you are all well and staying safe at home after the announcement from the Prime Minister last night. That took us a bit by surprise but we are busy now planning lots of lovely work and activities for you while you are at home. You did an amazing job last year with your home learning and we know you are all going to be superstars again.
For the next couple of days we will add some little activities for you and by Thursday we are hoping to be able to move to more structured activities.
Maths:
Practise counting in 2s, 5s and 10s
What objects can you find at home to count in 2s, 5s and 10s?
I counted some socks in 2s, some 5p coins for 5s and I made groups of 10 with pasta.
Reading
It is very important to practise your reading every day.
Look on the Oxford Owls website for lovely stories, poems and non-fiction books to read.
We all love Julia Donaldson. Here she is reading her story Stickman.
Phonics
Practise your phonics by having fun on Phonics Play
Well Being
It can be tricky to stay at home when you're so young and full of bounces and wriggles. Why not try some yoga and mindfulness activities from Cosmic Kids?
Have fun Year 2 and work hard. Be good for your grown ups and check on the website each day for more activities.
Goodbye for now xx
Wednesday 6th January
Good morning Year 2!
Today is a very special day for our Church family- it is the Feast of The Epiphany.
Did you get a really special gift this Christmas? Something that you particularly liked or was very important to you?
Remember, a special present doesn't have to be big or expensive; it may just be something you really wanted or like, or a gift from a special person.
On 6th of January each year Christians have a special festival called Epiphany. Epiphany celebrates the visit of the wise men to the baby Jesus.

Can you remember anyone else who visited baby Jesus?
The shepherds and the wise men came to visit Him. How do you think that the wise men were different to the shepherds?

– The shepherds were poor; the wise men were rich.
– The shepherds came from the same country as Jesus (they were Jews); the wise men came from a different country (they were Gentiles) – Jews and Gentiles didn't ever mix with each other.
– The shepherds were in the fields close by; the wise men travelled a long way.
– Angels appeared to the shepherds; the wise men followed a star.

Though they were so different, God wanted the wise men and the shepherds to see the baby Jesus. This shows us that God wants everyone to see Jesus. In God's eyes, it doesn't matter if we are rich or poor or what country we come from.
Just as the gifts that you received had a special meaning to you, so the wise men brought special gifts for Jesus. These gifts were gold, frankincense and myrrh.

Christians believe that the three gifts all had a meaning.

– Gold is a gift fit for a king. It recognized that Jesus was a great king, the king of the world.

– Frankincense is a special kind of fragrance that was used by a priest.

– Myrrh was a sweet-smelling liquid.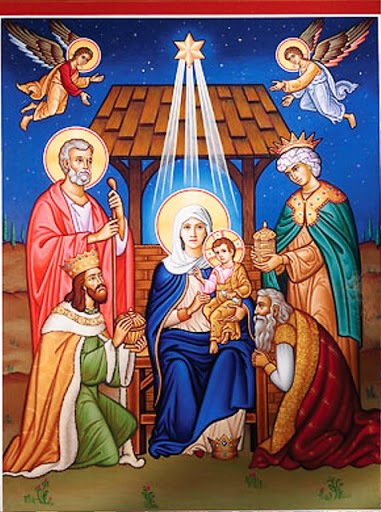 So, what have we learned about the Epiphany?
It is a church festival that celebrates the visit of the wise men to Bethlehem to see the baby Jesus.

Our word 'epiphany' comes from a Greek word which means 'making known'. The birth of Jesus was the beginning of God making known who Jesus is and God's plan for the world.

One of the lovely things that the festival of Epiphany shows us is that God doesn't have favourites but welcomes people from any background and any nationality.
Time for reflection- find a quiet space in your home with your family, perhaps next to your nativity scene if you have one. A grown up could light a candle like we do during our collective worships in school.
It seems that the wise men were rich enough to bring special gifts to Jesus. Even though it isn't recorded in the Bible, it's possible that the shepherds also brought gifts for Jesus. A well-known Christmas carol has this verse in it:
'What can I give him, poor as I am?
If I were a shepherd, I would bring a lamb.
If I were a wise man, I would do my part.
Yet what I can I give him – give my heart.'
Think about those words by Christina Rossetti. What do they mean to you?
Prayer

Dear Lord,
thank you that you wanted both rich and poor to see baby Jesus.
Thank you that as we think about Epiphany,
we are reminded that every person is important to you.
Please help us to use all the gifts that you have given to us.
Thank you for all the good things that you give.
Amen.
Here is one of our favourite Christmas songs to sing in school.
Can you draw a picture of the three wise men riding on their camels to Bethlehem to visit Baby Jesus?
Write some sentences about your picture. Don't forget capital letters and full stops.
Well Being:
In December 2020, we were successful in achieving the Well Being Award for Schools. Follow the link for ideas and activities to support well-being during lockdown.
https://stmargaretmary.sites.schooljotter2.com/parents/well-being-award
Enjoy your learning today Year 2. Can you think of something really kind and helpful that you can do at home today?
Remember to stay safe and keep washing your hands.
Love from all of your year 2 grown ups xx
Thursday 7th January
Good morning year 2.
Our new Come and See topic this term is books.
How many different types of book can you think of? Go on a book hunt in your house. How many different types can you find?
Maths Thursday and Friday
This week we are beginning our new learning about multiplication and division by looking at equal and unequal groups. Watch the video from White Rose Maths
If you can't access the worksheet you could make equal groups using some of your toys or other household objects.
How many equal groups can you make with
12 objects?
10 objects?
16 objects?
15 objects?
This next video looks at adding equal groups
English Thursday and Friday
When I woke up this morning, everywhere was covered in frost. Read this poem.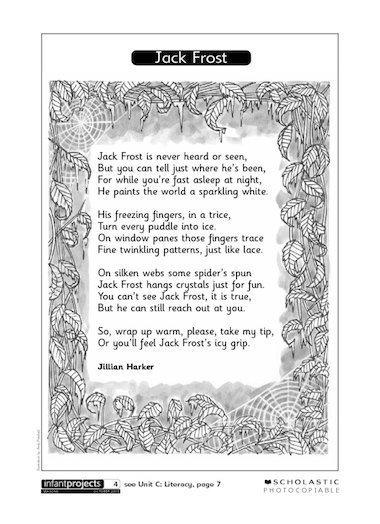 Read the poem.
Can you find the rhyming words? Write them down.
How does the poem make you feel?
Draw a picture of what you think Jack Frost might look like.
If you were in this picture...
What can you see?
What can you hear?
What can you smell?
How do you feel?
Put your ideas into sentences. Remember to use capital letters and full stops.
When you were writing your stories about The River before Christmas, you were getting really clever at adding adjectives (describing words) and conjunctions like and, but, when, that & if to make your sentences exciting. How many of these can you include?
Topic
Can you find the continent of South America on this map?
What can you find out about South America?
What are the countries of South America?
What is the climate like?
What animals live there?
What would you pack on a holiday to South America?
Have a lovely weekend Year 2. Stay safe and we will have more work for you here first thing on Monday morning.
Lots of love xx