Tuesday 12th Jan
Good morning Year 2, we hope that you are all safe and well. Thank you for working so hard and thank you to all of the grown-ups too. We understand how challenging home learning can be. We have tried to use a mix of screen and non screen activities. The BBC are also delivering lessons for three hours from 9am for primary schools on CBeebies and this includes BBC Bitesize and BBC Live Lessons.
Have a lovely day
Come and See
Choose one or two activities from the list below.
Phonics
See Monday for phonics.
SPAG for children working confidently at Phase 5
Yesterday you looked at the suffixes er and est. You added these to the root word.
There are some spelling rules to follow when adding suffixes to some root words.
Just add the suffix- cool - cooler

If the root words end in y- change the y to i then add er- crazy - crazier

If the root word ends in e, drop the e and add er



Copy the words from this spelling list and underline where you have followed one of the spelling rules.
English
Today we are going to look at another story that has goats and a troll in it. This story might not be as familiar to you. It is called The Three Billy Goats Fluff and is written by Rachael Mortimer. This is a favourite of your teachers so we hope you enjoy it too.
Watch the video and then have a go at answering these questions about the story. You can either tell a grown up or write your answers. Remember to use capital letters and full stops when writing sentences.

Why was the Troll upset?
What did the Troll do to warn the goats?
Why didn't the Little Billy Goat understand the Troll's warning?
How did Mother Goat understand what the Troll was going through?
What did Mother Goat do to solve the problem?
How was the Troll feeling at the end of the story?
Maths
Today we are going to look making equal groups. What does equal mean? Think about:
How else could you represent these in equal groups?
How many ways can you represent this?
How have you grouped your items?
Watch this video to help Spr2.1.2 - Make equal groups
Don't worry if you can't print the worksheet out. This is what it looks like.
You could talk about your answers with someone at home or write your answers on a piece of paper.
Where the question is about coins, you can always draw the coins if you don't have real ones. I couldn't find enough coins today!
You could also make equal groups with objects from around your house and then write the number sentences to match on some paper.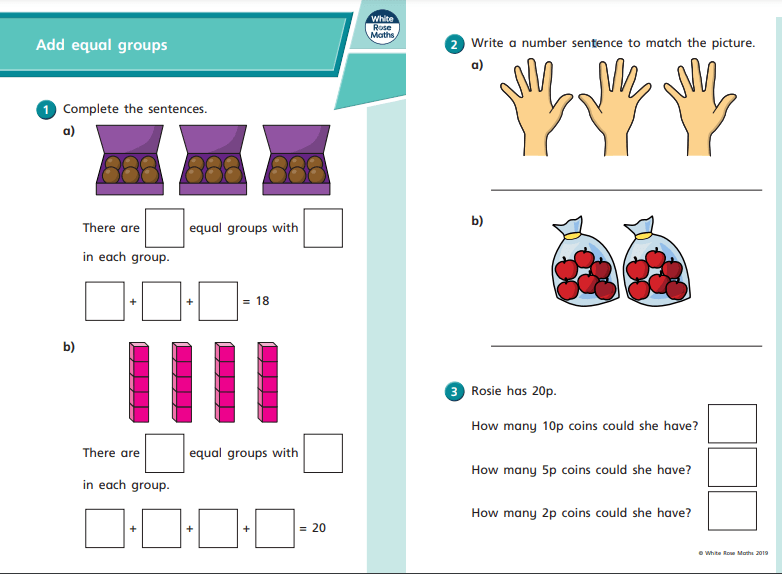 Science
In our new science topic this term, we are going to be learning about our bodies and how to keep them healthy. Watch Miss Roberts from The Oak National Academy and join in with her lesson.
https://classroom.thenational.academy/lessons/what-are-the-different-parts-of-the-human-body-70uk6d
Well done Year 2. Enjoy the rest of your day xx