Week Beginning 4th May
Monday 4th May... Happy Star Wars Day!
Hello everyone,
Please click the link below to enjoy a weekly Collective Worship with your family.
It is hard to believe it is May already. It is so difficult not seeing you all. We hope that you are safe and well. Are you being well behaved? It is still really important to stay at home so that the nurses and doctors can keep working to help anyone who isn't feeling well. The weather forecast shows that it should be dry weather again this week after all of the rain we had last week so you will be able to spend some time in your gardens again.
This week in school we would usually be continuing our Come and See work about Pentecost. Have you been learning about Jesus' special friend at home using the resources we put onto the website last week? Did you think of things to write in the thought bubbles on the sheet? The disciples were missing Jesus a lot when he had returned to the Father. It must have been difficult for them. It is a little bit like we are all feeling now, not being able to see each other. The Holy Spirit is all around us. It helps us and guides us and fills us with joy. You could try to make up a dance to show the Holy Spirit. Wave ribbons around and move like you are the wind, or flames. John Burland has a great song that you could play as you dance.
In English lessons we would normally be starting a new story this week. It is about a poor duck who has to do a lot of work on the farm where he lives. The story is by Martin Waddell (who also wrote 'Can't You Sleep, Little Bear' and 'Owl Babies'). There are a lot of different videos of the story being read but this version is a lovely one.
Can you believe all of that work that the poor duck had to do?
In school we would begin to learn about a new punctuation mark. It is called an exclamation mark and it looks like this !
We would use it at the end of sentences where there is something quite surprising, a strong feeling, excitement or where we want to make our reader read the word a bit louder.
Here are some examples:
I am so tired!
Please be quiet!
Run faster!
STOP!
Have a look in some books at home to see if you can find any exclamation marks in them. When has the author used them? Can you think of any sentences or times when you might use an exclamation mark? Try to think of some sentences and write them in your yellow books. Don't forget to use finger spaces and to start each new sentence with a capital letter.
The new phonics resources from the DFE are available here.
As well as keeping up to date with White Rose Maths and BBC Bitesize you could think about Farmer Duck for your maths work. In the story, Farmer Duck has to do a lot of jobs and these all happen on different days of the week. Can you name all of the days of the week?
Here is a song to help you.
Can you keep a diary in your yellow book of what you do in a week? You could write the name of the day, underline it and then write at least two sentences for each day. It might look a bit like this:
Monday
Today I went for a walk and I saw a red post box. I read my book to Daddy. Mummy and I counted to 50 and back.
Have a try and see how you get on. Don't forget to ask an adult to check your work.
Did you find coins in your house like Mr Barr did the other week? Why don't you spend a bit of time playing shop with a grown up? You could put prices (up to 20p) on the items and then find ways to make those amount of money sing your coins.
There are lots of ways of making the same total by using different coins. You can make 10p in these different ways...
There are some other ways to make 10p. Can you find them? When you have found ways to make 10p, try to find ways of making different totals and then buy items in your shop using your coins. Have fun and don't forget to take turns at being the shopkeeper and the customer.
Mrs Smith from Year 2 is in charge of the maths learning in our school and she has produced some ideas for daily counting that you can use and then adapt for home counting practice. Thank you, Mrs Smith.
Mrs Smith also found a booklet that has been produced by Head Start Primary. There are a lot of pages in it so please, if you would like to use it, only do a page each day for maths and English (the English work begins on page 22. This is an extra resource for if you are looking for some further work for you and your child to complete. There is no expectation that you need to complete this work.
Science
Next time you go for a walk, have a look at the plants around you. Can you name any of them? There are lots of dandelions around at the moment. See if you can find one. You can pick the plant and look at the features it has. Can you name the parts?
See if you can make this plant and label it here… https://www.twinkl.co.uk/resource/ca-sc-50-putting-together-a-flower-activity
Do you know where plants come from? Seeds! Next time you have some fruit at home, ask a grown up to show you its seeds. Some fruits have seeds on the inside and some have them on the outside. You could draw a picture of the fruits you have - don't forget to draw the seeds too!
If you have tomatoes, you could try growing your own tomato plant! Simply take the seeds out of the fruit, put them in some water for a couple of days and then let them dry. Once they are dry, try planting them in a pot with some compost. Remember to place the pot on a sunny windowsill and spray it with a little water every day. See if you can grow your very own tomato plant! Here are some instructions to help you https://www.hunker.com/13404677/how-to-grow-tomatoes-from-fresh-tomato-seeds
Topic
'The first flight that changed the world'
Did you enjoy watching the clips about the Wright brothers last week? Look over your timelines you created and your non- fiction facts to recall what you found out.
This week I want you to look at the similarities and differences between aeroplanes that are made today, compared to the 'The Flyer'.
Here is an image of an AIRBUS A380 and a labelled diagram of 'The Flyer' designed by the Wright brothers. Talk about each picture and think about the questions below.
Can you name parts of the plane?
What similar features do they have?
What is different about them?
Which one would you prefer to fly? Why?
CLICK ON THE IMAGES BELOW TO ENLARGE THEM.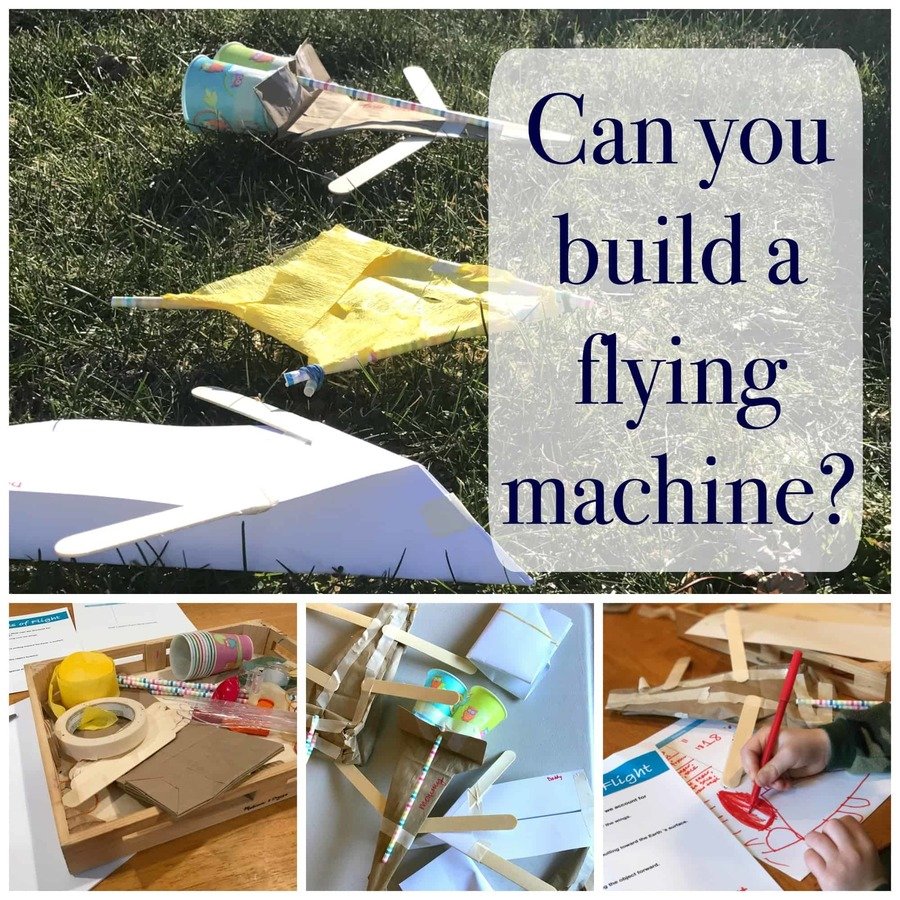 You could try and design and build your own flying machine. Think about the different parts of an aeroplane. What does a plane need to be able to take off and to be able to fly?
Design
You could start by looking at different images of flying machines or thinking of different modes of transport that you have seen that can fly. What is the same about them? Are there any features that are different?
Using the different images of flying machines, can you sketch your own design? What will yours need? Can you label the different parts of your machine?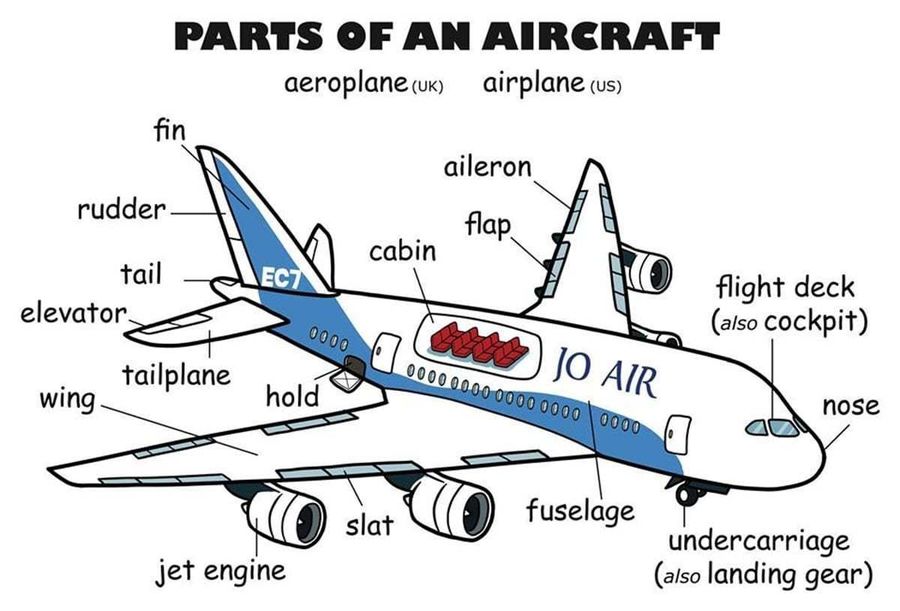 Create
Can you think of any objects that you find around your house that you could use to create your flying machine? You could use plastic bottles, cardboard boxes, straws, paper cups or lolly ice sticks.
Here are some examples that you could use: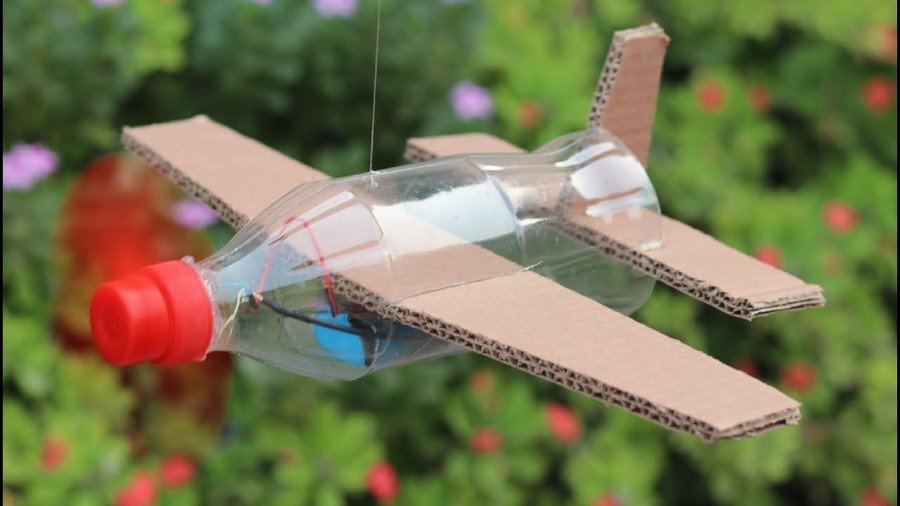 You could even try and have a go at making a paper helicopter. You could have helicopter races with your family.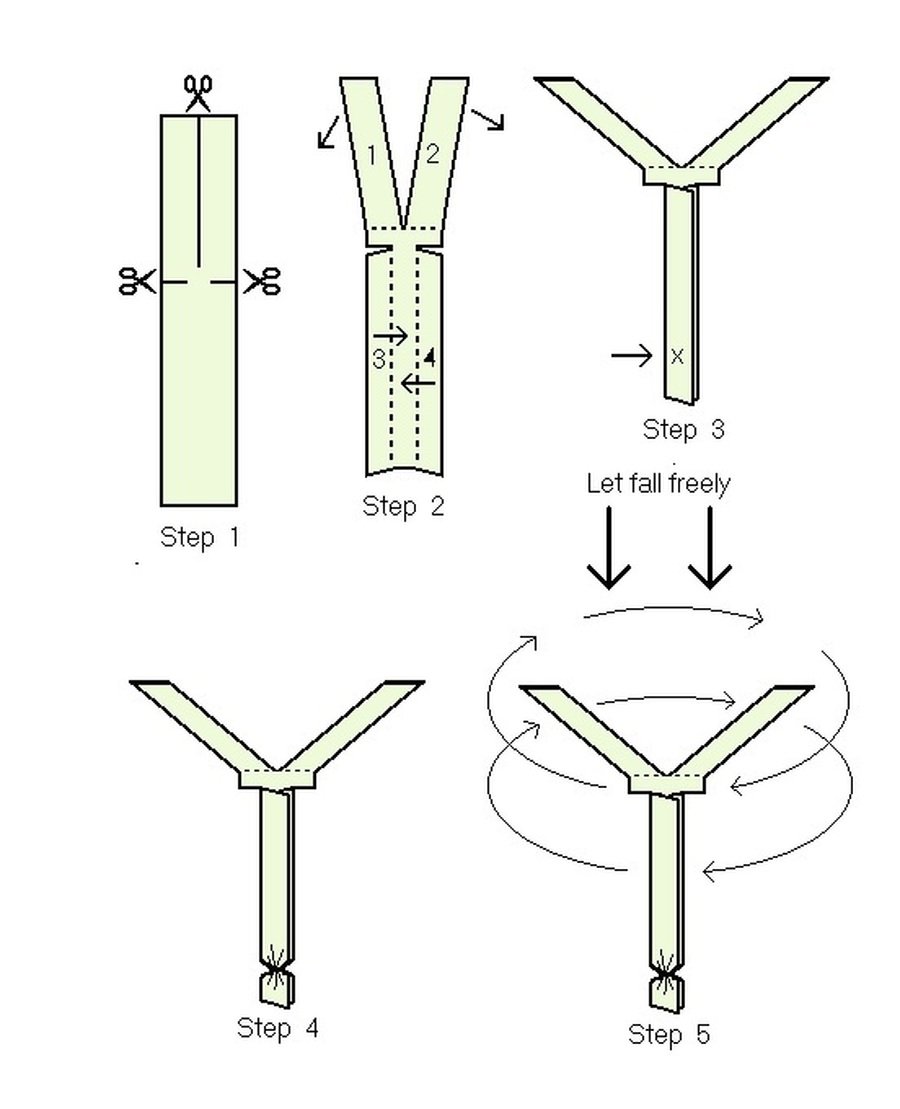 Evaluation
Once you have finished creating your own flying machine, go back and have a look at your first design. Is there anything that you are pleased with and that worked? Is there anything that you would change?
When you have been playing in the garden recently, have you seen any aeroplanes in the sky? I know in school how excited you would get when you see one on a clear day. In the summer I used to love lying in the garden and watching the aeroplanes. I liked looking at the patterns they made in the sky and would wonder where they are flying to. I know there aren't as many in sky as usual, but have you seen any other air crafts recently? Mr Barr often sees a helicopter near his house a couple of times a week, have you seen it too?
Keep checking back on the website to see if there are any new messages from the teachers.
We are all really proud of you. Keep working hard. Read at least once every day. Don't forget to exercise and hopefully we will see you all again soon.
Lots of love
Year 1 X
Tuesday 5th May
Hi everyone,
Yesterday was much warmer, wasn't it? I sat outside with my laptop and worked at the garden table which made a lovely change. Have you tried working outdoors? Don't forget your sun cream if you do.
Have you watched the Farmer Duck video yet? You might even have a copy of the story on your bookshelves.
Are you keeping a diary this week? It would really help with your maths task learning the names of the days of the week and how to spell them.
I enjoyed reading Mrs Smith's idea for growing your own tomatoes. It came a little too late for me as I had already planted some in our mini greenhouse. I wonder if there is anything else that you could try to grow from seeds. I think it is really important to be patient when you are growing plants because there is a lot happening under the soil that you can't see.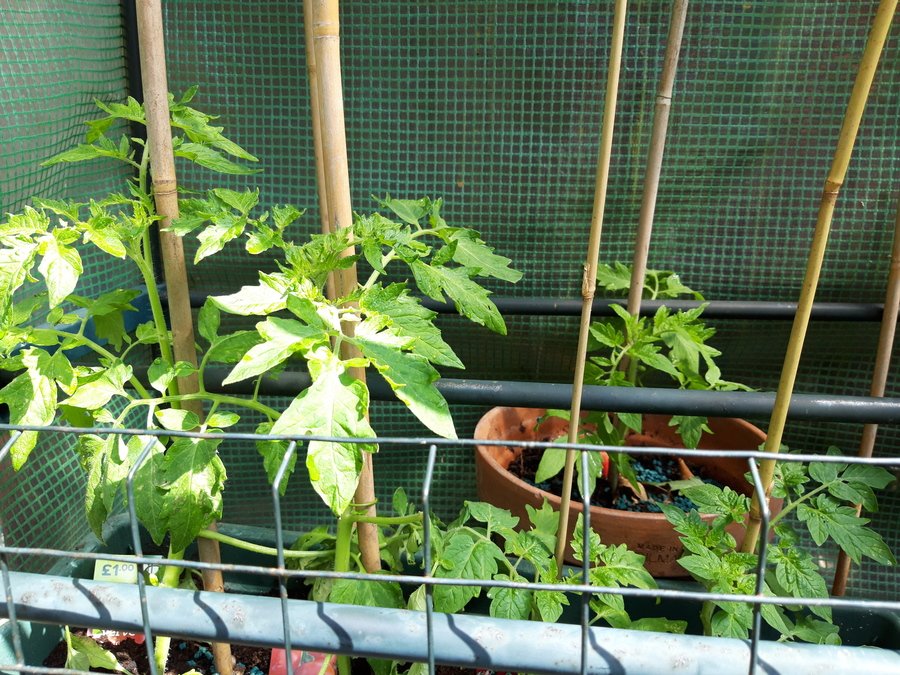 I have been chatting with my friends using text messages and I sent some challenges for their children to complete whilst out for their daily exercise. How many of these things can you find on your walks?
A telephone box.

An purple car.

A house that has been SOLD.

A snail or a slug.

A tree with blossom.
Challenge your friends to find things on their daily exercise. Happy hunting and stay safe.
I went for a walk with Dan and Rosie. We found these on our walk.
Whilst I was sat in the garden I heard the helicopter that Miss Wright mentioned fly nearby. I took a photograph although you'll have to look carefully as it is quite small because it was far away.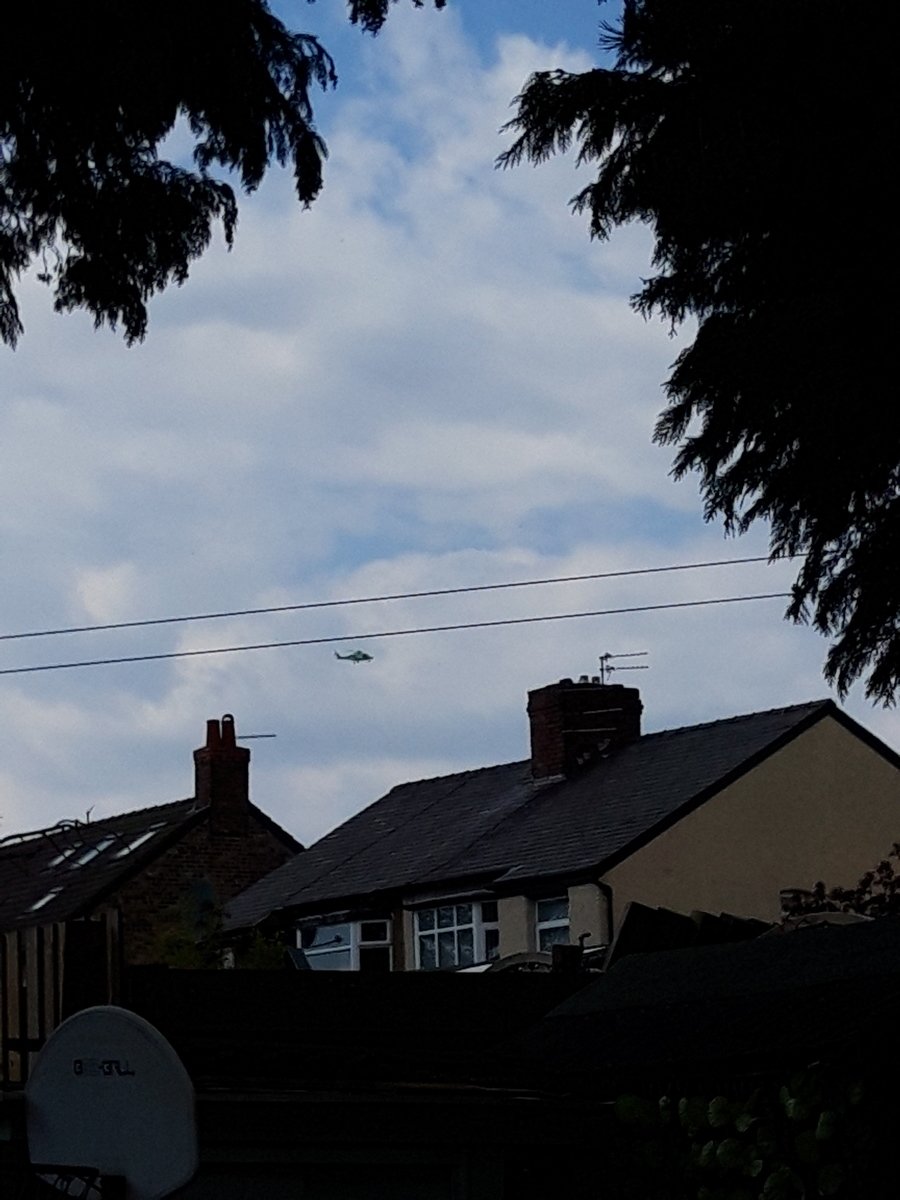 Stay safe, everyone and be on your best behaviour.
Love Mr Barr X
Wednesday 6th May
Hi everyone,
Hope you are all happy and safe. I really am missing you all so much!
Before we finished school, we were lucky enough to complete our MISP (Massage in School Programme) with Mrs Harris. Have you been practising the massages at home with your families? This is a really good activity to help you feel calm and relaxed. You could even play some peaceful music like we did in our sessions too.
Here are some our favourite moves we practised.
Ask permission

Hairdresser

Slide

Bear walk

Skating

Say thank you.
Are you still doing your daily exercises? What activities have you been doing to help you relax? I am still continuing my running and walking first thing in the morning, it is definitely preparing me for the day. I have managed to do some more watercolour paintings during the weekends too. All these activities are helping my mind and body to relax.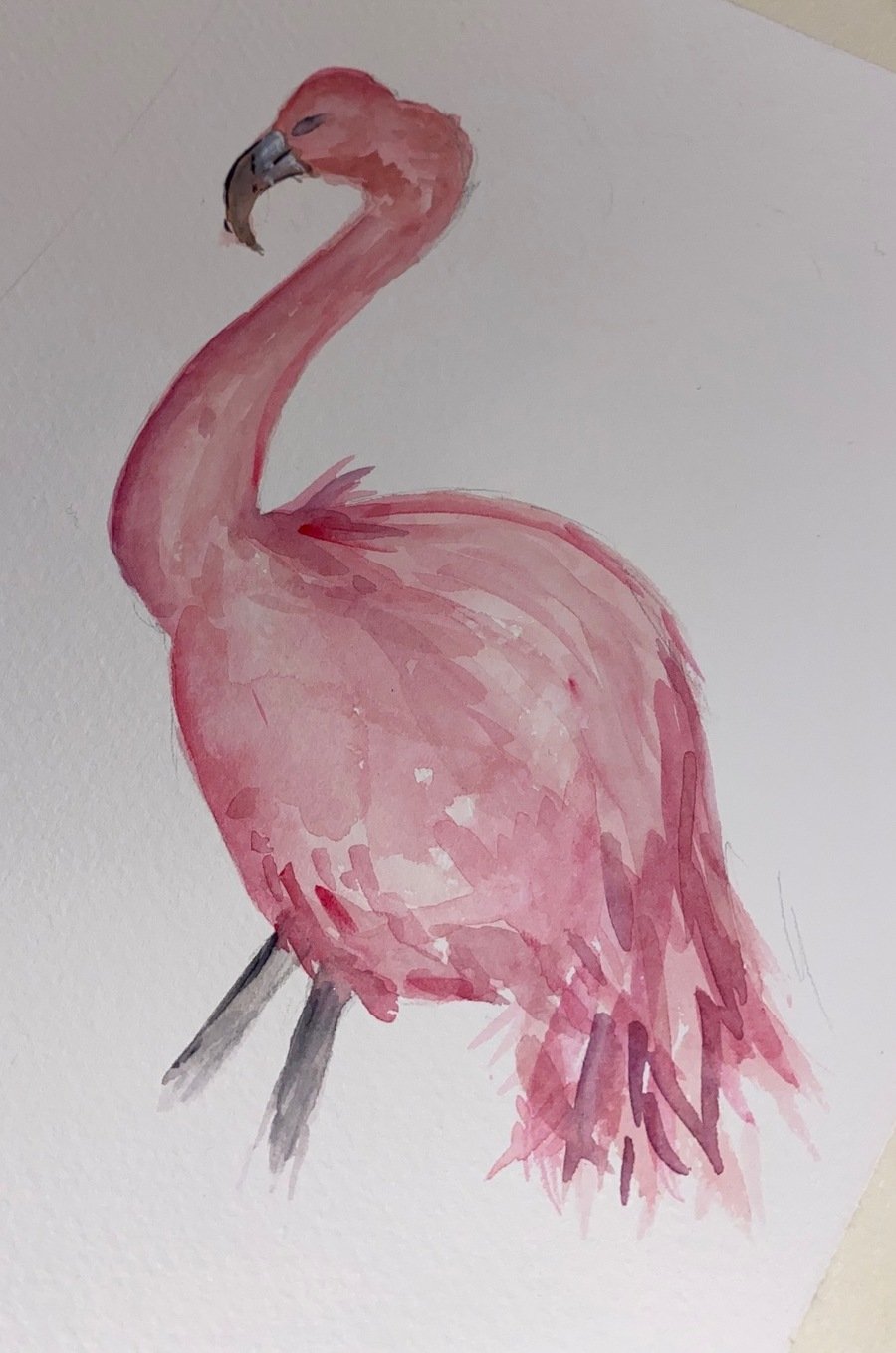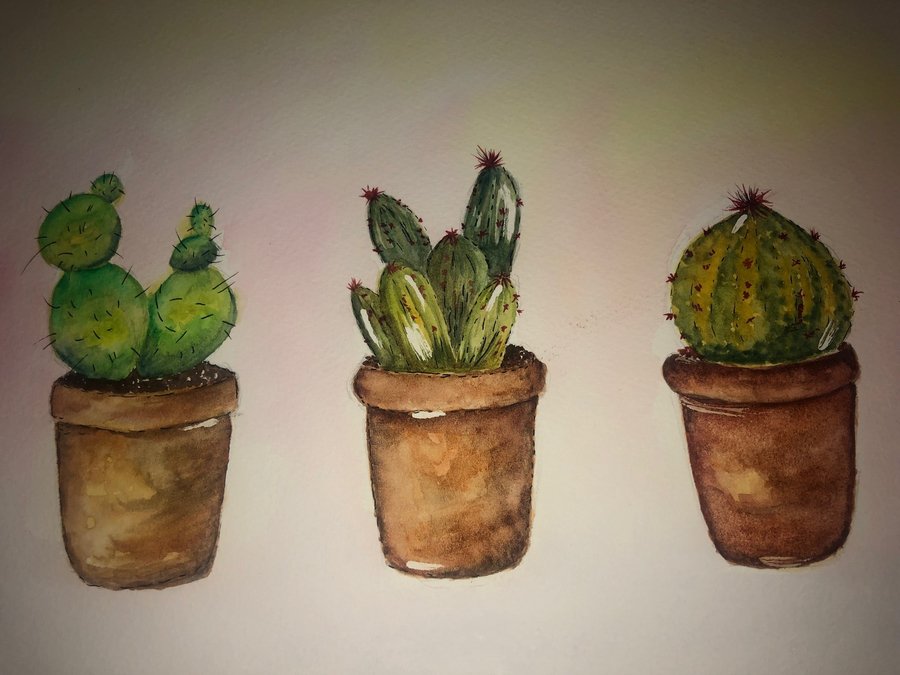 I am excited to hear about what you have been doing at home!
Love from
Miss Wright x
Thursday 7th May
Hi everyone!
I hope you're all still staying safe and having fun at home. I am missing you lots!
This week I have made a flying machine with Jacob. We had great fun together, especially when we took it for a test flight in the garden. We made ours out of cardboard.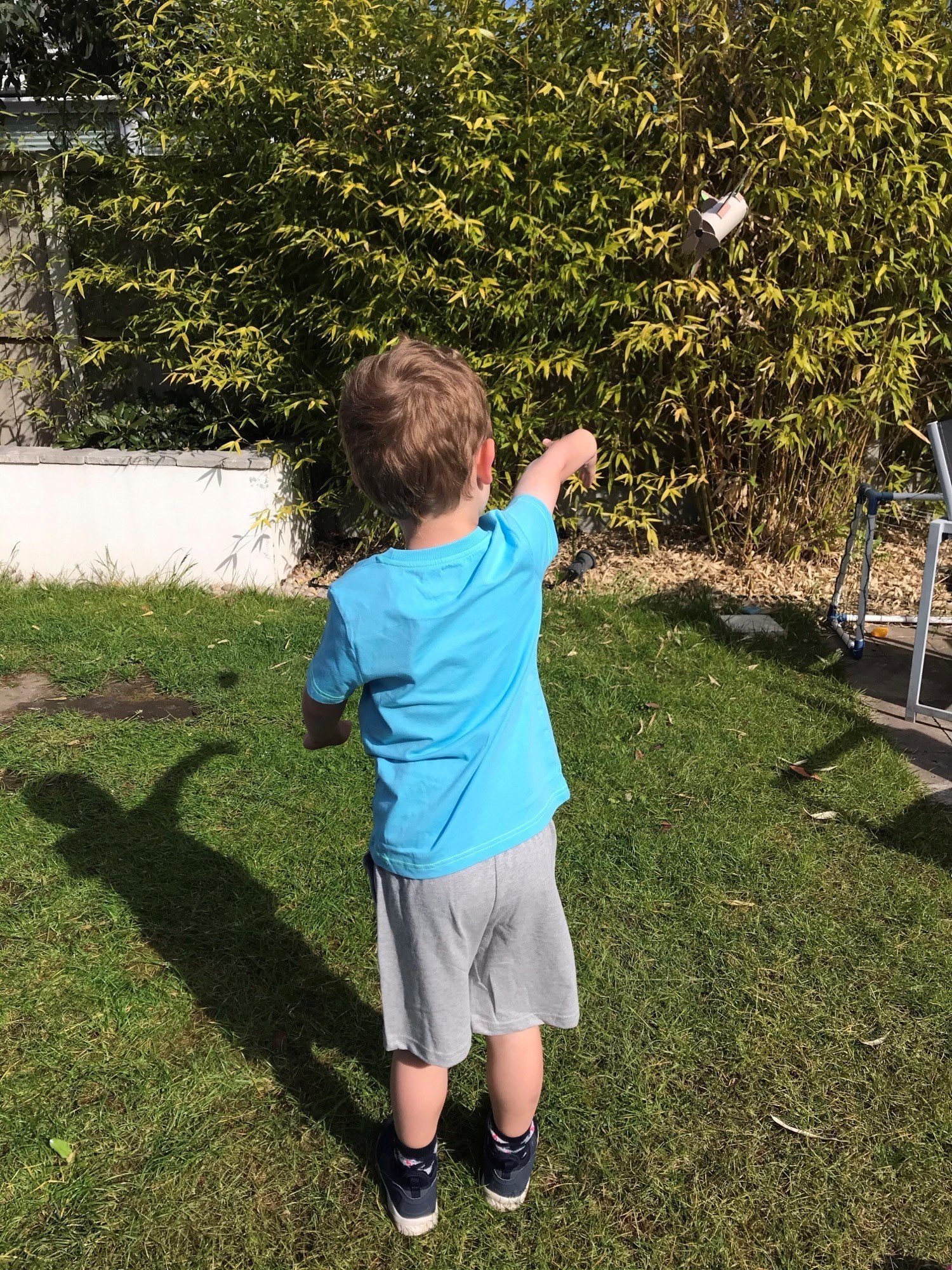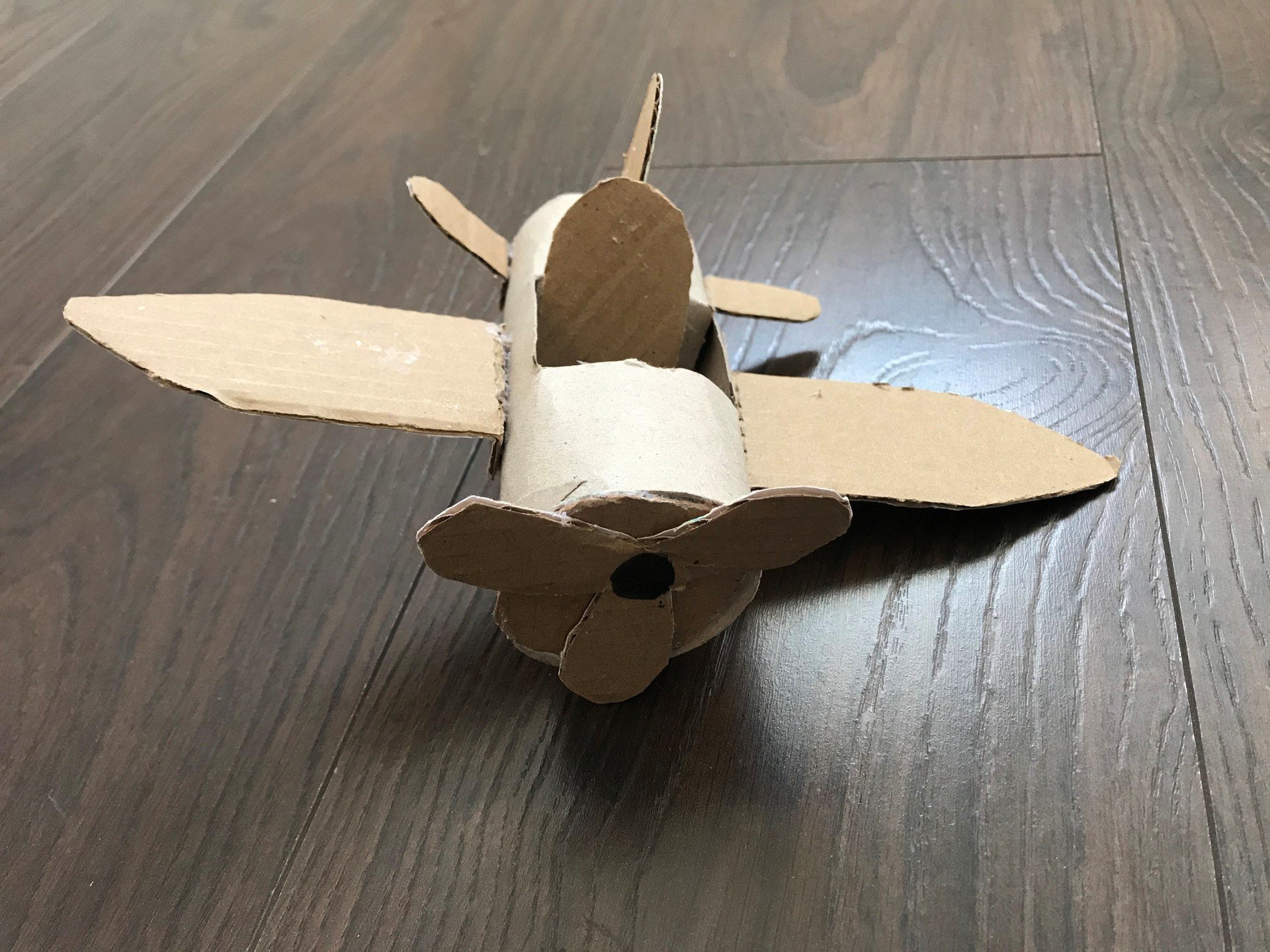 After we had made our flying machine, we decided that if we made it again, we would use a split pin for the propeller so it could spin around and would try and make some wheels too. Have you made your flying machine yet? What did you like about it? Would you change anything if you made it again?
This week we have also looked at the different seeds in the fruits we have in the house. I carefully sliced each fruit so that we could see the seeds. Make sure you ask your grown up to help you cut the fruit. We looked at blueberries, apples, bananas, strawberries, tomatoes and avocados.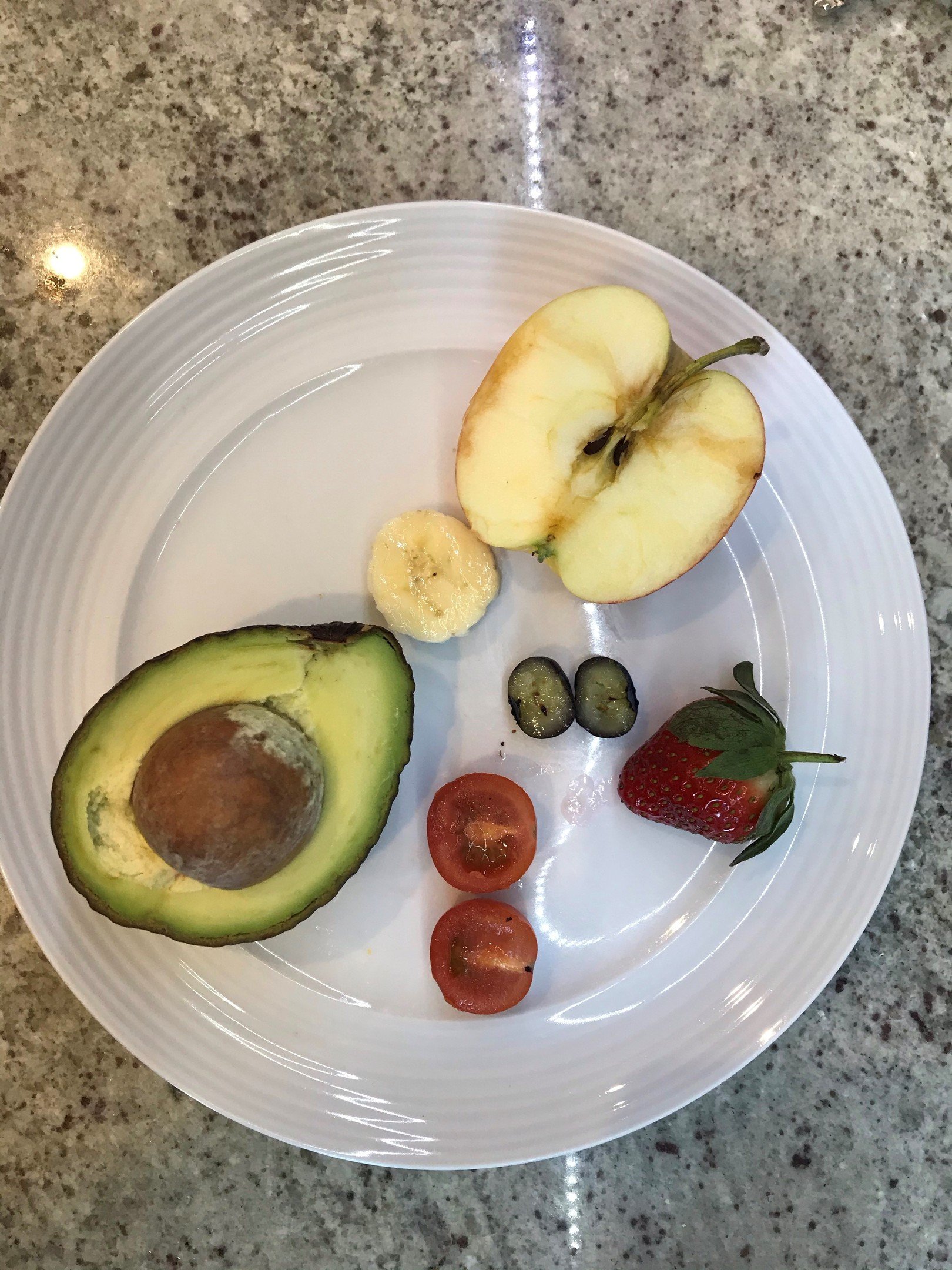 The seeds were all different shapes and sizes. The largest we found was the avocado, it was huge! We enjoyed eating the fruits afterwards too and it helped us eat our 5 a day. Have you looked inside your fruit yet?
I miss you so much and I can't wait to hear about the fun things you've been doing at home.
Stay safe and take care,
Mrs Smith x