Week Beginning 20th April
Monday 20th April
Hi everyone! Happy Easter! We hope that you and your families are all safe and finding lots to do.
Did you make a cross at home from things that you could find?
It is hard to adjust to learning from home and there are a lot of different companies and providers putting links on their websites to provide learning ideas. We will share some of those links with you, or you can work through the ideas that we have shared. Please don't feel under pressure to complete everything, these are extraordinary times and everyone has settled into different routines. Please remember, these are ideas for you to explore if you can.
How did you get on with the work from before the Easter break? Did you manage to write a poem? How did your timetable of your day go? Miss Wright gave a great example of what a good one looks like. All of the Year 1 staff shared photographs with each other of different signs of new life. Here are some of what we found…
The BBC have worked with a group of providers to put daily learning together. Some of the content can be found by using your red button on your television remote control. Click on the timetable to go to the website.
In English we would normally be looking at a new story together and we've found a video of someone reading it. The story is called George and the Dragon and can be found on YouTube by clicking on this link George and the Dragon.
This story has a big surprise in it. Can you tell your adult what that big surprise is?
Try to watch the story once a day this week and try your best to join in with the reader. She does a good job of using her voice to make the story come to life. Can you use your voice for this?
Look at the three dragons in the pictures (click on them to make them bigger). Can you describe them in your yellow books? Don't forget to use capital letters, finger spaces and full stops.
Choose your level of difficulty…
simple sentence (I can see a green dragon.)
sentence with a bit of extra information (The dragon is breathing fire.)
sentence joined with 'and' (The green dragon is small and it is smiling.)
See if your adult can guess which dragon you are describing from what you have written.
You could find another dragon on the internet and describe that or draw your own and describe it (a bit like when we drew our own monsters when we were reading The Way Back Home. (Follow the link to watch it.)
(If you would prefer, you can follow this link to find further English resources... https://www.englishmastery.org/our-response-to-coronavirus-covid-19/)
Mathematics
How did your garden counting go last week? How many baby steps was your garden? Did you manage to think about the tens and ones? How many tens and ones does 27 have?
Where does your family keep their spare change? In Mr Barr's house there is a small pot for change before it goes into a bigger container. He tipped it out and found these coins…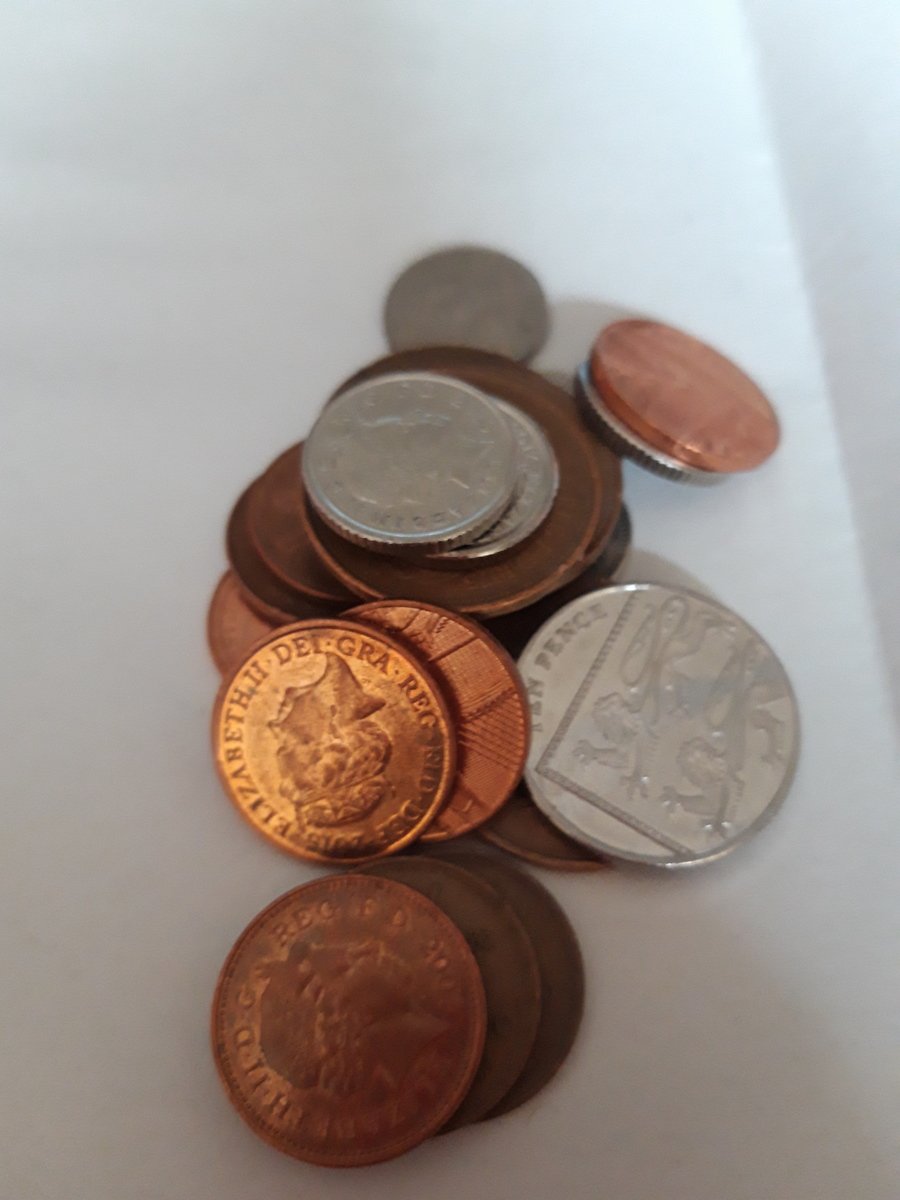 and he sorted them into their different values.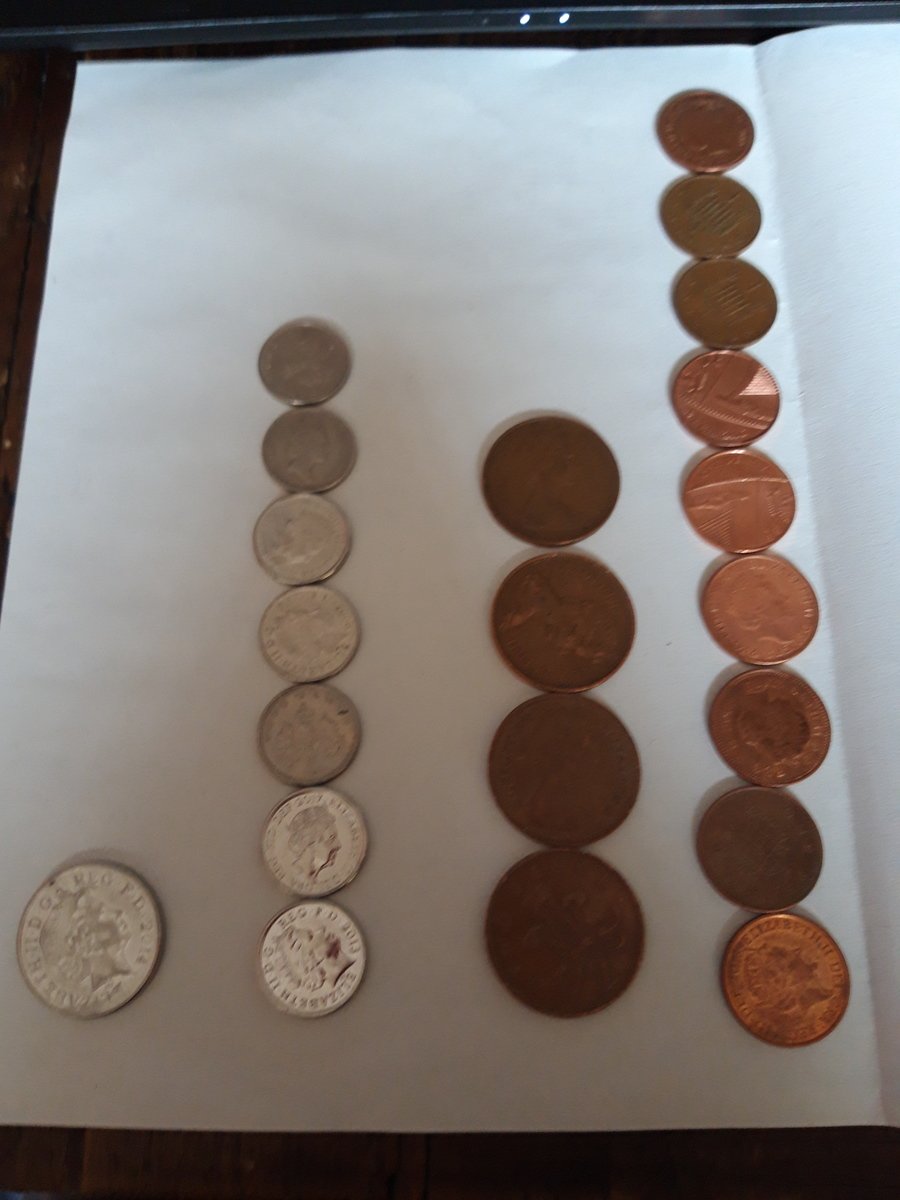 What coins can you spot? How many of each coin can you see?
He used the 5p coins to count in 5s.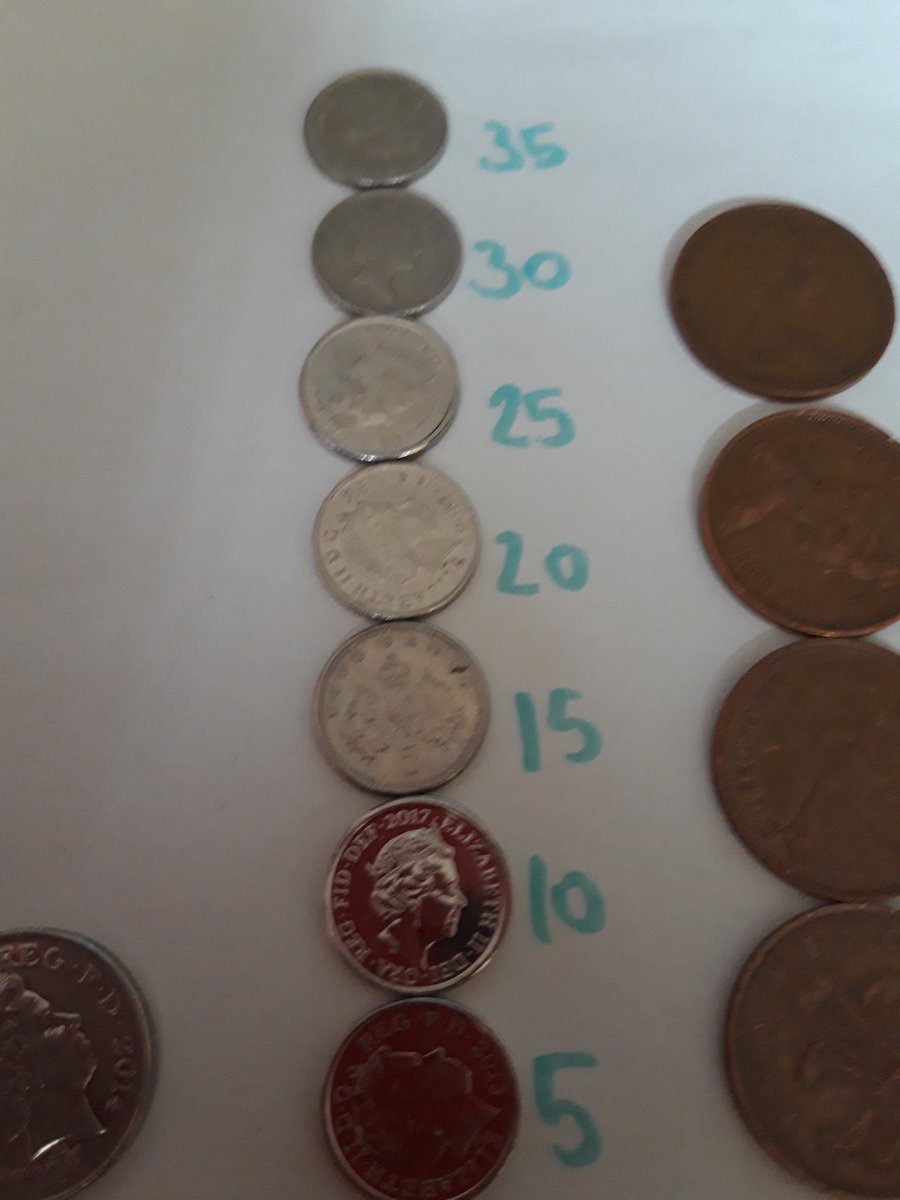 He used the 2p coins to count in 2s.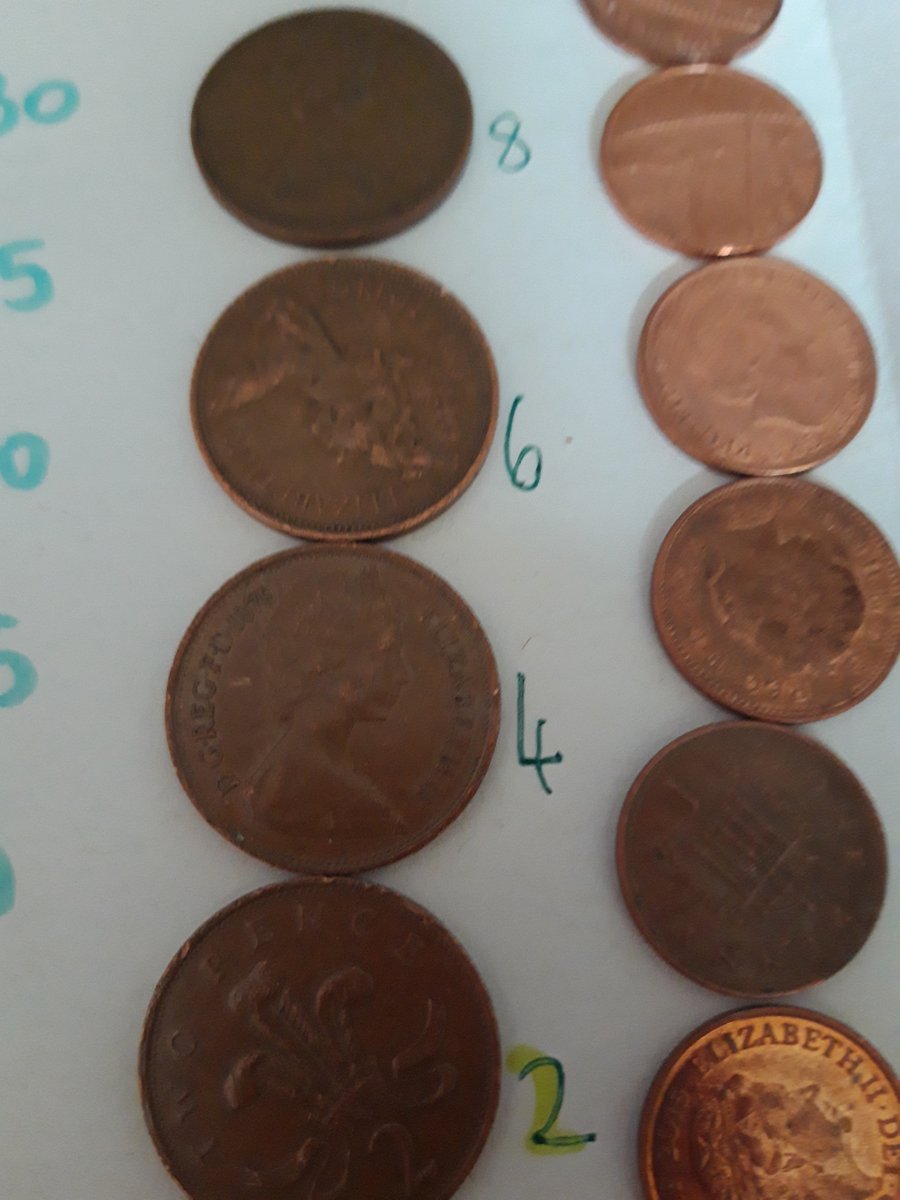 Can you do this too?
He only found one 10p coin. Can you find more and count in tens?
Draw your coins in your yellow book and write your 10s, 5s, 2s and 1s next to them like Mr Barr did.
Now just use the 10p and 1p coins to make different two-digit amounts. Look at how many tens and how many ones you have used each time.
Can you work out the tens and ones for these amounts and write the answers in your yellow book?
18p = 10p + 8p It has 1 ten and 8 ones.
24p
16p
27p
35p
41p
How did you get on? One of the teachers will put the answers on this page later in the week.
We hope that you have been doing lots of counting. Put some toys out in a line. How many have you got? Ask someone to make a new line of toys for you to count. Add one or take one away and see how many you have now.
Don't forget the daily lessons on White Rose maths: https://whiterosemaths.com/
Other ideas.
Last time we had a look at some common garden birds. How many were you able to spot and did you make a table of your findings? Did you find out about the pied wagtail? What colour are its feathers?
This week go on a minibeast hunt. Ask an adult to help you to look under any rocks you might have in your garden as they love dark, damp places. If you place some old cardboard on the soil, after a few days you might get a surprise when you lift it up!
Here are some of the more common minibeasts. How many can you find?
Can you draw the minibeasts that you find? You could label your picture like a real scientist would. Add information like legs, wings, body segments and eyes. What other labels could you use? Don't forget to wash your hands after hunting for minibeasts.
Do you remember the throwing and catching challenge? How many did you manage?
This week, why not see how many different things you can do in a minute. You could see how many hops you do in a minute, or how many times you can run around your garden in a minute. How many star jumps can you do in a minute? Ask an adult to time you.
Find out how many seconds there are in a minute. Can you guess how long a minute is? Try sitting on the floor then counting to a minute in your head. When you think you've reached a minute, stand up. How close did you get? Keep trying until you get really close.
On Twitter there is an artist called @GaryScribbler and he has been drawing flowers but then adding faces to them. They look really good. Here are some of his ideas…
Have a try at drawing your own flowers.
If you have building blocks at home, why not try some of these ideas out?
We are all still missing you lots. Enjoy your learning this week and keep checking back on this page every day to see if there are any new messages. Remember to keep washing your hands and to stay at home.
There are some lovely ideas from Mrs Harris on the Year 2 update page. There is a scavenger hunt for whilst you are on your daily exercise and a time capsule idea too. Thank you, Mrs Harris, for finding these.
Stay safe.
Lots of love,
Year One X
Tuesday 21st April
Hello everyone! I hope you all enjoyed your Easter break. The weather was lovely and I was able to spend a lot of time outside with my family in the garden or taking Rosie, our dog, for walks. I hope you were able to play outside a lot. Have you got any Easter Eggs left? I've tried to be good and I've eaten mine a bit each day.
It has been strange going into school without all of you being there too. I am hoping that we will all be back together soon and having fun again but for now the safest place for you all is at home.
Some children still have to come to school because of the jobs that their parents do and we recently made some Elmers out of old milk cartons. Have a look at the ones that they made (if you click on the photographs they will go bigger). Can you make your own? Make sure an adult cuts the milk carton up for you as that bit is quite tricky.
I was looking at the flowers that @GaryScribbler has been drawing and I had a try. I'm not as good at drawing as Miss Wright but I was quite pleased with my snowdrop. Can you see where I put the face? When Gary drew his snowdrop he chose to put the face on a petal. Have you had a go at drawing your own flower and putting a face somewhere?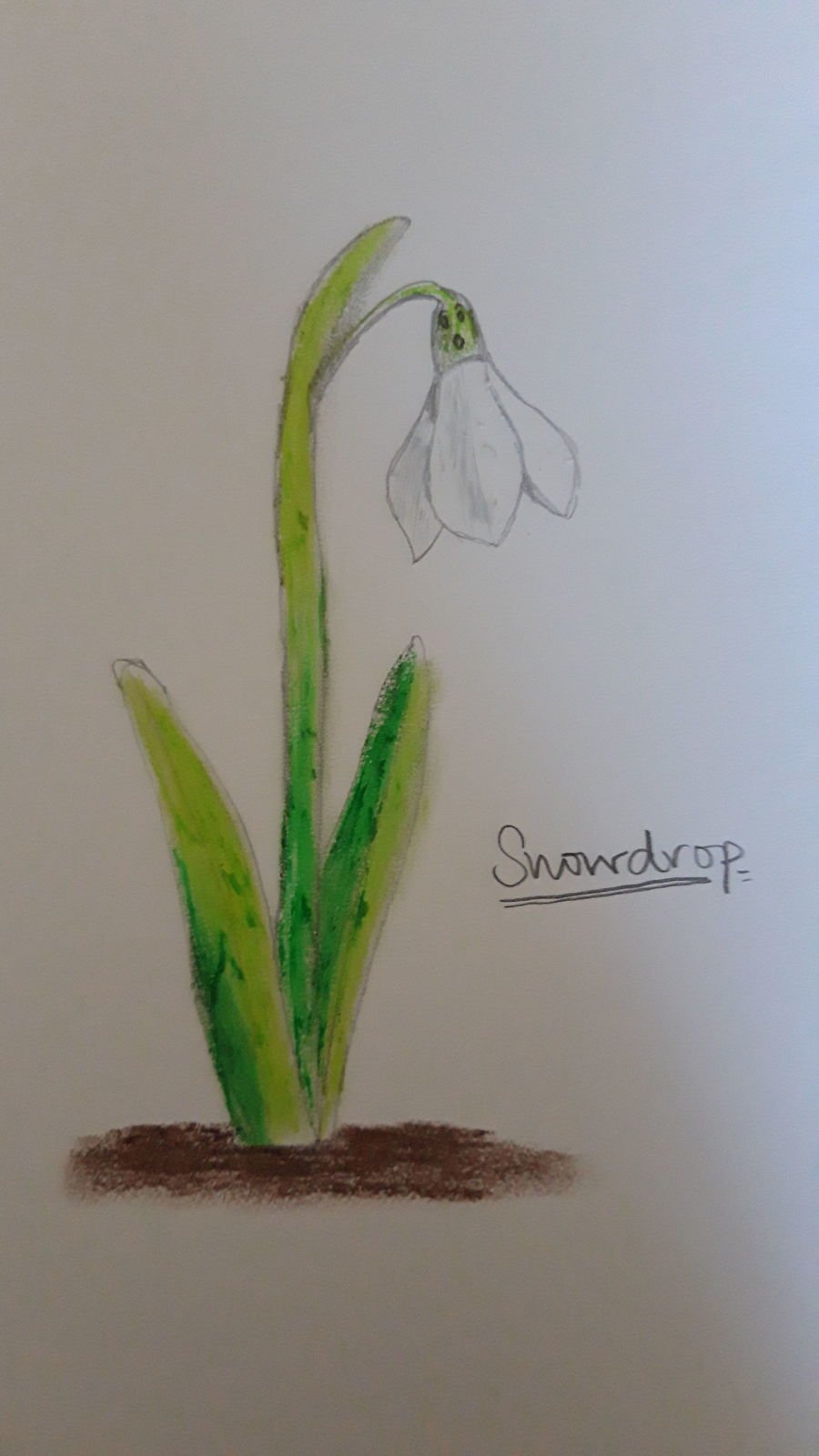 I watched the story of George and the Dragon again yesterday and it made me think about designing my own dragon. I looked on the internet for some ideas to help me then had my best try.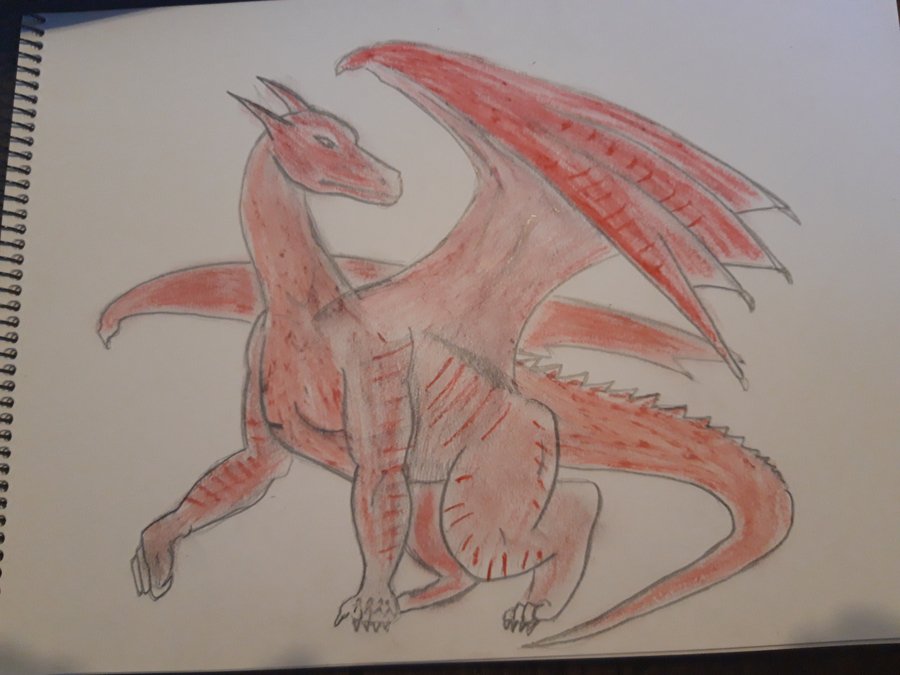 My Dragon
My dragon is red. He has massive wings with spikes on the ends of them. My dragon has a long tail and he can use it to knock things down. My dragon has very sharp claws and powerful arms and legs. He can fly very high and is able to breathe out fire. My dragon can be grumpy but is gentle with his children. My dragon is huge.
Can you spot which of my sentences are 1, 2 or 3 chilli sentences? If you haven't tried to create your own dragon, have a go in your yellow books. Maybe you could pretend to be your dragon and fly around your garden!
Today I am going to read my book at 10:30 (half-past 10) and again at 2:30 (half-past 2). Why don't you do the same?
Have fun and stay safe.
I look forward to when we can all be together again.
Love from,
Mr Barr X
Wednesday 22nd April 2020
Hi everyone! Happy Wednesday!
I hope you are all happy and keeping safe in your homes. I am missing you all a lot but I am excited knowing we will be together soon. I have been keeping myself very busy, doing my daily exercises, cooking and enjoying my video chats with my friends and family.
This week in school we would have been starting a new 'Come and See' topic called 'Holidays and Holydays'. So to begin with I want you to talk about your favourite holiday/trip or watch Barnaby Bear clips about him going on holiday in different places around the world.
Barnaby Bear holiday clips here
Can you find any photographs of your holiday? This might help you remember the things you did.
Here are some questions to discuss during your chat.
Why are holidays different from ordinary days?

What do you like to do in the holidays?

Do you stay at home, visit relations or go away?

Who goes with you?

What do you take?

If you have to travel, what means of travel do you use?

What do you like to do on holiday?

What makes it a happy time?
After the discussion your task is to draw a template of a suitcase and cut out/draw things you would need to take with you for a holiday.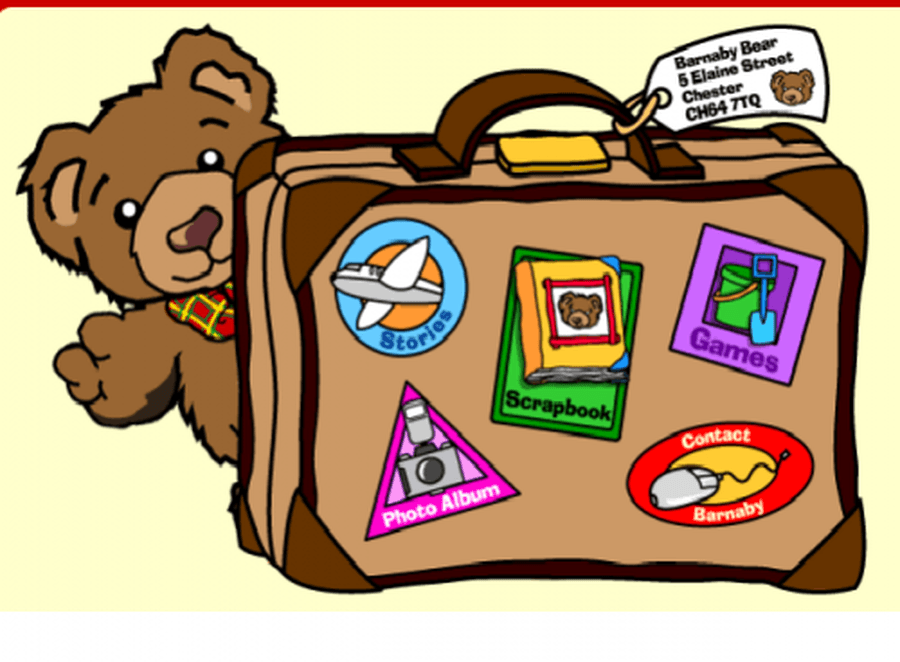 I understand that some of you may have had holidays to look forward to this year, but maybe you could roleplay a holiday in your garden. Perhaps a camping holiday, building a tent or den and having a picnic in the sunshine with your family.
When I think about my holidays, there are always certain songs that trigger happy holiday memories. Do you have a holiday song? The 'Chocolate' (A Choco Choco) song is a well-known holiday song. Have you heard of it? Do you know the dance to go with it?
Hope you have a lovely day, reminiscing about holidays and getting excited talking about a future holiday or trip with your loved ones.
Be good and keep safe!
Love from
Miss Wright x
Thursday 23rd April 2020
Hello everyone!
I hope you're all well and staying safe at home. I miss you all lots and hope we will all be back together very soon. Jacob and Jessica are keeping me very busy and we have enjoyed spending lots of time in the garden with the lovely weather we've been having and going for walks around where we live.
Jacob and I went on a minibeast hunt and were surprised at how many different minibeasts we found! We talked about how many legs each one had, whether it had wings and which micro-habitat we found them in. Jacob's favourite were the blue beetles we found munching on leaves.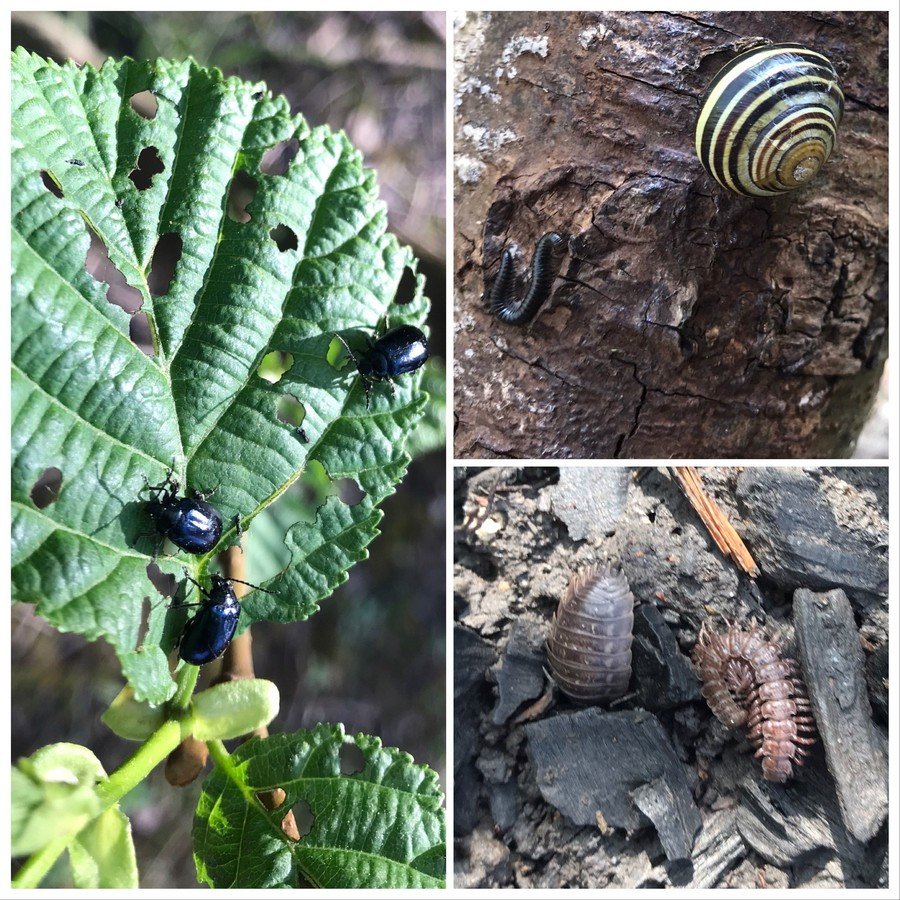 Have you managed to find any minibeasts yet and draw a picture of one? Here is a drawing of a ladybird that we found.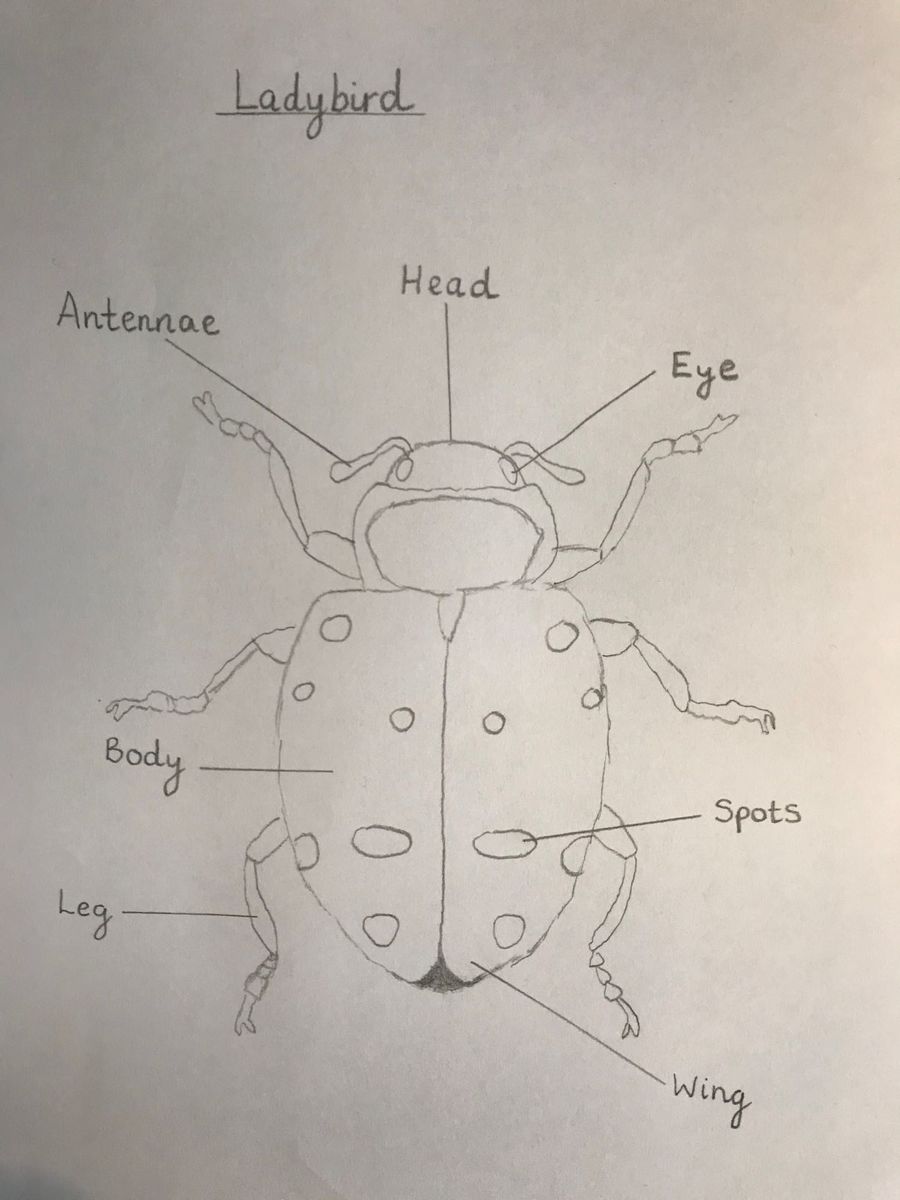 Jacob helped me to label it. See if you can label yours too.
Here is some information about minibeasts and where they live. You might see some minibeasts that you found on your hunt too!
You could also make a minibeast hotel in your garden. All you need is a container, such as a plastic bottle or pot, some sticks and leaves and you'll begin to see minibeasts in there in no time! Here are some photographs to help you.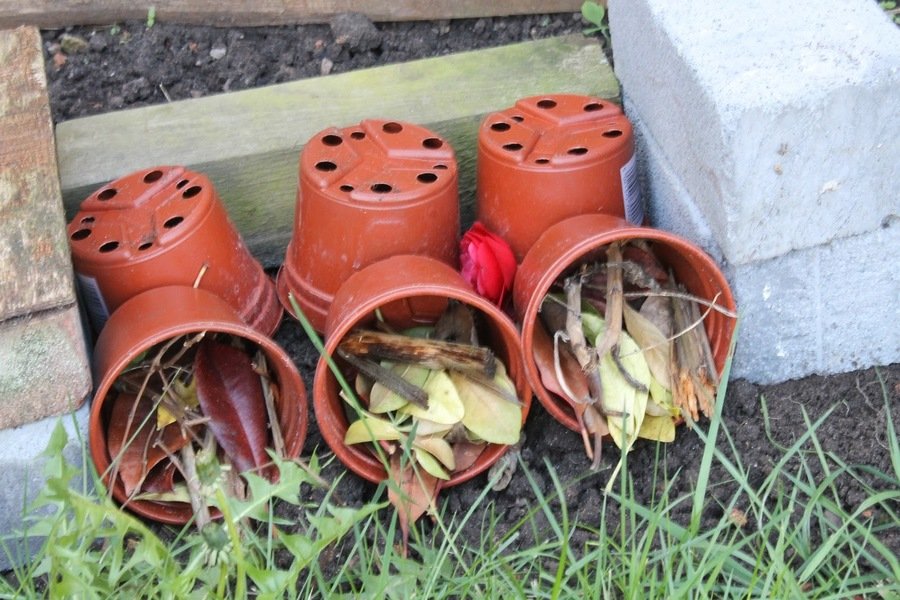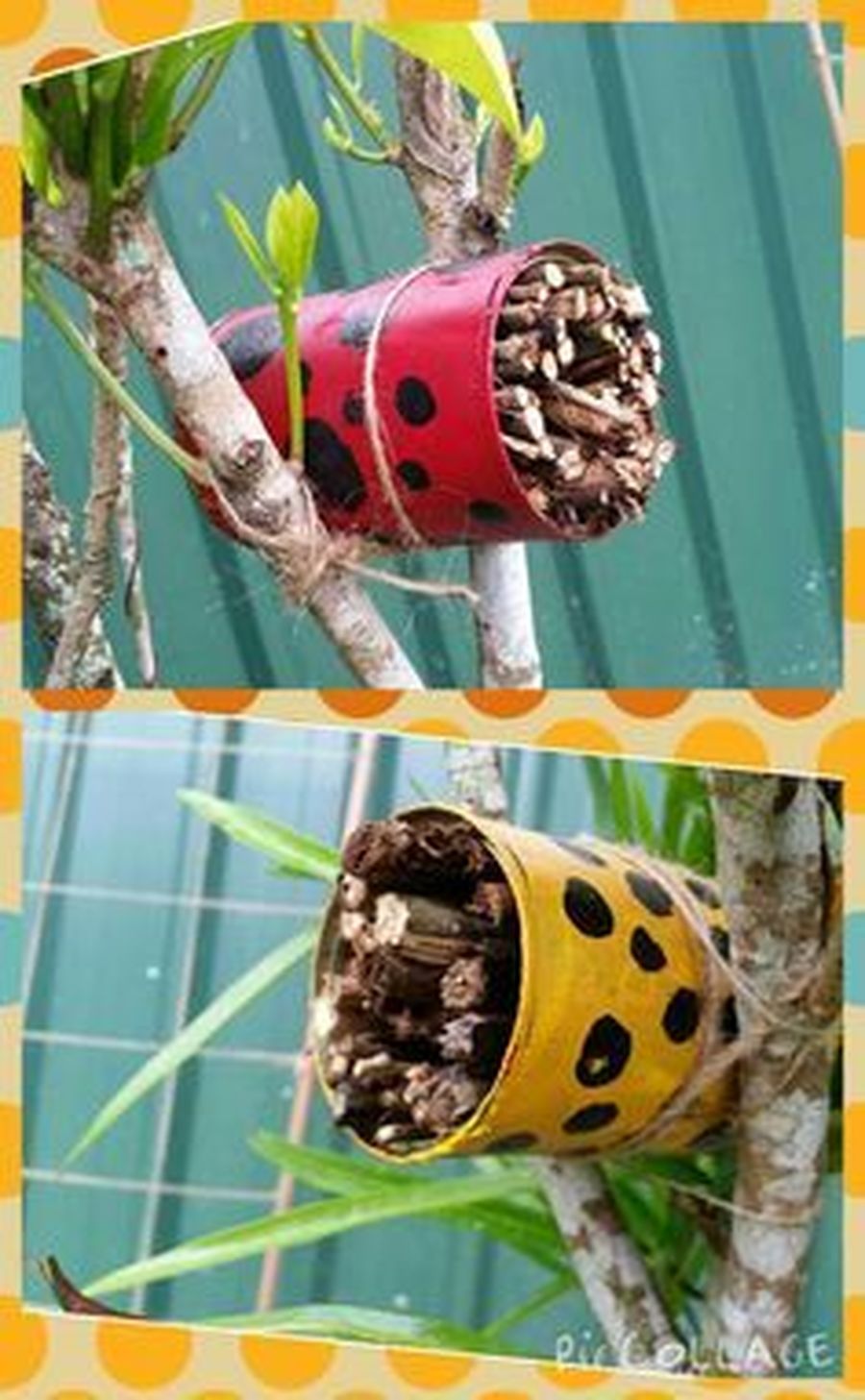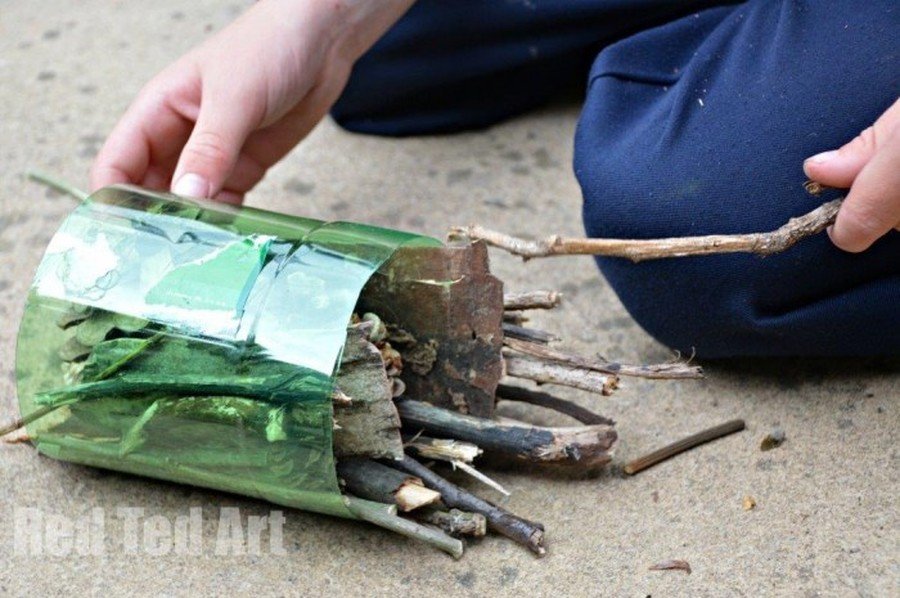 Have you managed to answer Mr Barr's Tens and Ones questions?
Well done if you have and here are the answers.

• 18p = 10p + 8p It has 1 ten and 8 ones.
• 24p = 20p + 4p It has 2 tens and 4 ones
• 16p = 10p + 6p It has 1 ten and 6 ones
• 27p = 20p + 7p It has 2 tens and 7 ones
• 35p = 30p + 5p It has 3 tens and 5 ones
• 41p = 40p + 1p It has 4 tens and 1 one
Today we are going to paint pebbles to look like minibeasts. You could have a go too!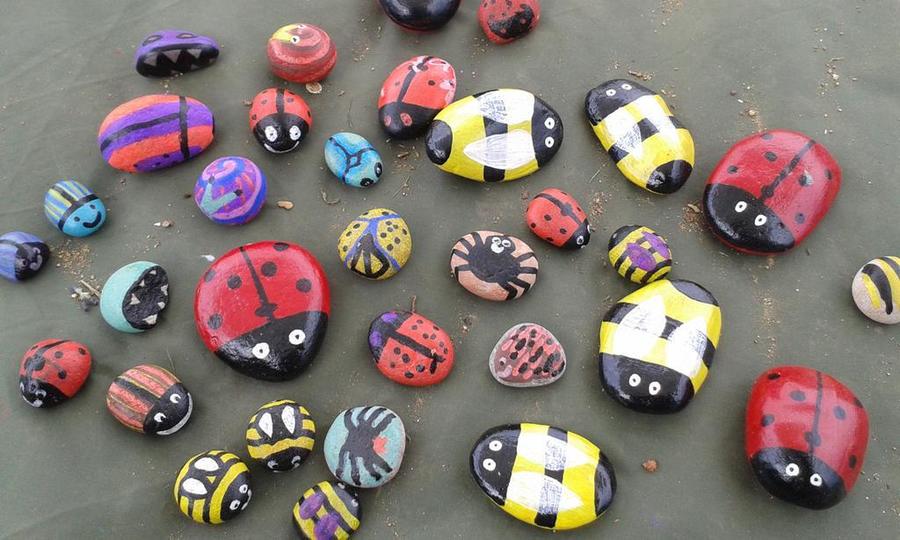 I hope you have a lovely day and stay safe.
Love from
Mrs Smith x