Week Beginning 11th May
Monday 11th May
Please click the link below to enjoy a weekly Collective Worship with your family.
Hello, everyone. Another week of working from home. Hopefully you have settled into a routine and are finding a way to balance some work with relaxing. We have all really enjoyed reading the replies to the emails that we sent out last week. Please do keep in touch with us as it is lovely to see all the hard work that you have been doing. We all enjoyed looking at photographs of you (and how much you have grown) and even some videos. If you have not received an email from your class teacher, please contact the school office to check that we have your correct email address. Thank you.
Have you been getting your daily exercise?
How did you get on with finding Mr Barr's objects from last week?
In our Come and See we would usually be reflecting back on what we have learned during the topic. Can you remember who the special friend that Jesus had promised was? Did you have a pretend holiday in your own house or back garden? If you didn't do that, maybe you could try it this week.
Last week we started thinking about Farmer Duck in English lessons. We will continue to think about this story for another week. There is a brilliant version of the story told by Michael Rosen on YouTube. Click on the video to watch it.
The farmer wasn't very nice was he? In your yellow books can you write a description of the farmer?
You could write about what he looks like or how he behaves.
Don't forget to start each sentence with a capital letter, use finger spaces and end your sentence with a punctuation mark. Can you think of a sentence that would need an exclamation mark (!) at the end of it?
Another job that we used to really enjoy in school was to think of questions to ask one of the characters and then someone could pretend to be that character and answer our questions. Remember a good rule for how many questions to write is to match them to how old you are and write at least that many. What punctuation mark will you need at the end of one of these sentences?
Here is the link to the letters and sounds lessons.
Maths
There were lots of ideas shared for maths last week and it would be a good chance for you to practice those skills further. Did you play shop? If you did, try to use coins to make different totals and record them in your yellow books. If you didn't play shop, find some items for your shelves and get playing!
Don't forget the work that is on BBC Bitesize and White Rose.
Here is that maths booklet that was uploaded last week for you to continue working through. If you can't print it out, try to copy out the ideas in your yellow books or on any spare paper that you have.
Science
This week in Science, we would be building shelters. See if you can make a shelter for one of your small toys. Next time you are out for your daily exercise, try and collect some twigs and leaves. After you collect them, you could design your shelter by drawing it first. Then try and build a shelter onto a piece of paper or card. You can use other items that you have to help you, such as cellotape,elastic bands or string. Can you build it so that your toy wouldn't get wet if it rained? Leaves are great to help you make it waterproof. Can you remember any names of the trees you collect your leaves from? Use your leaf spotter again to help you, if you need it.
Here are some photographs to help you build your shelter.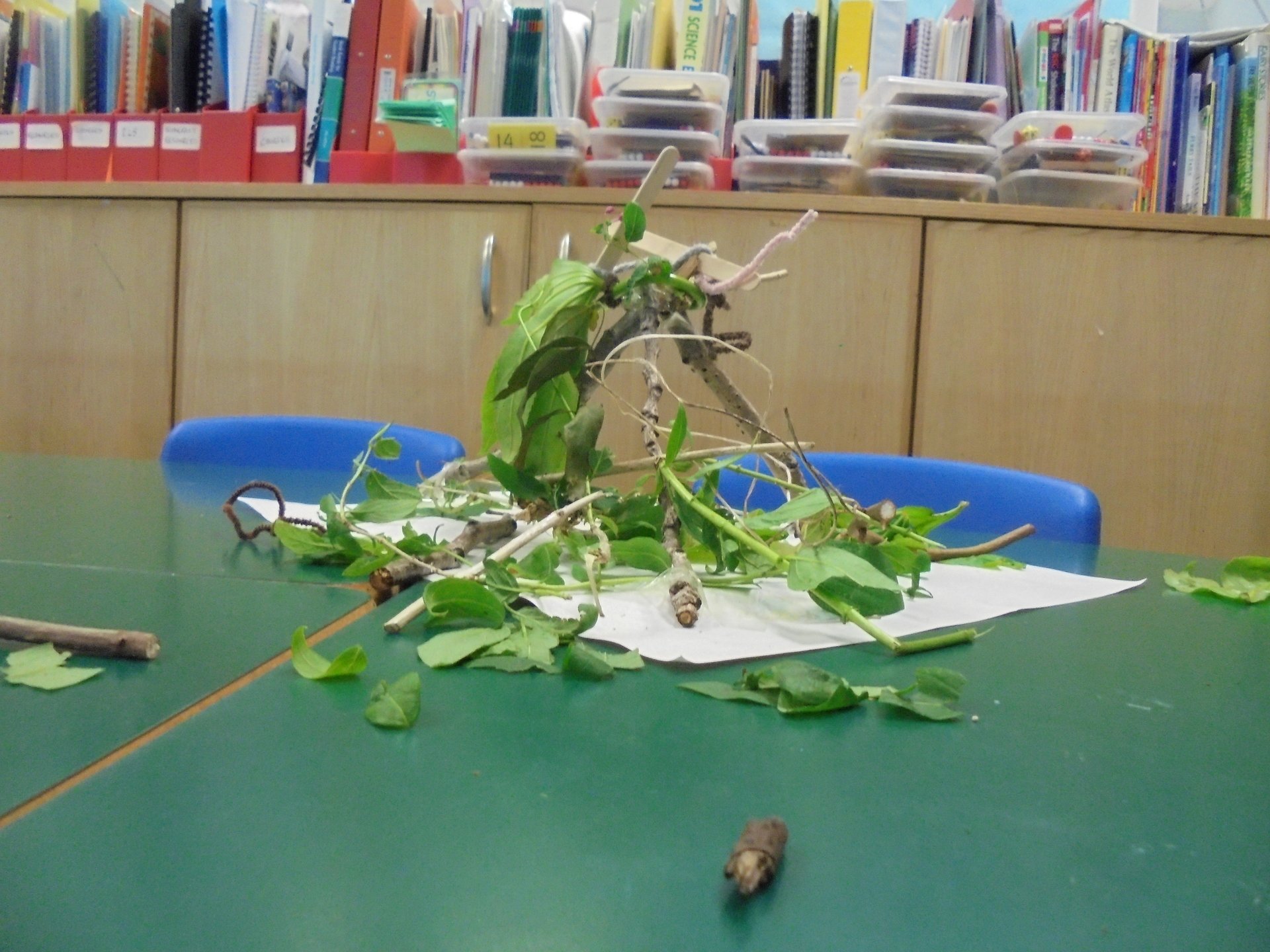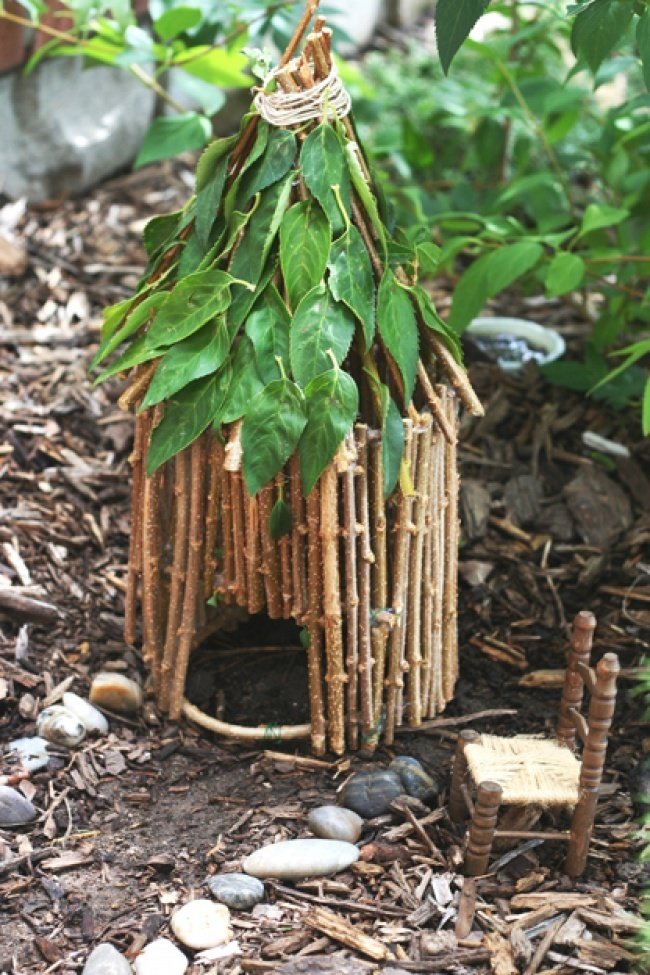 After you have made your shelter, put your toy inside. Is it a good shelter? Would your toy stay warm and dry inside?
You could even take it outside and drip some water over the top to test if your toy stays dry. What would you do differently if you were to build your shelter again?
Have fun and happy building!
Topic- History
'The first flight that changed the world'
Well done with all the lovely work you have produced so far about aeroplanes. It has been lovely to receive emails and see some photographs of you learning and even creating your own air crafts. It looks like you had lots of fun!
This week I want you to look at another type of aircraft.
The hot air balloon
Talk about these questions with your grown up.
Do you know what a hot air balloon is?
What is it made of how?
How do you think it works?
Do you think that came before or after the aeroplane?
Watch this video about how an air balloon works (It is quite a long video…so you can speed through parts)
Now watch this video about the story of the Montgolfier brothers who invented the hot air balloon.
Montgolfier brothers video clip
Question:
Which flying machine do you think was better: the Montgolfier brothers' hot air balloon or the Wright brothers' Flyer? Why?
If you have time you could try and design and build a hot air balloon.
Follow the link below to find the instructions. If you don't have all of the materials maybe you could be creative and think of another way that you could create some of the different parts.
Art
This year we have been looking at the art work of David Hockney. Each term we have looked at the same landscape but at different times of the year. We have noticed the seasonal changes in each landscape. Watch the video below showing the 4 paintings that David Hockney created.
What seasonal changes do you notice?
What similarities and differences can you see in each season?
What season will we be moving into soon?
Next time you go for a walk, have a look at the different colours on the trees and flowers that you can see. You could make a sketch of the trees and the types of leaves that you can find. Look at the different shapes, textures and shades of colour.
You may even like to collect a variety of leaves and sticks for you to create an observational drawing when you get home.
Using the Summer landscape by David Hockney you could create your own landscape picture.
What colours could you use?
Could you use some of the leaves that you have collected to make a collage?
You could even use the leaves to make leaf prints.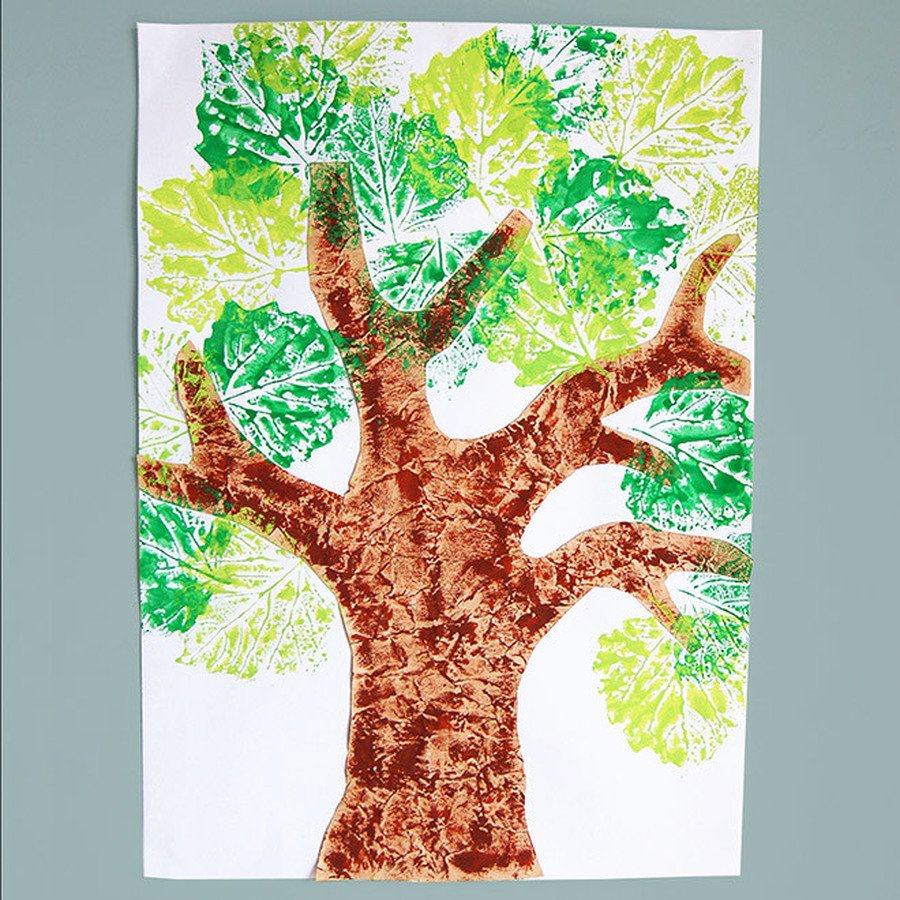 We know how creative you all are and look forward to see your finished artwork.
Have a great week, everyone. Keep checking back here to see if there are any new messages. Keep working hard but also relax and play too.
Please keep in touch via email and stay safe.
Love from
Year 1 X
Tuesday 12th May
Good morning, everyone.
I hope that you all have had a chance to watch Michael Rosen read Farmer Duck. I love the way he makes the animal noises. Can you make any animal noises? You could try and play a game at home where you make animal noises for your family to guess which animal you are pretending to be. You could even try to move like that animal.
Did you find the objects that I asked you to look for on your daily exercise last week. I think the purple car was a difficult one to find!
This week I have five new things to look out for. Can you find...
The number 8.

A road that leads to a dead end.

A school crossing sign.

A red man on a pedestrian crossing.

A rubber band that has been left on the floor.
Here is a photograph of what I managed to find.
Thank you for your emails. It has been lovely to read about all of the things that you have been doing at home. There has been lots of brilliant learning happening. Thank you, parents, for working so hard to support learning at this time.
Keep sending messages and I hope to see you all soon.
Stay safe.
Love from,
Mr Barr X
Wednesday 13th May 2020
Happy Wednesday everyone!
Hope you are all keeping busy and enjoying our activities this week. I have just got back from my early morning walk in Sefton Park and I came across a family of geese. The goslings were small, fluffy and busy pecking around looking for food. During our time off school, I have noticed more animals and birds around than usual. Have you noticed this too? I have seen lots of squirrels in the park recently and they aren't as shy as they used to be. Look how close they were.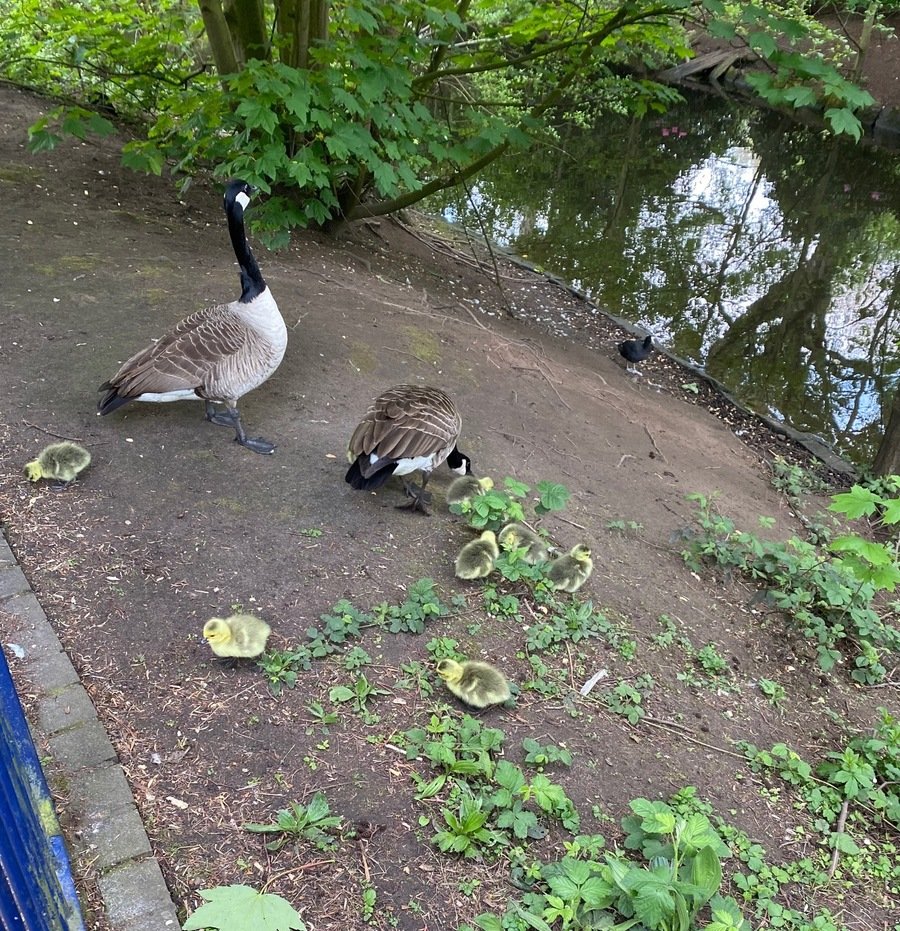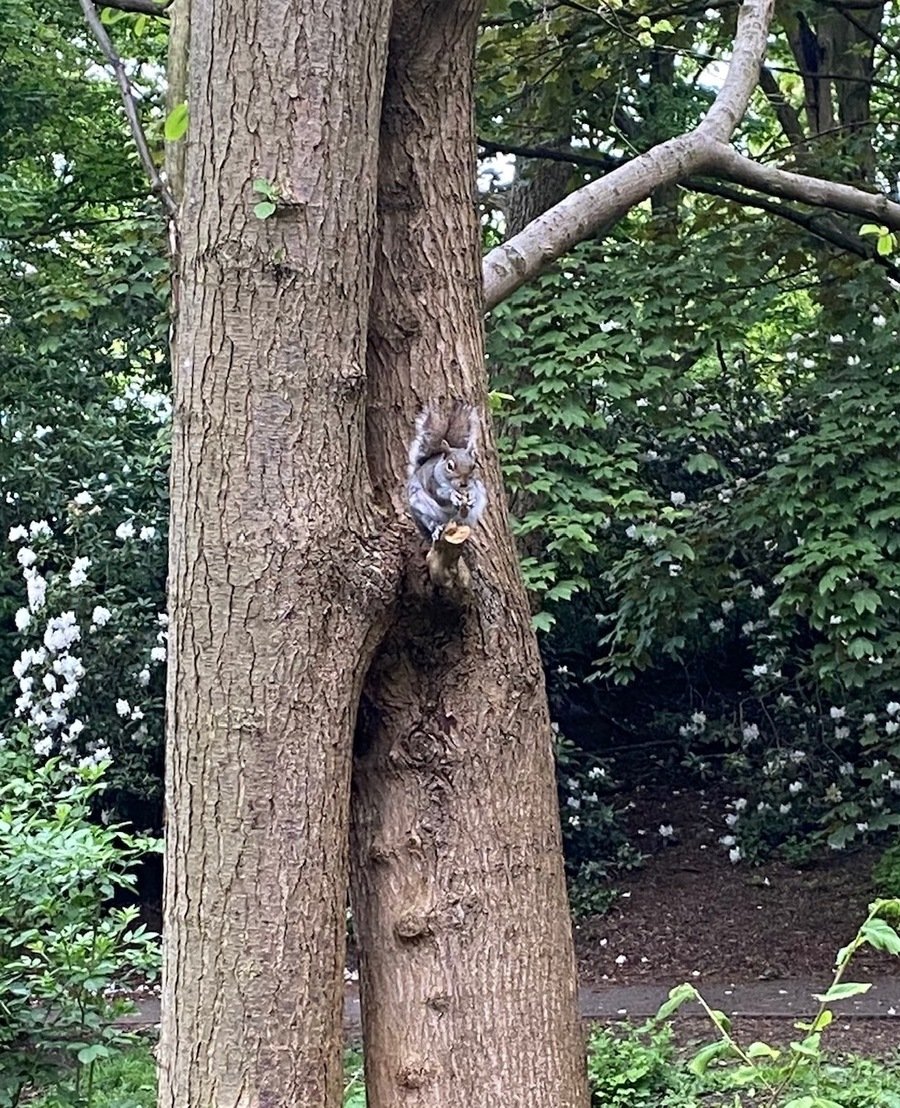 Have you read the story of Farmer Duck yet? It is one of my favourite ones to read in school, so I know you will enjoy it too! I think you will enjoy the repeating lines and I can imagine you trying to join in too.
My Dad lives on a farm, however it is a little different to the one in the story. On his farm he grows lots and lots of flowers, probably just like the ones you have in your garden. Have you been helping your grown- ups in the garden? Here are some of my Dad's flowers he has grown.
Today it is National Numeracy Day!! So why not try some different maths games today with your family. Please click on the link below to access the website which has some challenges and activities to do at home.
National Numeracy Day 2020 Website
Hope you are all having a lovely week and enjoying time with your families.
Keep smiling!
Love from
Miss Wright x
Thursday 14th May 2020
Hi, everyone!
I hope you're all having fun this week and managing to enjoy the sunshine.
Have you managed to collect some sticks and leaves to make a shelter yet? I managed to make a big shelter with Jacob in the woods near our house. We weren't able to put any leaves on it to help keep the rain out but we had great fun.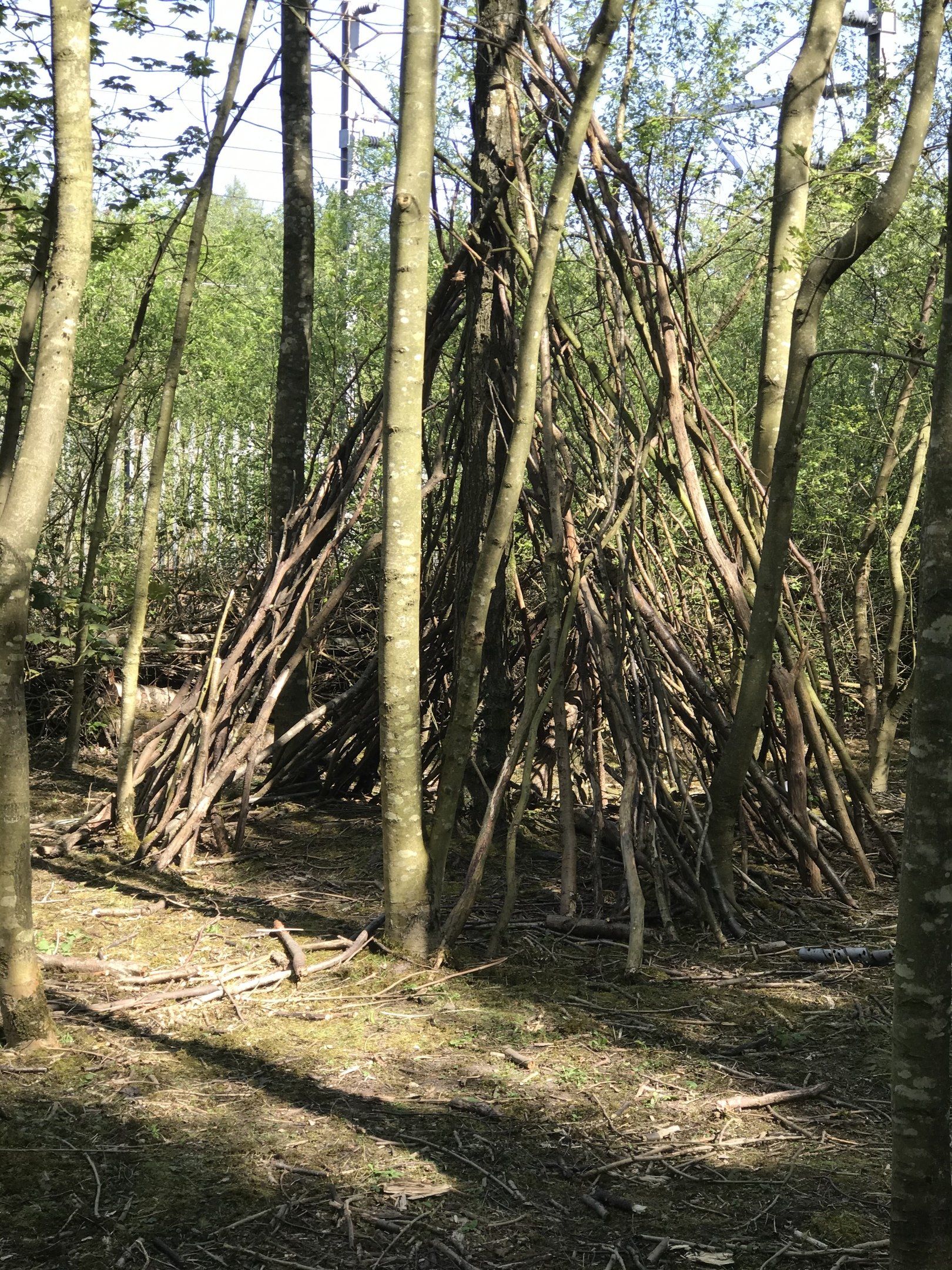 It got me thinking about materials and what the best material would be to make your toy shelters waterproof. See if you can find different materials in your house, such as, tissue paper, a cotton cloth such as a tea towel, a plastic bag, cardboard, kitchen roll or anything else you would like to test. Place the materials over a cup and drip some water on top. Wait 20 seconds and then remove the material carefully to check if any water has dripped into the cup through the material. Repeat for the other materials you have, to test if any of them are waterproof. Remember to try and drip the same amount of water each time and wait 20 seconds each time to make it a fair test. Can you find a waterproof material? Record your results in a table to show what you have found out.
Have fun and stay safe!
Love from
Mrs Smith x
Friday 15th May
Hello everyone,
Happy Friday!
I hope you have enjoyed the activities this week and have had a chance to have a go at creating your own landscape picture using the work of David Hockney. I have been to the park today to collect some leaves and twigs to create my collage. I'm looking forward to showing you the finished result next week.
I have been spending some time with my family playing lots of games and quizzes. Some of them have been really difficult! I have also been playing board games which has been a great way to spend some time with family when we can all get together. Do you have any board games at home? I know some children in my class really like to play games like snakes and ladders and monopoly at home. If you don't have many board games I have put a link to a printable version of snakes and ladders below.
Why not try and make your own board game too. You can use the back of a cardboard box to use as your board and design the route for the players to take. Do you make them go back 2 places if they land on a square or will you let them move forward? Do they have to answer a question to have another turn?
As it was National Numeracy Day this week, you could make a maths board game where players have to solve a number sentence to move on. Your game could have a theme, maybe a Farmer Duck one where your player has to do chores when you land on a square! Don't forget to write a list of rules and instructions for the game. Make it as original and creative as you like! I can't wait to see some of your creations.
Have a lovely weekend,
Stay safe.
Mr Nolan.