Monday 11th January
Good morning everyone! We hope that you had a restful weekend and that you are ready for another week of home learning.
This week CBeebies are delivering lessons whilst schools have moved to remote learning. They are providing a three-hour block of primary programming from 9am, including BBC Live Lessons and BBC Bitesize Daily. If you are finding it difficult to access the online learning at certain times of the day or don't have access to the internet, this could could be useful when needed.
Come and See
Our 'Special People' topic continues this week and we will now look specifically at the Reveal part of the topic.
Please see the information from the Archdiocese for Home Learning (Pg4) or the image below.
Talk about the special roles people have at Sunday Mass with your adult. What do you think they have to do in their role? Why is their job important?
Phonics
In school we are working at phase 5 in phonics. Lesson 36 is looking at the 'ir' - bird sound. These letters and sounds lessons are provided by the DFE and are very useful to keep you going with your phonics learning. The Phonics Play website is great too. Choose one game a day to play before your phonics lesson.
English
Today we start a new book for our English lessons and it is another favourite book we work with, 'The Gruffalo's Child', written by Julia Donaldson. This story follows on from 'The Gruffalo' if you have read that before. You might have a copy of these stories at home but here is a video of it being read for you to watch.
Every Monday in school is everyone reading together. Today this can be your English lesson job. If you have your reading book at home, please read that. If you don't have your book at home, the Oxford Owls website has a huge amount of books for free. Ask your adult to have a browse of the website as it contains a lot of really useful information. It has the Book Bands that we use in school as a search option or you can search using our phonics scheme, Letters and Sounds. On the back of the school reading books is a tab which shows the band that you are currently reading within. You can use this website at any time, not just for your Monday lesson, to keep practising your reading. Enjoy!
Maths
This week in maths we are adding and subtracting within 20. Click here for White Rose Maths resources which provide a video for each day of the week. You can complete the suggested activity they offer or the one below.
Today we are adding by counting on. Look at the image below of the Gruffalo's child who has found some footprints in the snow. Can you count how many footprints she has found?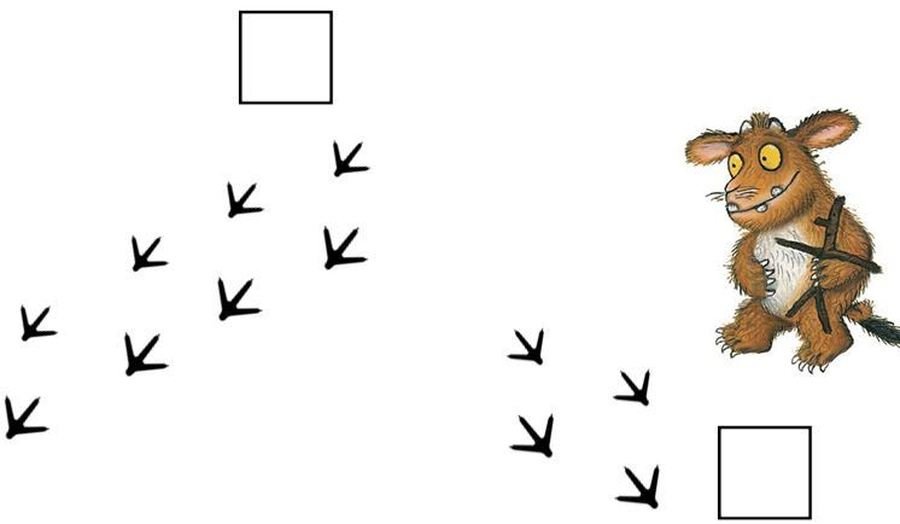 How did you count them? Did you notice there is a group of 8 and a group of 4 footprints? Did you count them altogether without stopping?
In maths we use 'tens frames' to help us in lots of different ways. You can draw your own frames or click here if you have access to a printer. When adding two groups together, it helps if we start with the bigger quantity. So let's put 8 into the first tens frame and 4 into the next one, just like this. Use counters, Lego pieces, beads etc to represent the footprints so you can use your tens frames again.
When adding two groups we start counting on from the largest quantity which is 8. We then need to count on 4.
"8...9, 10, 11, 12" The answer is 12.
Can you do it that way too? Have a try!
Look below at what 'The Gruffalo's Child' is saying.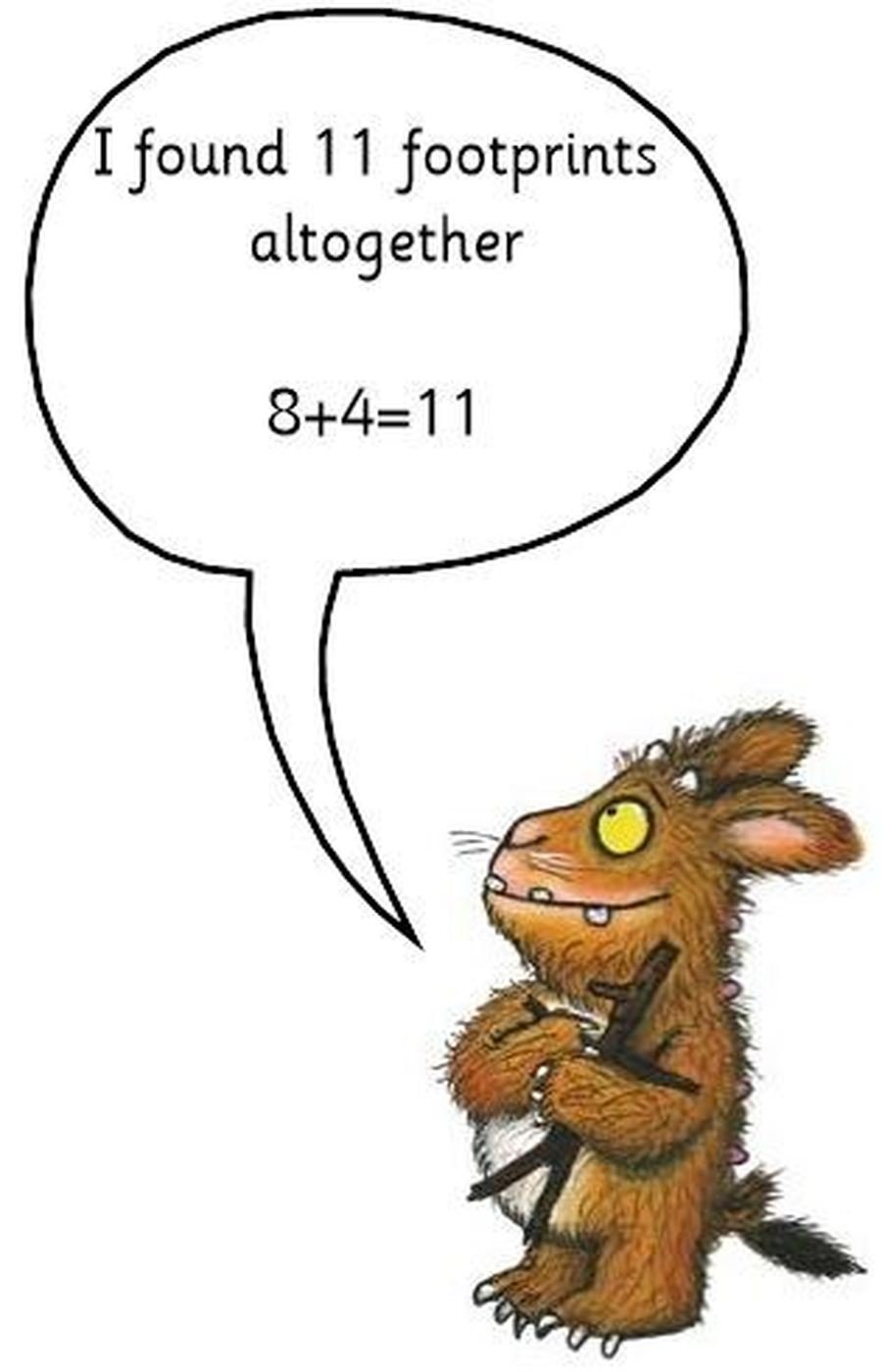 Do you agree? Talk about this with your grown up. Remember when giving a reason you must try and explain why. 'I think she is correct because...' or 'I think she is incorrect because...'
You might give reasons such as... "I think she is incorrect because 8 and 4 is 12. When you have 8 and add 4 more it is '9, 10, 11, 12'. 12 is the correct amount.
Using your number cards from Friday's maths lesson turn them over face down on the table. Pick 2 up and add them together by counting on from the largest quantity. Use your tens frames to help you count on and write the correct number sentence alongside it.
Geography
This half term in Geography we are going to find out about our city 'Liverpool'. Today your job is to talk with your grown up about our city and what you know about it. Use the Knowledge Organiser- What is it like where we live? to support your discussion and look at the slideshow below. Think about the places you may have visited in and around our city, including any landmarks you have seen or heard of.
Using Google Earth take yourself on a virtual tour Liverpool. Search for the buildings or landmarks you recognise or ones that are new to you.
Design Technology
Last week in school, the children enjoyed the task of creating their own 'Stick Man'. We thought you might like to see what wonderful master pieces they have created.
We hope you have managed to take some photographs of your own work too. You will be able to share your work with us very soon using our new remote learning tool. Please read the information here and keep checking your emails towards the end of the week for your log in details.
Have a lovely Monday everyone!
Love from
Year One x