Monday 12th October
Good morning, everyone!
I hope you have all had a lovely weekend and managed to enjoy some of the sunshine in your garden.
Letters and Sounds
Have a go at Sentence Substitution on PhonicsPlay. Remember to choose Phase 4. Can you read the sentence and then swap the words to make a new sentence?
https://www.phonicsplay.co.uk/resources/phase/4/sentence-substitution-ph4
Then join in with our tricky word songs here;
See if you can read these words and find the corresponding picture.
English
We are continuing with our work on How to Catch a Star this week. Here is the story for you to watch if you missed it last week.
What is happening in this picture from the story? What is the boy doing? Can you write some sentences about the pictures? Choose your chilli to challenge yourself? Can you write a sentence with capital letters, full stops and finger spaces?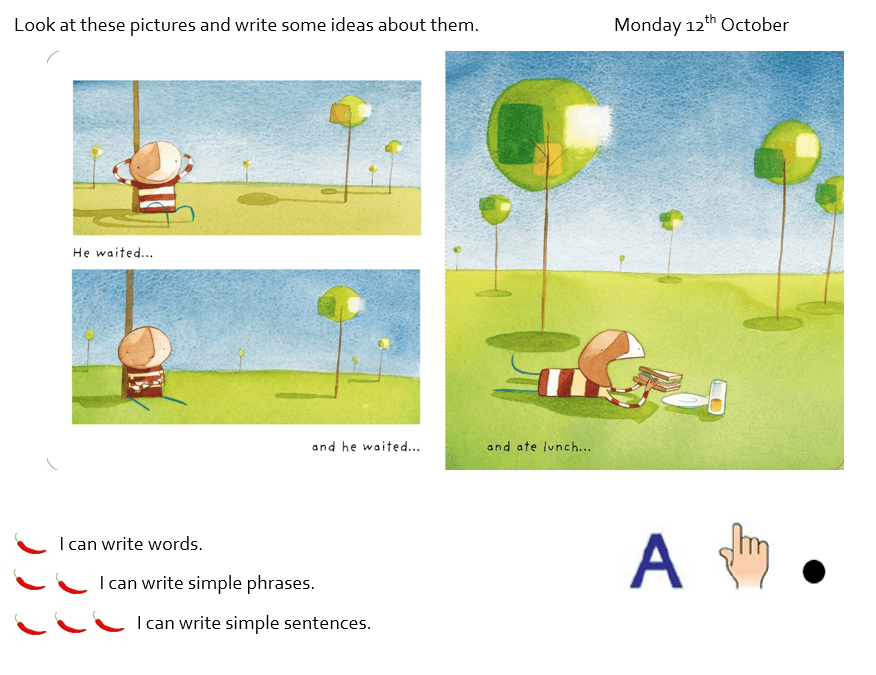 Maths
Well done if you found all the ways to make five last week. Did you manage to write them systematically? You should have found;
0 +5 = 5
1 + 4 = 5
2 + 3 = 5
3 + 2 = 5
4 + 1 = 5
5 + 0 = 5
Today we will be finding all of the ways to make 6. Do you know how many objects you will need this time? That's right, six! You can use your plates again for this activity. Just like last lesson, start with zero objects on the first plate and six objects on the second plate. Do you know what the number sentence is? Now see if you can move one object across at a time and write down all the ways to make six. Don't forget to write the numbers into part-part whole models if you can.
Science
We are continuing our work on the five senses this week. Today is all about the sense of sight. Which body part do we use to see? Watch this video to learn about our sense of sight.
https://www.bbc.com/bitesize/clips/z2yd2p3
Play this I-Spy game with your grown up. Take it in turns to name an object for each other to find. Put a circle around the object when you find it. Have fun!
Do you know all of the seasons? Watch this video to learn about the seasons.
https://www.bbc.co.uk/bitesize/topics/zkvv4wx/articles/zcx3gk7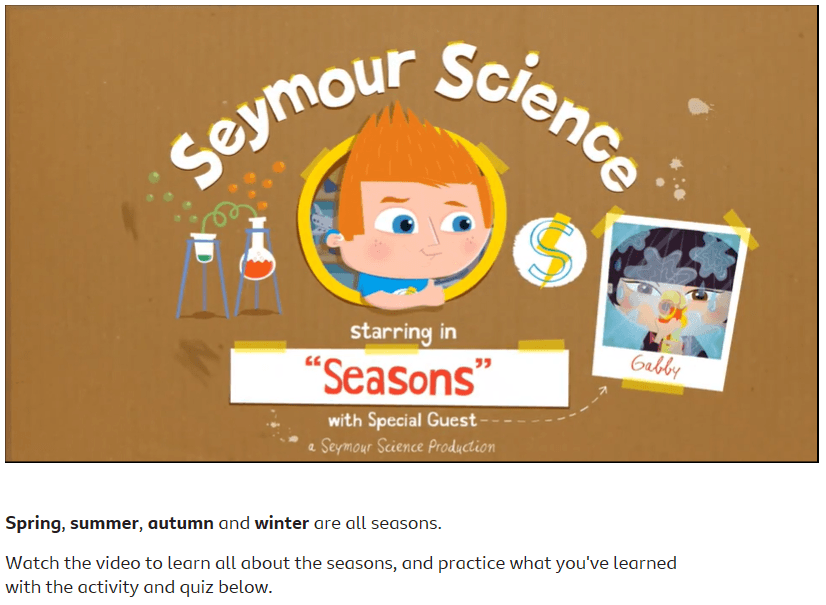 Do you know which season we are in? That's right, Autumn! How can you tell it is Autumn outside? See if you can go into your garden and find some signs of Autumn. You can collect objects, take photographs or draw a picture of what you find.
Remember to email any of your lovely work you would like to share. They really do make our day to see what you are getting up to at home. Have a lovely day, everyone.
Love from
Year One x