YEar ONE Home Learning
If you are finding it tricky to find the other updates for this week, please follow these links. Thank you.
You can also navigate to the daily updates by using the menu links above as shown in this image...
If you are using your phone to access the work, the menu system works slightly differently and you have to use the small arrows to access the next level of the menu system. It should look a little like this...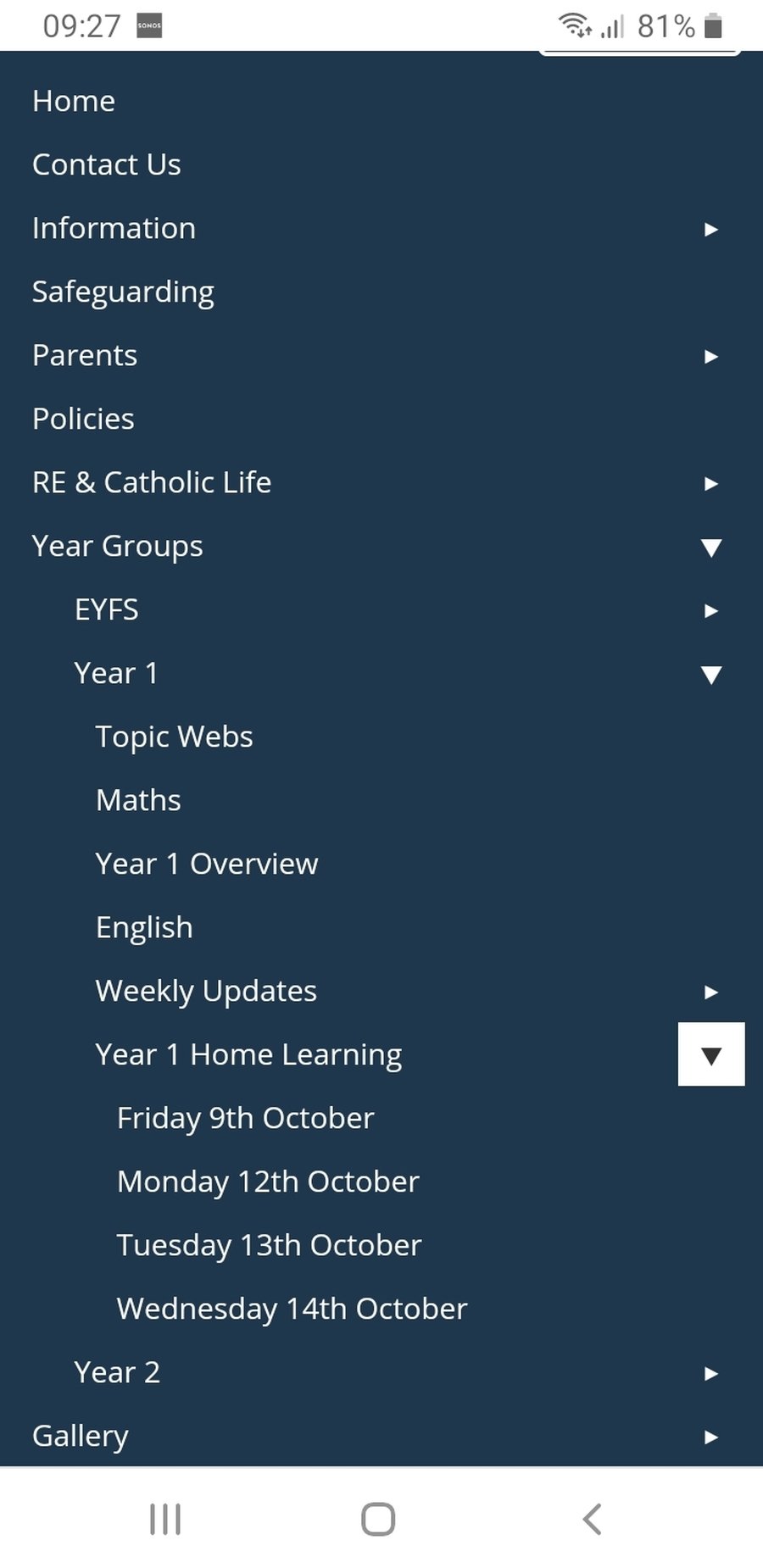 Thursday 8th October 2020
Good morning, everyone!
I hope you're all safe and well. The weather looks like it might be dry today so I hope you manage to get out in your garden for a little while.
The work that I set on this web page each day will mirror, as closely as possible, the work that we would cover in class to help to ensure learning continuity.
Letters and Sounds
In Letters and Sounds, we have started Phase 4. Here are the Phase 4 blends that we will be learning in class.
Today, have a go at the Buried Treasure game on PhonicsPlay here. https://www.phonicsplay.co.uk/resources/phase/4/buried-treasure
Choose Phase 4 and have a go at blending the words that are shown. Are they real words or not?
Read these words to your child and see if they can try to spell them by segmenting the sounds.
1. went
2. help
3. camp
4. gift
5. lamp
6. milk
7. wind
Well done if you could sound these words out to spell them!
English
In English, our work is based around the story 'How to Catch a Star' by Oliver Jeffers. Please watch the video and talk about the story with your grown up.
What did you think of the story ending? Is it a real star that the boy has caught?
For writing, dictate the following sentences for your child to write:
Did you form your letters correctly? Did you sit your writing on the line? Did you remember to use capital letters, full stops and finger spaces?
Maths
In maths we have begun to introduce exploring the partitioning of numbers, e.g. how 0+5, 1+4, 2+3, 3+2, 4+1 and 5+0 all total 5. We use a part/part whole model (below) to manipulate objects to explore how to create number sentences.
Try using two plates with five objects. I have used pasta pieces but you can use small toys or any other small objects you have in your house. Find the different ways of making five by moving the objects on the plates. Can you draw dots or write numbers in the part-part whole model? Can you write the number sentences?
Here is one I have done at home for you. Do you know the total of the number sentence I have made? Remember to try and find all of the ways to make five.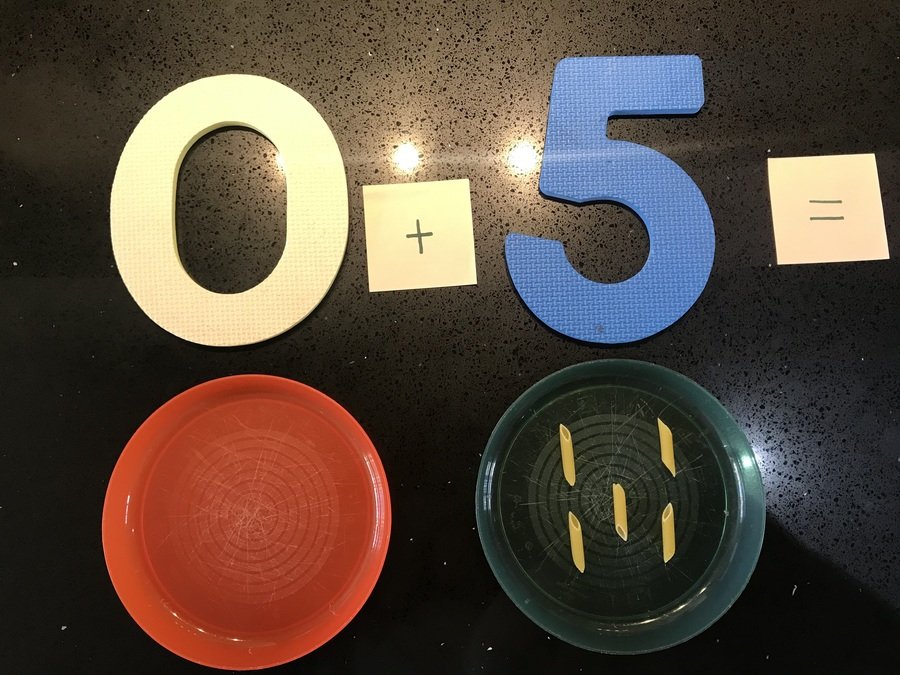 Here is my part-part whole model for 0 + 5 =5. Can you make some part-part whole models for other ways to make five?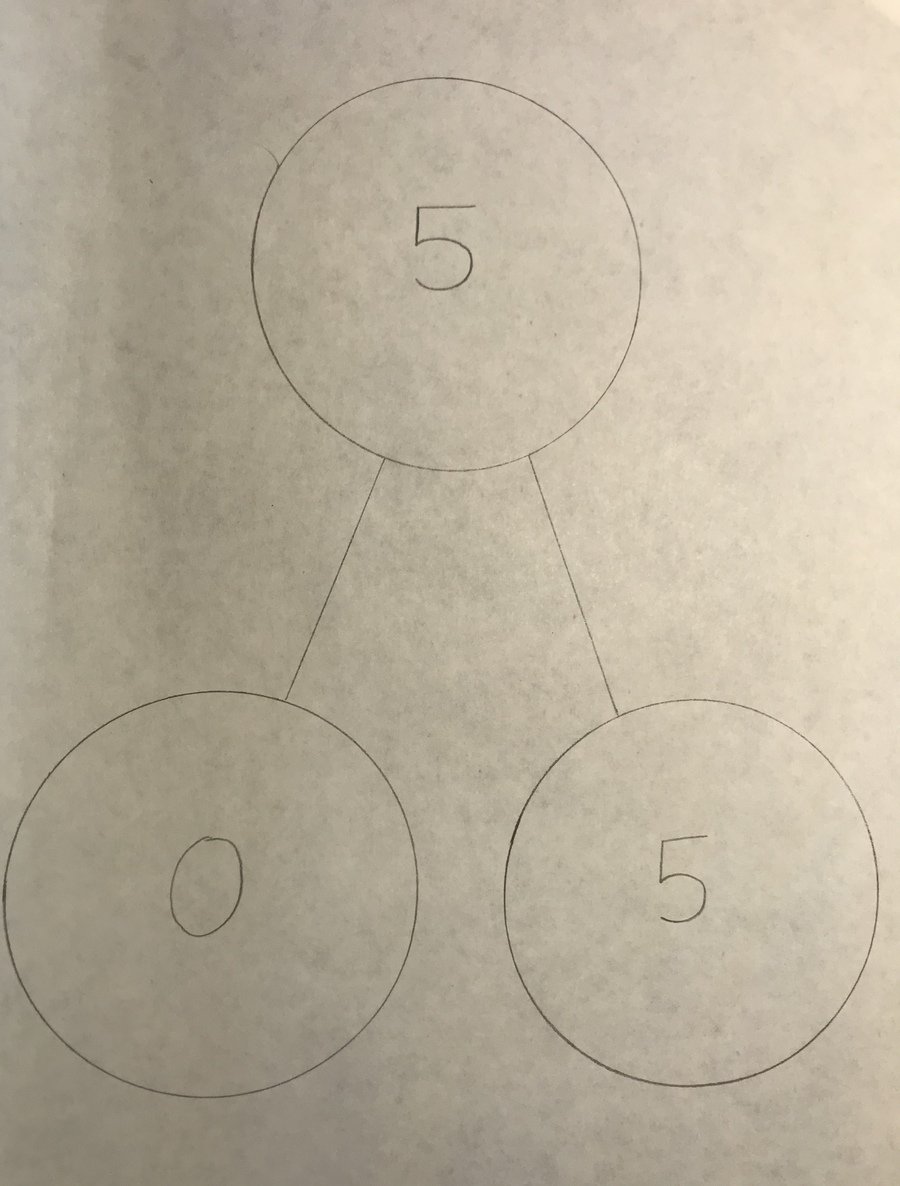 Science
In science this week, we would be starting to learn about our senses. Do you know what the five senses are?Today we would be learning about the sense of hearing. We would be watching this video and then going for a walk to listen for different sounds. We would record what we found by drawing or writing, using a table. Here is one you can use at home.
Come and See
In our Come and See topic; Families, we would have been learning about the life of Jesus. Here is a PowerPoint about Jesus for you to read with your grown up.
What do you think life was like for Jesus when he was growing up? How do you think Jesus' life is different from yours? Look at the house, the lighting, the food and the water.
Draw a picture of your house and a house Jesus might have lived in. Can you remember what the houses looked like? Can you tell your grown up something about Jesus when he was growing up?
If you have any questions about the work provided, please reply to the email that I have sent and I will reply to you as soon as I can. If you haven't received an email from me, please contact the office via email.
Please send any work or photographs you would like to share with me, I can't wait to see what you're getting up to at home.
I am missing you all a lot and it is very strange not being in class with you all but I am looking forward to seeing you again very soon.
Take care and stay safe.
Love from
Mrs Smith x