Reception Weekly Update Week beginning 27th April
Hello Reception,
Please click the link below to enjoy a weekly Collective Worship with your family.
I cannot believe another week has gone by. We hope you have all found lots of fun things to do and have been able to get outside in the sunny weather. Maybe you've even got a paddling pool and have been splashing about in it.
There are so many people thinking of activities for children who are staying safe at home. A fun place that my family and I like to visit is the World Museum. Although museums are shut right now, many have virtual tours, so you can look round without leaving your house! If you search for National Museums Liverpool and then scroll down, you'll find "My Home is My Museum." It is a project for 4-11 year olds, they want you to find toys or special objects that are important to you, so you can make your own exhibition. Then you can choose to make a poster or a video (there are tips for staying safe on-line.) If you send a video to the museum you could be in a real exhibition and get a special tour of the museum when it re-opens.
Follow the link to 'My Home is My Museum' - here
Superheros
Happy National Superhero Day!
Each year on April 28th, National Superhero Day honors superheroes, both real and fictional. Our real-life superheroes may not have superpowers or wear capes, but they are also great role models who serve and protect while fighting evil. Military personnel, police officers, firefighters, and teachers are just a few of the heroes who protect us on a daily basis.
Why not dress up as your favourite Superhero or create a picture for a Superhero in your life.
Design your Super Bear Competition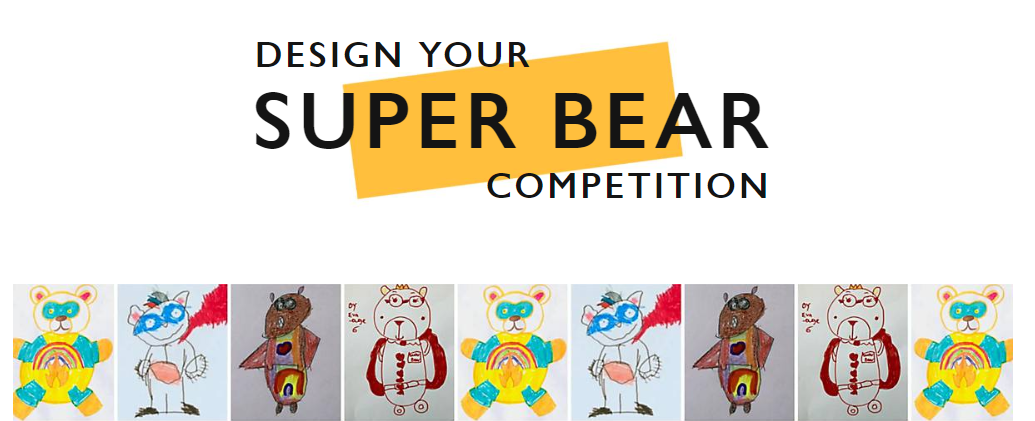 In honour of our incredible carers at the NHS, John Lewis have set up a Design your Super bear competition. The winning teddy will be sold in John Lewis and Waitrose shops later this year, with 100% of the profits going to the NHS.
For more information, follow this link.
Click here to download your very own design template.
Good Luck!
Phonics Update
Please see the following letter which has important information regarding phonics support for children during the summer term. The resources will be live from Monday 27th April.
Follow this quick link to use these resources. Phonics Lessons.
Handwriting
If your child requires some extra support with handwriting please follow the link to some excellent letter formation videos and worksheets.
https://www.teachhandwriting.co.uk/cursive-letters-refiners-choice-3.html
Come and See
Last week, Miss Strahan told us her "Good News," as she introduced our latest Come and See topic. We're all very excited! Sometimes Good News is delivered through your front door by Postal Workers. If we were in school we would be sharing the story of "The Jolly Postman." Postal workers and delivery drivers have been very busy in the last few weeks as everyone stays at home. Maybe you'd like to make a poster for your window to say "Thank you," for all their hard work.
After Jesus had gone back to his father in heaven, the friends of Jesus were alone in their house. They felt lonely and afraid but they began to talk about Jesus and as they did, wind filled the room and they were filled with joy and happiness. They knew it was the new friend that Jesus had promised to send, the Holy Spirit.
The friends of Jesus couldn't see the Holy Spirit but they felt the Holy Spirit. Can you think of anything you can't see but you can feel? The wind is invisible but we can see what it does.
Try tying a ribbon or some string to a thin plastic carrier bag, wait for a windy day and run as fast as you can. The bag will fill up and blow about like a kite. Or you could make some streamers and twirl them behind you.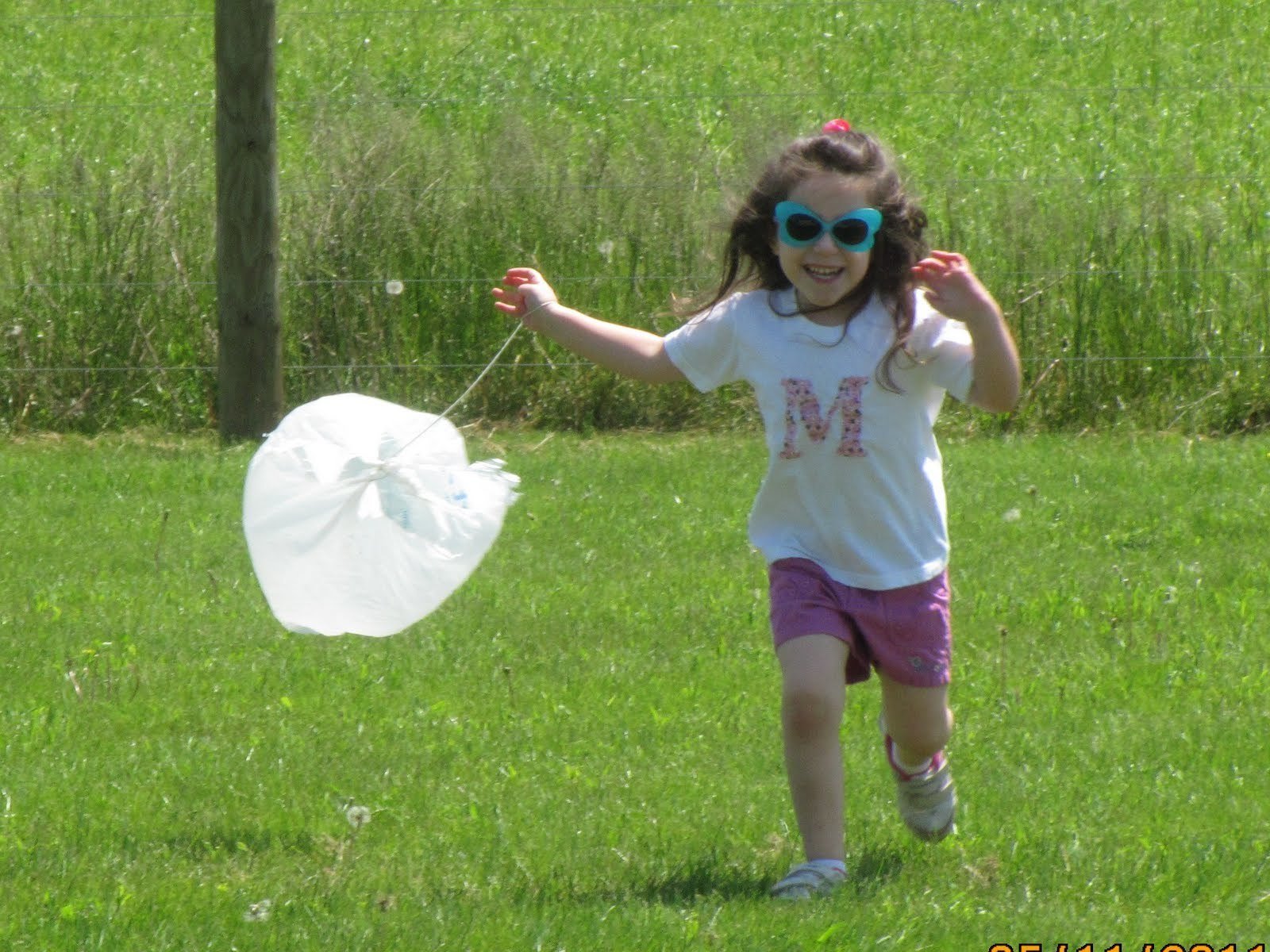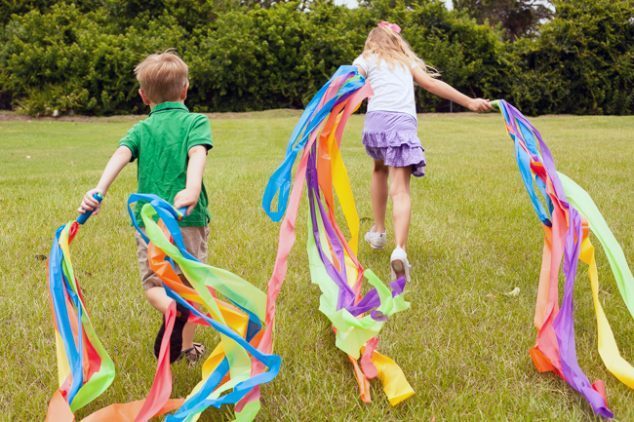 We can't wait until we get the Good News that it is safe for us to be together again. You will have so much to tell us, it will be lovely.
RELIGIOUS EDUCATION HOME LEARNING
Literacy
Activity 1
Now you are all superhero experts, you might like to try doing a short comic strip. My little girl Elsie loves My Little Pony, so hers was about that…you could pick anything you like.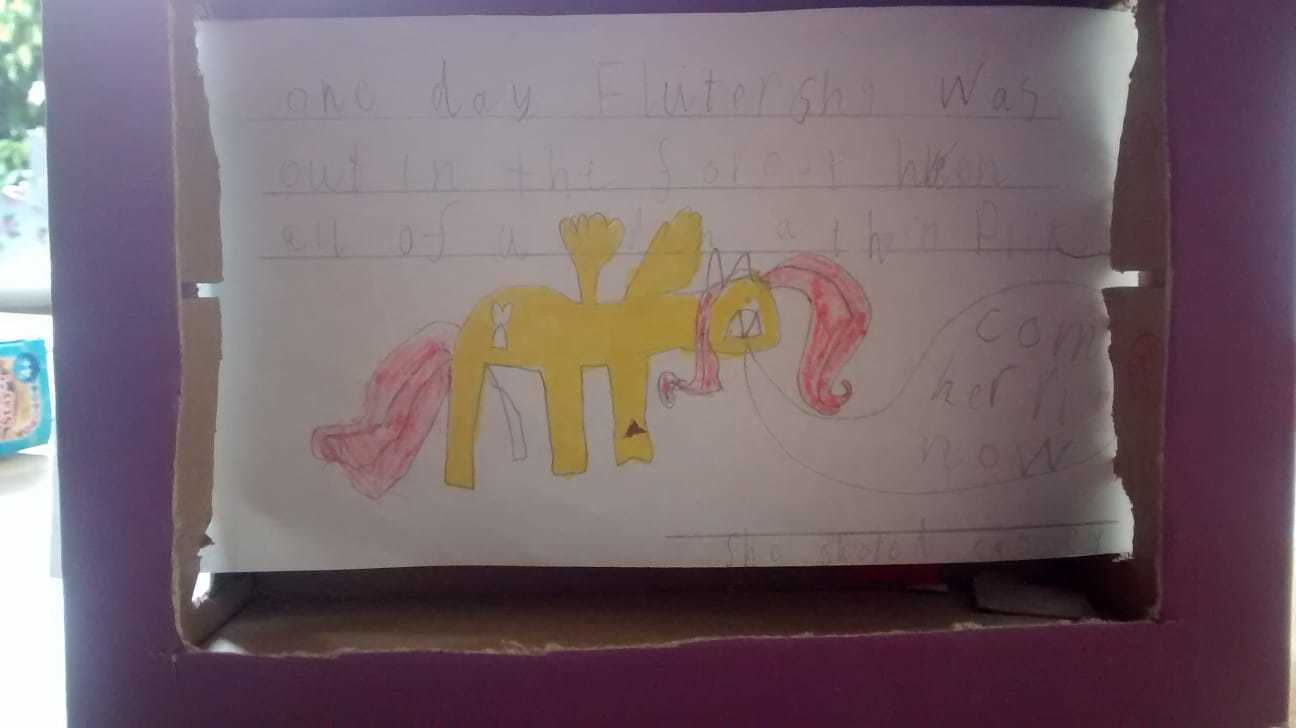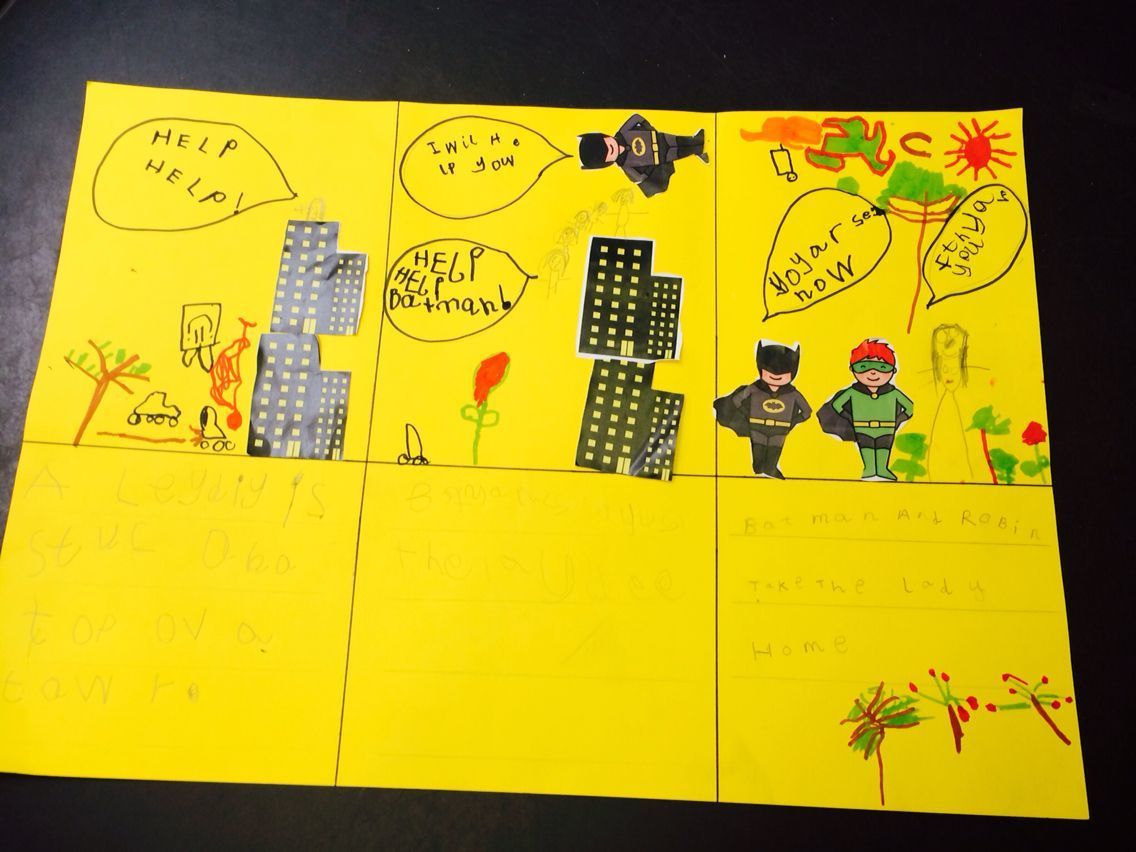 You could use a story you know and make a plan by folding a piece of paper into quarters.
Picture 1 Think about who the main character is. Where are they?
Picture 2 What do they do next? Does the character go somewhere or do they have a problem?
Picture 3 How do they fix what went wrong?
Picture 4 What happens at the very end? It's often something happy.
Next, do the activity again but use your plan to draw a picture for each part of the story. Add a simple sentence to say what's happening or add a speech bubble. If it's about superheroes you may need a word like "pow!" in a shout out. Make it bright and colourful.
If you have the app Comic Life, you may want to create a comic strip by taking photos of superhero figures and creating your own story.
Activity 2
Write a secret message with a white wax crayon or a thin candle.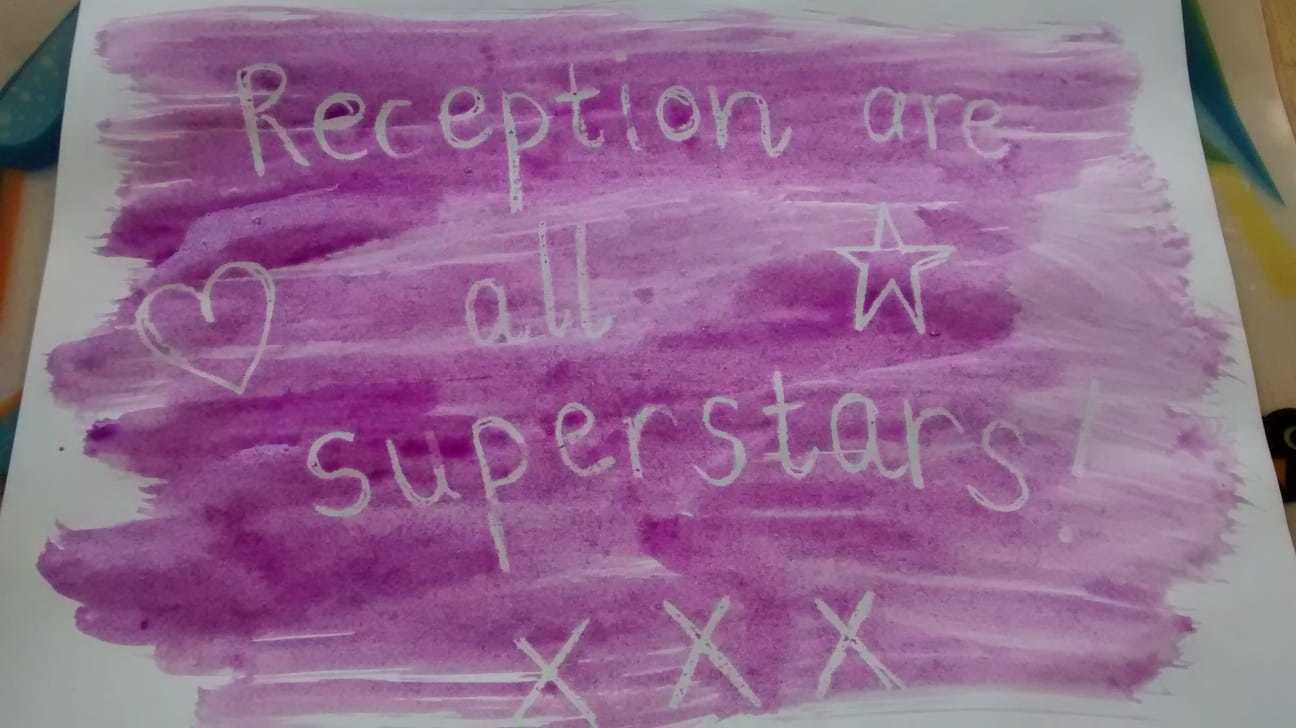 Get someone in your family to decode your secret message by painting over the paper with watered down dark coloured paint. You'll have to press hard for your message to be revealed!
Activity 3
Write about the picture. What can you see? Can you name any of the Superheroes in the picture?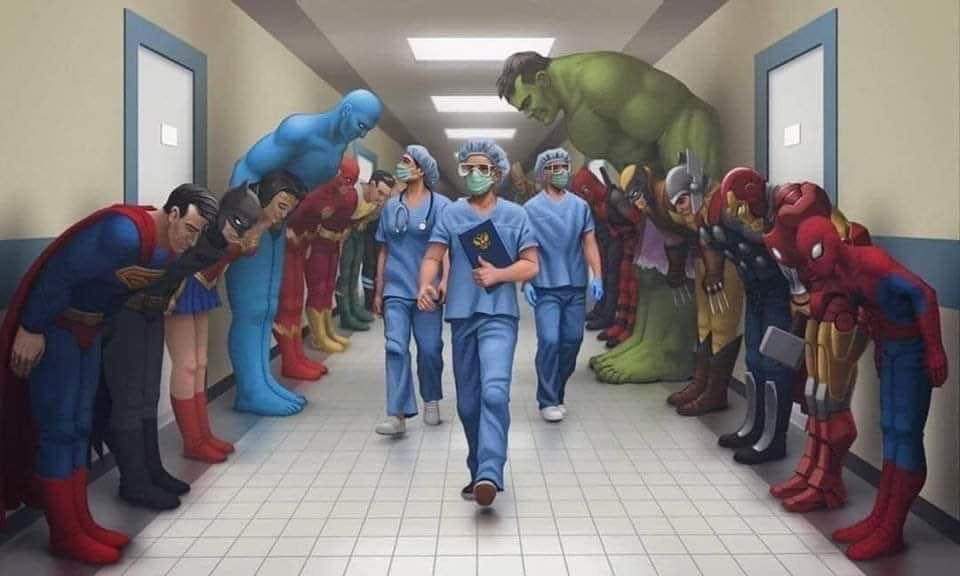 Label the picture with the sounds you can hear.
Write a list of all the people/characters in the picture.
Write simple sentences about the picture e.g. I can see the Hulk. I can see Batman. I can see a Nurse.
Extra challenge - Add more information to your sentences e.g. I can see a brave Nurse. The Hulk is big and green.
Maths
We love BBC Home schooling and White Rose Maths but sometimes you just want to get outside! This week's new number is 18 – gosh! We're almost up to 20. You clever sausages.
Have you been joining in with Joe Wicks? It's made my little girl a bit bossy. She thinks of a circuit for her dad and I and then sends us outside and shouts orders at us! We might have to bounce a ball 20 times, then do 20 star jumps and 20 bounces on the trampoline. Could you do this and time each member of your family? Who gets the fastest time? Can you practise and beat your own time?
Another idea is to hide numbers to 18, go on a hunt for them and put them in order. We have been practising making amounts that add up to 10 (or 20) with lego blocks. I hide towers and when she finds one she has to match it with the other tower that adds up to 10.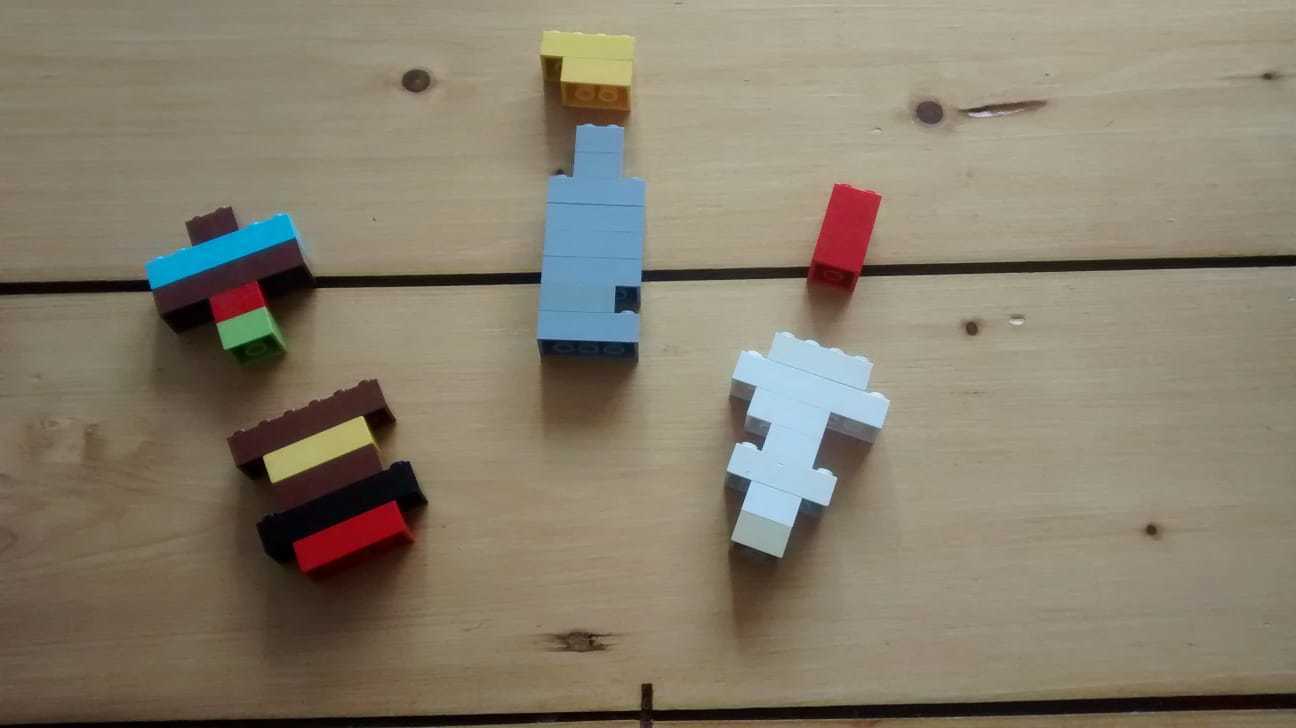 Understanding the World
There are lots of experiments on-line but sometimes you need equipment that is not easy to find when shop aren't open. Elsie and I have enjoyed "The Theatre of Science," (facebook or youtube.) A friendly scientist called Lara, has taught us about Rainbows, Eggs and Air. She tells you what you need and then guides you through the activities. Our favourite experiment used a plate of water, an empty jar and a candle. It fizzled really excitingly and all the experiments so far have worked – not a given when I'm involved!
Expressive Arts
We love the story Supertato in school and I hope you have enjoyed learning about the story at home. If you're feeling creative this week, why not try making your own Evil Pea using paper plates, green paint or green pencils.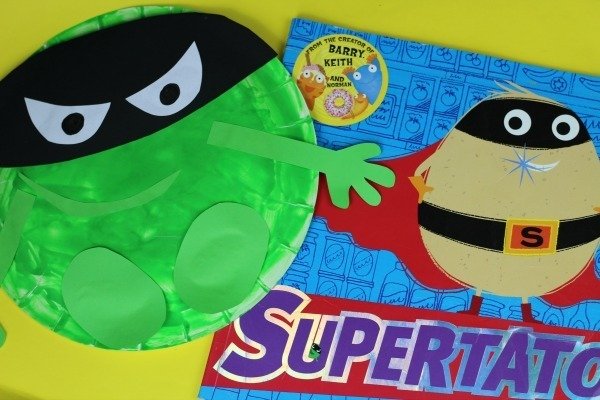 Love and best wishes to you all,
Mrs Henderson x