Reception Week Beginning 22nd June
Hi Reception,
We hope that you have all had a lovely week and managed to complete some of the work that we have shared on our Reception page. Please make sure that you stay in touch with your class teacher using their email address. Please try to send an email each week so that we can see how you are getting on with working from home. Thank you
Please click the link below to enjoy a weekly Collective Worship with your family.
Phonics
Please continue to use the letters and sounds lessons provided by the DFE. They are very useful to keep you going with your phonics learning. The Phonics Play website is great too.
Did you enjoy learning all about snails?
This week we will be beginning a new topic all about 'Animals'.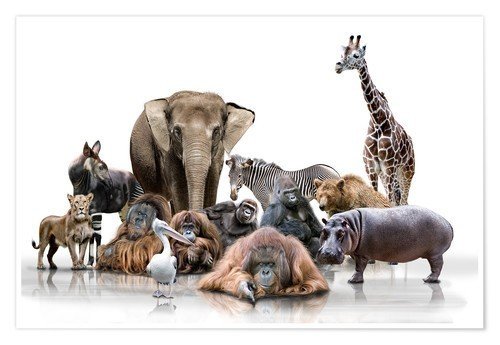 Did you know Knowsley Safari Park and Chester Zoo are back open? How exciting!
As part of our topic about animals, maybe you would like to go on a family trip to learn more about animals.
You could ask everyone in your family to pick their favourite animal and try to find those animals at the zoo/safari park.
You could tell your grown-up a sentence saying one thing you already knew about the animal and one new fact you've learnt.
However, if you are not able to visit the zoo, do not worry as Chester Zoo is still uploading their virtual tours - https://www.youtube.com/c/chesterzoo/live.
Reading
Lots of you have been enjoying using Oxford Owl at home and reading their ebooks online. There are lots of books available to read related to our topic of animals. Maybe read a story aloud and ask an adult to video it so that we can listen to you read too.
https://www.oxfordowl.co.uk/home/reading-site/find-a-book/library-page?type=book&view=&query=animals
Another website you could try for even more ebooks is Collins Big Cat ebooks. Click the link below and follow the instructions for parents.
https://collins.co.uk/pages/big-cat-ebooks
You can also find lots of audio books related to animal on the BBC school radio website.
https://www.bbc.com/teach/school-radio/audio-stories-animals/zk6w92p
There are also lots of lovely comics on Comics for Phonics to keep you busy.
Literacy
This week, we thought it might be nice for you to look through the books you have at home and find your favourite animal books to read together.
You could write a Book Review and tell us what you liked about your chosen book.
You could create a video presentation and tell us all about your favourite book.
Suggested writing activities
Draw a picture of your favourite animal and describe what it looks like.

g. A Tiger is a big cat. It is orange with black stripes.

You could write clues for someone else to guess your chosen animal.
E.g. I am big.
I have two big ears.
I have four legs.
I have a long trunk.
What am I?
Remember to ask your adult to send a photograph of your work to your teacher.
Maths
There are still lots of ideas for maths being shared on BBC Bitesize and White Rose Maths to help you to keep up to date with your learning.
Topmarks also has lots of fun games to play at home. https://www.topmarks.co.uk/Search.aspx?Subject=16
This week, we will be learning about doubling and halving.
In school we love using number blocks episodes to support our Maths Learning. Please click the link to the episode Double Trouble.
https://www.youtube.com/watch?v=Bot83VxMLqM
In this episode One explores the Double Dungeon of Doom in search of the golden apples and doubles all the way up to Octoblock.
Oak National Academy also have daily videos linked to doubling and halving.
Monday - https://classroom.thenational.academy/lessons/understanding-the-concept-of-double
Tuesday - https://classroom.thenational.academy/lessons/understanding-the-concept-of-half
Wednesday - https://classroom.thenational.academy/lessons/understanding-the-concept-of-half-f622a4
Thursday - https://classroom.thenational.academy/lessons/understanding-the-concept-of-half-479f36
Friday - https://classroom.thenational.academy/lessons/applying-understanding-of-doubling-and-halving
Some practical activities to try.
As always, we have tried to think of practical maths activities that you can do at home.
Why not try making a doubling mirror at home.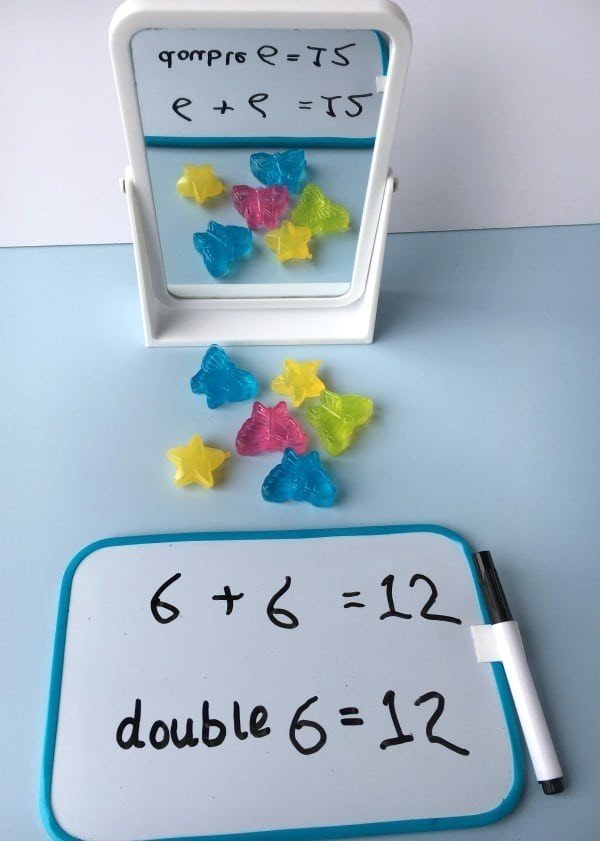 Could you draw some of your own ladybirds and add the correct amount of spots?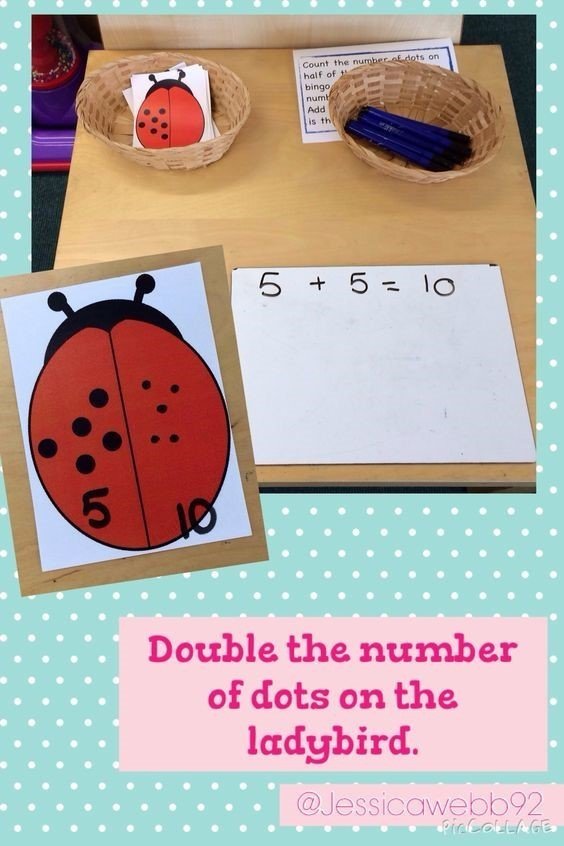 Could you do some finger painting and fold the paper to double the amount?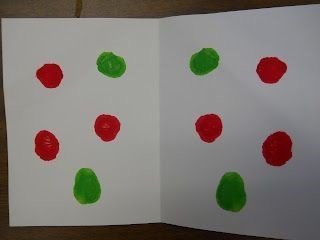 You could even make a butterfly and paint on the spots.
Could you make a fruit salad? Your grown up could write a list of ingredients for 1 person and you could double the amount to make a fruit salad for 2 people.
For example: "the recipe says add 2 bananas. How many bananas would you need? What is double 2?"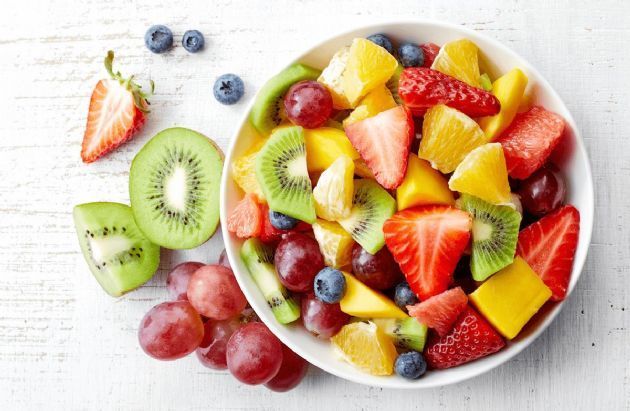 The World
This week, we are going to be learning all about different types of animals.
Do you have any animal toys at home? Could you sort the animals into different categories? For example
Pets, Wild animals, Farm animals, Jungle animals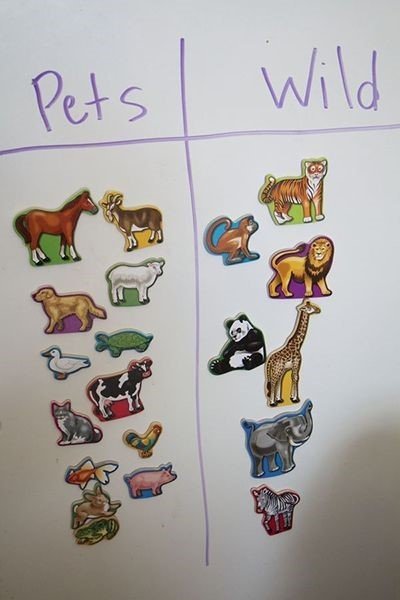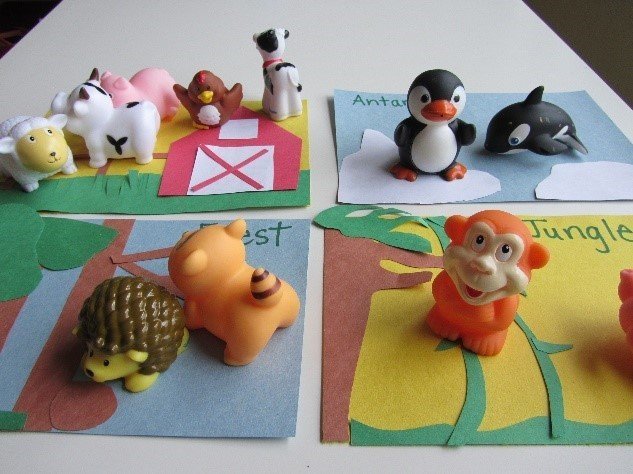 Expressive Arts
There are lots of lovely craft ideas available related to animals. Click the following link for inspiration.
https://iheartcraftythings.com/50-zoo-animal-crafts-kids.html
Music
You may want to express yourself through music this week.
BBC Teach has lots of lovely songs for Reception children. Bring The Noise: Primary school Early Years music - BBC Teach
Physical Development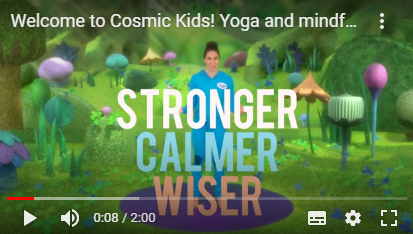 Yoga for children will help you to feel calm and relaxed. The cosmic kids You Tube site https://www.youtube.com/user/CosmicKidsYogahttps://www.youtube.com/user/CosmicKidsYoga have many videos using different characters and stories to suit your child such as Frozen, Star Wars, The Gruffalo and other books to name but a few. We hope that you find them useful as the organisation boasts that you will become: 'Stronger, Calmer and Wiser'.
Come and See
For our Come and See this week, we are beginning our Universal Church Topic, all about 'Our World'.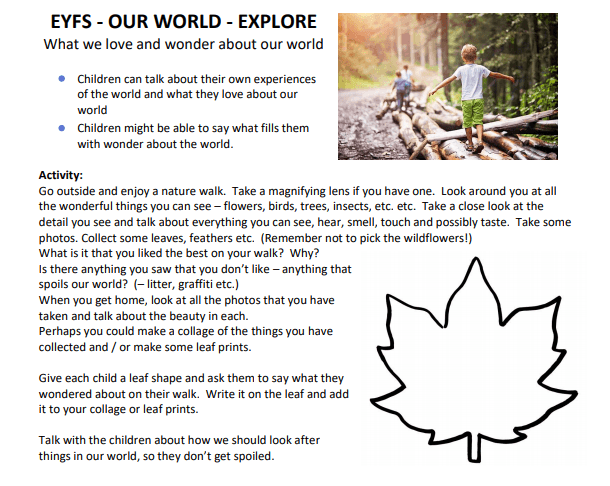 Well Reception, we hope you enjoy this weeks learning activities. Please continue to send us lots of photographs and let us know what activities you enjoyed.
We miss you all so much!
Keep washing your hands and stay safe.
Love from
The Reception Team x