Reception Week Beginning 20th April
Monday 20th April 2020
Hi Reception,
I hope you have had a lovely Easter break and didn't eat too much chocolate! We are missing you all so much and I hope you are making the most of your time at home with your families and creating lots of lovely memories.
Have you been keeping a diary like Miss Elias suggested?
If not, why not start one this week. It would be a lovely keepsake to look back on in years to come.
I have been very busy at home doing lots of cooking, baking and painting. I have even taught Roscoe (my dog) some new tricks! You may have seen us on our daily walk around Dovecot. If not, why not try to spot us next time you go for your daily walk. You could also look for some of the following things whilst out exercising.
Another special keepsake could be to create a time capsule. When I was little in school, we celebrated the Year 2000 by creating a special time capsule and adding photographs, letters and special memories. Maybe you could create a time capsule at home, to capture this time in history with your family.
Click on the link for some suggested ideas for what to include. COVID19-TIME-CAPSULE-3.pdf
We understand that learning at home can be tricky and very different to learning in school but we will try our best to give you lots of fun ideas to help you to continue your learning journey. Please remember, these are ideas for you to explore if you can, there is no pressure for you to complete everything during these uncertain times.
Superheroes
In school this week, we would have been learning about the topic Superheroes. Please see below for some suggested activities related to our topic.
Real life Superheroes
As you probably know, we have needed a lot of real life Superheroes to help us over the last few weeks and they will continue to do so until we can all get back to our normal lives.
Who could these real life Superheroes be?
Could you write about their special superhero powers and how they are helping people.
You may want to create a poster or card for them to say thank you. Click on the links below for some ideas.
One real life Superhero that has really inspired me recently is Captain Tom Moore. Captain Tom is a 99 year- old Second World War veteran who has raised Millions of pounds for our NHS by walking 100 laps of his garden. His aim was to complete the challenge before his 100th birthday on 30th April.
You may wish to research Captain Tom Moore and find out a little bit more about him. You may also wish to make Captain Tom a birthday card to celebrate becoming 100.
Phonics
The Department for Education have been working hard over the last couple of weeks to create videos to support 'Letters and Sounds' at home. Starting 27th April, the Department for education will be posting daily lessons via their channel. Please follow the link for more information about how their videos can support your Reception child at home with Phonics.
https://www.youtube.com/channel/UCP_FbjYUP_UtldV2K_-niWw/videos
You may also like to try this lovely activity at home. This activity is called the phonics Phone.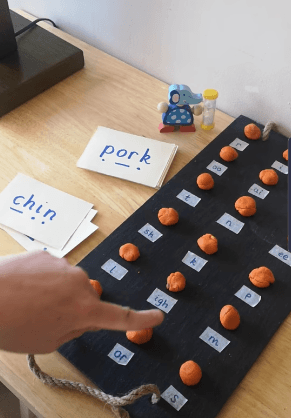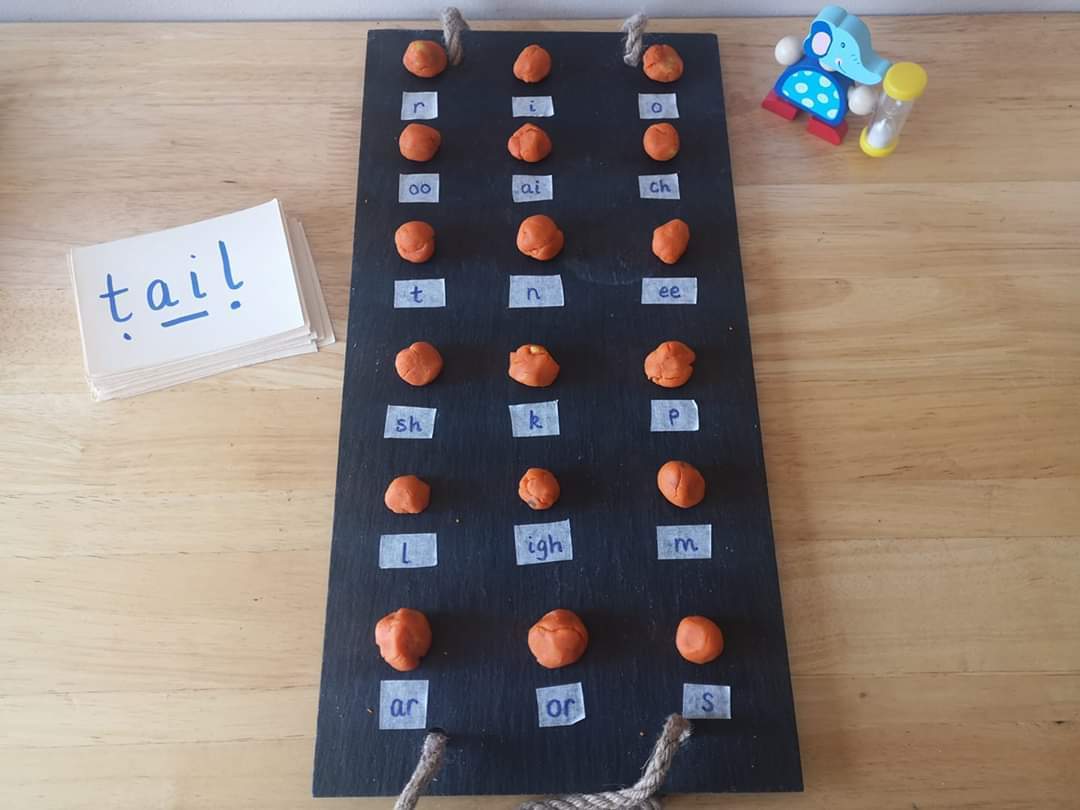 For this activity you can write some graphemes (letters that represent sounds) on small bits of masking tape and stick them on to a rectangular tray. You can roll up some playdough and stick them above the graphemes. These will act as buttons like on a phone and offer a real sensory experience when squishing them. Your child picks a card, presses the corresponding buttons, blends the sounds together to make the word and picks another card.
This activity is done using a timer.
How many words can you segment and blend in a minute?
Repeat and try and beat your score. Adapt the graphemes and words for age and phase.
Below are suggested word lists for each phase.
English
In English we would normally be looking at a new story together around our topic of Superheroes and we've found a video of someone reading it.
The story is called Supertato by Paul Linnet and Sue Hendra and can be found on YouTube by clicking on this link - Supertato
Try to watch the story once a day this week and try your best to join in with the reader. You may want to pretend to laugh like the evil pea!
Suggested Activities...
Read the story together and discuss the main events in the story. Can you retell the story in your own words?
Can you create your own Supertato inspired story by changing either

Characters in the story
The Setting
How the evil pea is captured? How else could Supertato catch the Evil pea?
The ending to the story

Can you write speech bubbles for the character's in the story?
You could create 'Wanted' posters for The Evil Pea and describe what he looks like and why he need to be caught!
Write about Supertato, describe what he looks like and why he is a good superhero.
Encourage children to talk and write about being a real life superhero.
You may want to create secret messages.
Remember to keep practicing your tricky words. Here is a fun way to practice reading them.
Mathematics
How did you get on with Miss Elias' challenge last week? Did you make 16 using every day objects at home?
This week, our number of the week would have been the number that is one more than 16?
Can you work out what our number of the week may be?
Why not try working with a grown up and using coins to make 17p.
You may want to begin by just using 1p coins.
You may then want to see if you can recognise the value of different coins.
Extra challenge - Can you make 17p using different coins?
If you manage to complete this challenge, you may want to visit the White Rose Maths website. They have lots of ideas for Supertato themed Maths activities to try at home. Click the link to find out more - https://whiterosemaths.com/homelearning/early-years/
Remember to keep practising counting. Why not try counting potatoes or peas and matching amounts to the correct number.
Come and See
This week we would have been exploring 'Good News' and sharing our 'Good News' with our friends in class.
I have some Good News to share with you all. As some of you may know I recently found out I was going to have a baby. Last week I found out we're going to be a having a Baby Boy! We are all so excited by the news.
Have you got any Good News to share?
Why not write a message to your family or friends and tell them your good news? It may be that you can now ride a bike for the first time without stabilisers or you may have had a visit from the tooth fairy. I'm sure they would love to hear your good news. They may even write back.
For more Come and See ideas click here
I hope you all really enjoy your learning this week and keep checking back on this page to see if there are any new messages.
Remember to keep washing your hands, stay at home and stay safe.
Lots of love,
Miss Strahan x