Reception Week Beginning 11th May
Hello everyone,
Please click the link below to enjoy a weekly Collective Worship with your family.
It's lovely to be able to contact you all both through our website and now through email. Over the next few days your teachers are sending emails to your parents. They are going to be able to email us all your work, pictures and photos. We cannot wait to see what you are all up to.
Parents: If you have not received an email by the end of the week please contact the school office. It maybe because we don't have an email address for you or the one we have is no longer working.
Also keep an eye on the school website for a very special video all the teachers have made for you. We are sure it will make you giggle. Perhaps you could make us one too and send it back to us?
Space
As you know our current topic is Space and last week Mrs Curran set you the challenge to find out all you could about the solar system. You may know that a very special space event is going to happen this week. A new comet, the Swan Comet has been spotted and we are going to be able to see it in our night sky this week.

The comet is passing Earth at a distance of 75 million miles and has a long, green tail of icy debris following it .The comet will make its closest approach to Earth on 13th May. You'll have a good opportunity to see it on the dates either side of that day, but for the very best view mark the 13th in your calendar. You can take a look at the comet's Twitter account to find out its whereabouts it is and how brightly it's shining. For a better look, you could always grab a pair of binoculars.
Expressive Art & Design
When I see pictures of the comet I always think a very famous painting. The painting is called The Starry Night by Vincent Van Gogh.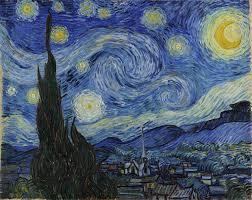 It's one of my favourites. I like the colours and the way the stars sweep across the night sky and how Van Gogh made them look like they are glowing. It is difficult to tell from the photo but Van Gogh used very thick paint and swirling brush strokes to create this effect.
Perhaps you could paint a starry night picture using blue and yellow paint and swirling brush strokes. You could make the picture in different ways. Finger paint lots of stars in the sky with different colours.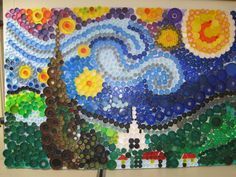 Draw the swirls with crayons and then wash over with a pale blue paint to create a different effect.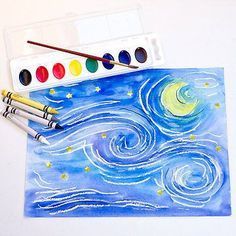 Or collage with shiny paper and stickers. Another collage method is to use small items like buttons.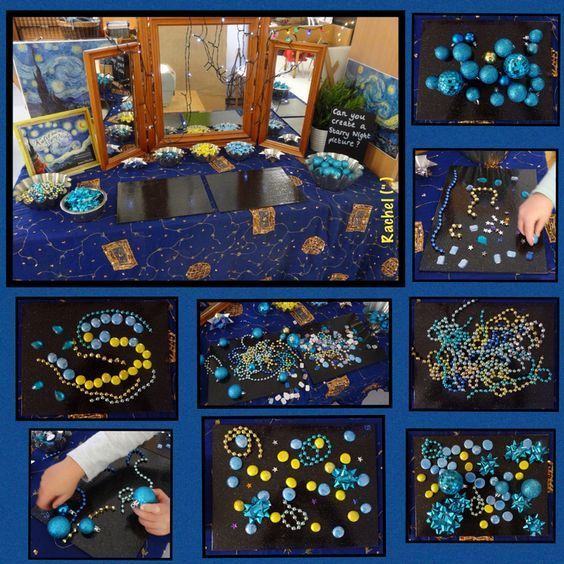 You can watch the Starry Night VR experience here
Fine Motor
If you have playdough at home or have the ingredients to make your own this link to 'spread the happiness' is great fun! https://www.youtube.com/channel/UCj0shfH3pzhrf3dOrSj_pRw/
Shonette will be live on YouTube 9:30 each morning streaming dough disco and squiggle wiggle activities to get your fingers moving.
Phonics
I hope you are all using all your phonics skills to help with you reading and writing. If you would like to do more phonics learning, you could ask a grown up to help you find some interesting lessons on the internet (The Department of Education are posting daily lessons to support 'Letters and Sounds'). All you need to do is follow this link:
https://www.youtube.com/channel/UCP_FbjYUP_UtldV2K_-niWw
Also, you can find lots of phonics games and ideas on the following website:
Remember to keep practising your handwriting too!
https://www.teachhandwriting.co.uk/cursive-letters-refiners-choice-3.html
There are also some very useful tips available on the teach writing website if you are finding handwriting tricky.
https://www.teachhandwriting.co.uk/overcoming-handwriting-difficulties.html
Literacy
I really hope you enjoyed reading the story 'Aliens love underpants' last week. There are lots more books about Space that you may also enjoy as a bedtime story. Some of my favourites include Beegu, Way back home, How to catch a star, Toys in Space and Whatever Next.
This week in English, we would have been learning all about story writing and having a go at writing our own Space story.
Please follow the link to an example of a short story about an alien who visits Earth.
Try learning the story off by heart and adding action, just like we do in class. I'm sure your grown ups will really enjoy creating some actions to help you remember the story.
Once you know the story really well, then you can have a go at changing parts of the story to create your own version.
Click on the link to see an example of a story plan.
You can create your own story plan using the planning circles template.
You may want to change the alien. Could you design your own alien and label it?
You may want to change where the alien goes. What other planets have you been learning about at home?
You may want to change who he meets. Could you be in your story?
You may want to change how the story ends. Is there a happy ending?
Having too many changes can become tricky, so start by just making one or two changes to the story.
Then it is time to practice learning your story off by heart again.
Finally, once you know your story really well, you can begin to write it down. Remember take it slow and do one section at a time. This may take you a few days to complete.
Click on the link to a story template or feel free make your own.
Maths
Our number this week is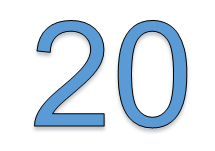 Can you write all the numbers up to 20 in the right order?
Can you write them backwards?
Ask your grown ups to write them too but miss some out for you to fill in.
Find 20 small objects (buttons, pennies etc) and match them to number cards.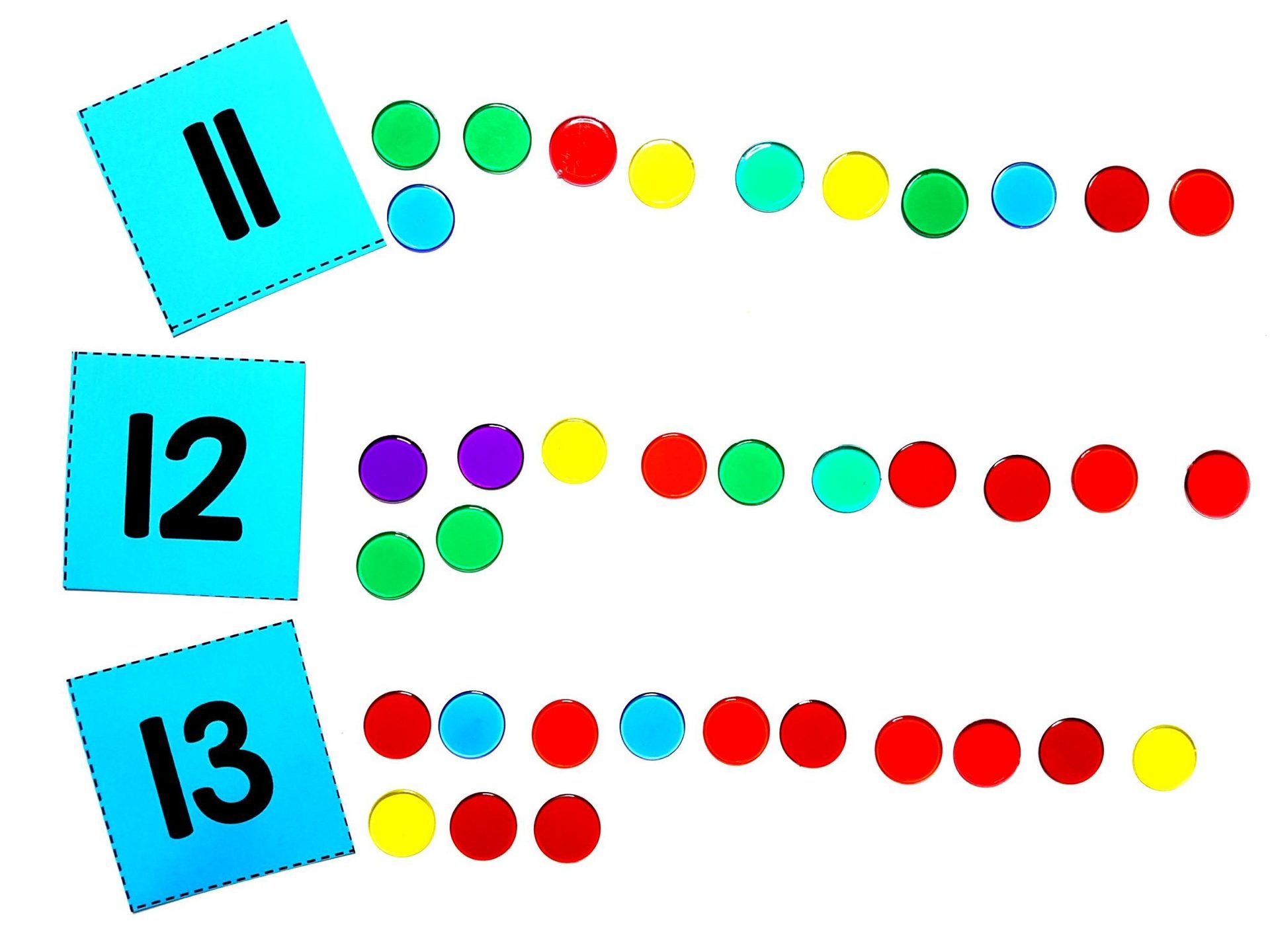 Make a set of number cards to 20. Shuffle them up and put them in the right order.
Make a number trail with number cards to 20 around your house. Can you find them in the right order?
Search on Youtube for 'Super Simple Songs'. They have lots of good number songs about 20.
Come and See
Remember
What do you remember about the story of Pentecost? Is there anything they wonder about? How do they and others feel when they have good news? Talk about the joy and happiness the good news brings. Ask what they wonder about Pentecost Day. Ask what they wonder about the Holy Spirit.
You may want to help your grown up to write an email to your class teacher to share any 'Good News' you have.
I am looking forward to hearing about all the lovely work you have been doing.
Love from,
Mrs Kerr x