Week Beginning 4th January 2021
Wednesday 6th January
Good morning, Nursery children and families.
We hope you are all safe and well after hearing the announcement made about schools. We were taken by surprise by the last minute decision and we are preparing for the weeks ahead.
In school we are currently working hard to fully launch our home learning. For the next few days we will post some practical activities on this page and next week (Monday 11th Jan) we will move to our topic planning which is Winter.
Today is a very special day for our Church family- it is the Feast of The Epiphany. Did you get a really special gift this Christmas? Something that you particularly liked or was very important to you? Remember, a special present doesn't have to be big or expensive; it may just be something you really wanted or like, or a gift from a special person.
On the 6th January each year Christians have a special festival called Epiphany. Epiphany celebrates the visit of the wise men to the baby Jesus. Just as the gifts that you received had a special meaning to you, so the wise men brought special gifts for Jesus.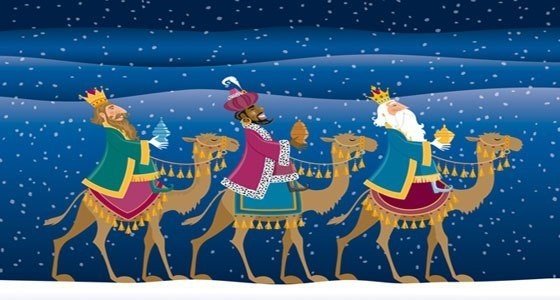 Can you remember that part of the Christmas story?
A long, long way away, there were some wise men. One night, they saw a very interesting star. So, the men decided to pack up their belongings, and follow the star to wherever it led them. The star led them to the town of Bethlehem in Israel. The star came to rest over the place where Jesus was, and the Wise Men brought expensive gifts for him and worshipped the new king. The gifts were gold, frankincense and myrrh.
Time for reflection- find a quiet space in your home with your family, perhaps next to your nativity scene if you have one. A grown up could light a candle like we do during our collective worships in school.
We will start our Winter topic next week but if you wanted to do some busy learning at home you could choose some of these ideas below.
| | | | | | | |
| --- | --- | --- | --- | --- | --- | --- |
| Bake a cake | Play I spy for colour or noises | Sort some of your toys by size | Make up a quiz | Paint pictures or paint with water outside | Pair your socks | Blow bubbles |
| Sing the alphabet song | Make up a story | Learn a dance on go noodle website | Count ten objects | Investigate which toys float and sink. Have a guess first! | Do a jigsaw | Play snap |
| Go on a shape hunt | Make some patterns | Spend some time playing outside every day | Set the table for dinner | Tell a story that you know | Make a shopping list | Play a game |
| Sort your toys by colour | Read something every day | Hide a toy for your family and play hotter and colder to try and find it. | Clean your bedroom | Draw your favourite animal | Make a model with recycling materials | Find something longer/shorter than you or a part of your body |
| Play with water. How many cups does it take to fill a pot? Which holds the most/least? | Do some colouring in | Go on a Winter walk. Collect five leaves | Make your bed | Plant some seeds | Pick up five toys and put them away | Build a den |
| Cut something out | Practise putting on and taking off your coat. | Make play dough by following a recipe online | Learn to do zips or buttons. | Make some sets of different numbers, 5 toys, 3 tins of soup etc | Practise reading your name | Listen to some noises outside. What can you hear? |
Stay safe, healthy and happy and we look forward to all being together again.
Love from all the Nursery staff x