Week Beginning 11th January 2021
Monday 11th January 2021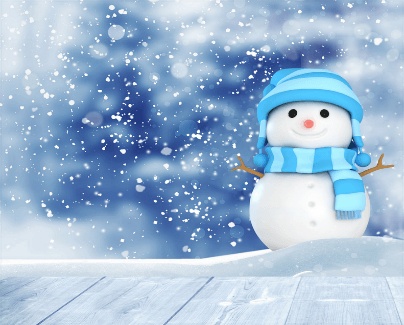 Dear Parents and children
We hope you had a good first week of lockdown and you are all staying safe and happy.
You must have been very excited to see some snow and ice last week, which was ideal for our Winter topic learning.
Hopefully you found the ideas for home learning we put up last week useful.
Next week we are hoping to send the home learning through the seesaw app. We will send you an email inviting you to join seesaw so please look out for this email.
Here are some more Winter topic activities to keep you busy and learning if you are able to. We understand that families are dealing with lots of pressures at the moment and the main thing is for you all to stay safe.
Come and See
Our topic at the moment is Celebrating and this week we are looking at the REVEAL part of the topic,
"How does the parish family celebrate?"
Talk about the church, the school and all the families you know at school and church. We all are part of a parish family.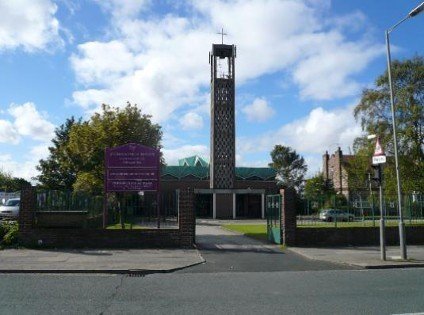 Do you know the name of our church? You might like to go for a walk there.
Draw a picture of your own school family.
Can you draw your friends and teachers?
Winter in your Garden
Talk about what happens during the season of Winter. (Bare branches, no sign yet of animals who are still hibernating, the weather is colder, we wear warm clothes)
What signs of Winter do you see?
We see frost and patterns in the frost. Sometimes it snows. We can see our breath in the cold air. We have less daylight time. The mornings are dark and evenings too.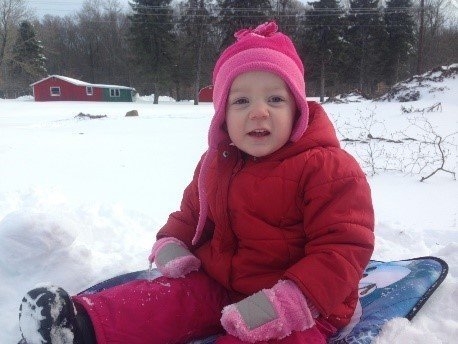 You could continue to practise putting your coat and shoes on and off by yourself. Attempt to put on gloves, hats and scarves with growing independence. You could also practise getting dressed and undressed with only a little help from your special adult.



God bless and we hope to be back together soon.
From all the Nursery Staff
xxx
Tuesday 12th January
Hello Nursery children and families,
This week CBBC are delivering lessons more suited to older children whilst schools have moved to remote learning.
CBeebies has a wide range of programmes aimed at the younger age group which will promote talking, reading, maths skills and knowledge about the world around them. If you are finding it difficult to access the online learning at certain times of the day or don't have access to the internet, this could be useful when needed. We appreciate that families might not be able to engage with the online activities we send. The most important thing right now is to stay safe.
Winter Topic
Share a Winter story
As well as using a story from your own book collection there are many great Winter stories available on YouTube. Suggestions include…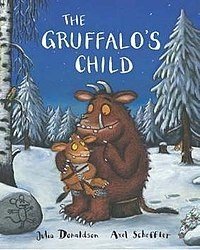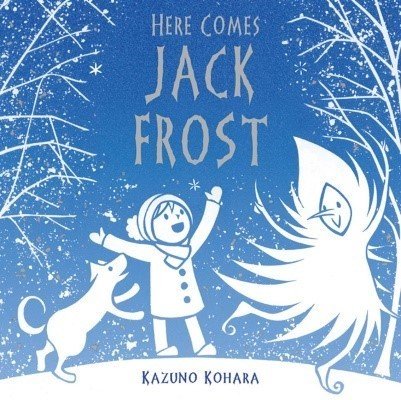 One Snowy Night read by Nick Butterworth
The Gruffalo's Child (Winter adventure)
Cuddly Dudley
Little Robin Red Vest
Discuss the Winter story you have shared.
What is your favourite part?
Who is your favourite person or animal in the story?
Can you try to retell the story just by looking at the pictures?
In addition to this you could have lots of fun learning nursery rhymes, please learn by heart as many as you can.
Do some Winter maths!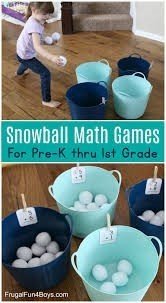 Make some snowballs out of scrunched up newspaper or balled socks.
Can you count them and throw them at the same time?
Count 5, 8 or 10 snowballs and see if you can throw them into a box or if you can play catch with someone at home.
You could throw them into 2 boxes or baskets, which one has the most snowballs?
Have fun at home, be sensible and helpful.
We will be in touch again tomorrow.
Love from all the Nursery teachers x
Wednesday 13th January
Come and See
REVEAL: How the parish family celebrate
Talk about how we can celebrate in church.
Have you have been to a Baptism, Christmas Mass or a Wedding?
We are part of the parish (church) family. Sometimes the parish family celebrates in church, sometimes outside church.
Talk about the pictures here that show us how the parish (church) family celebrates.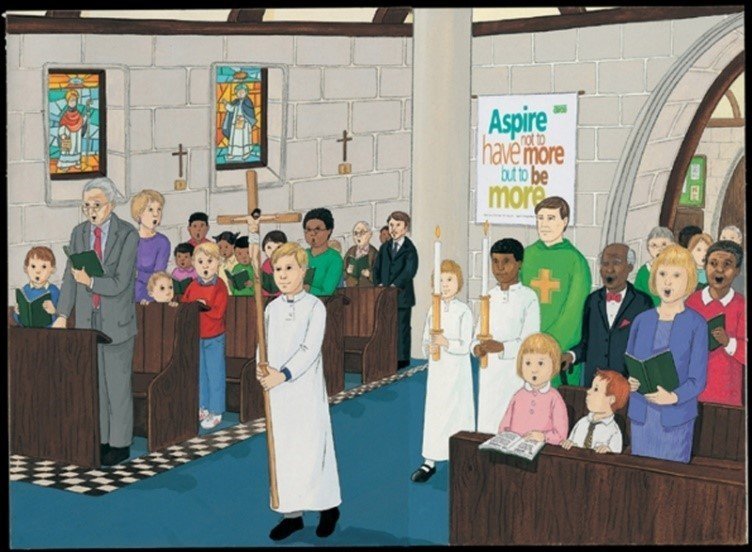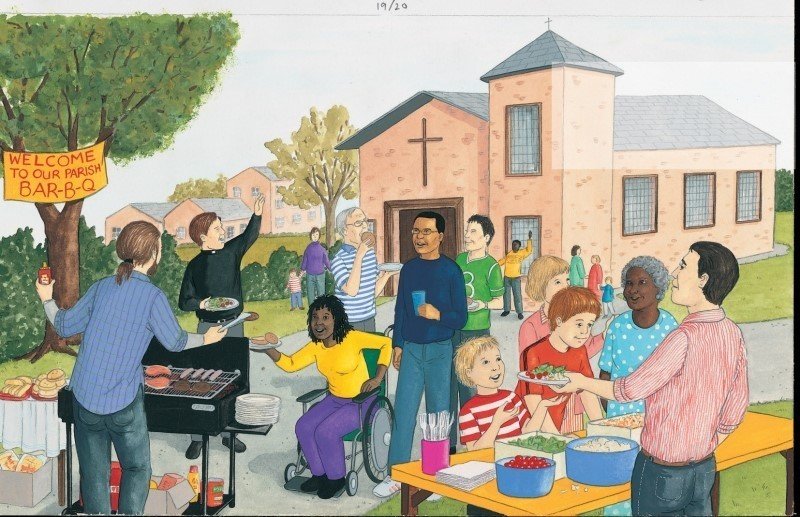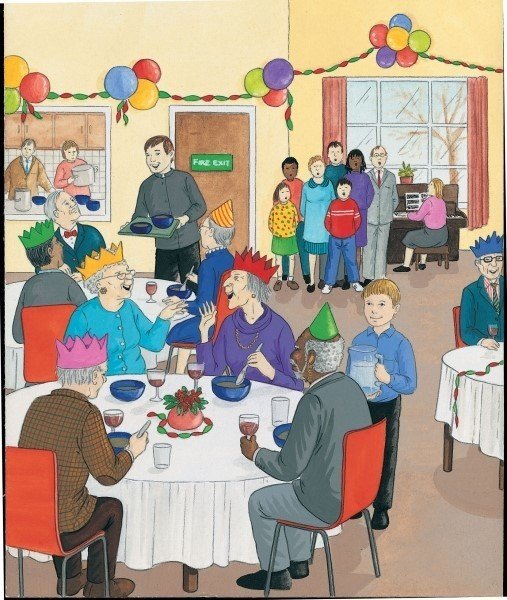 Who are the people in the pictures? What are they doing?
See if you can spot …the priest, crucifix, benches, hymn books, stained glass windows, baptismal font, altar, lectern and the notice board.
Knowledge and Understanding of the World
Snow and Ice
Talk about what ice feels like. If you have cubes of ice could you put them in different places around your house? (By a radiator, in the fridge, on the doorstep, on the kitchen table, in the garden?) Which do you think will melt first? Do you know why?
Can you tell one of your family members what you know about Winter?
Last week some of the children in school helped Mrs Palmer and Mrs Porter to make nature ice artwork. They gathered some twigs and leaves then added water and put it in the freezer.
This is what Mrs Codack found when she came into work today.
Have a go at making some nature ice sculptures at home. You might be able to leave them outside to see if they freeze overnight.
Don't forget to email your pictures to show the teachers.
Take care everyone and we'll post more activities tomorrow.
Love from the Nursery staff xxx
Thursday 14th January 2021 – WINTER
Good morning nursery children. Today we are going to think about the types of clothes that are needed in winter time and try to get our bodies moving in a PE activity.
First, can we sing our morning prayer?
Good morning, Lord, we praise your Holy name and thank you for giving us this lovely new day. (repeat) Amen.
Maths/Knowledge and understanding of the world:
Discuss with your grown up – what types of clothes should we wear in the winter time and why? What types of clothes are unsuitable for winter and why?
Why not look in your wardrobe or house for items such as: shorts, scarf, sandals, raincoat, vest top, swimming trucks, wellington boots, woolly hat, sun hat, gloves, t-shirt and socks. (Or print out or ask a grown up to draw the items for the sorting activity).
You could sort them into winter and summer clothes – but so you wear some of the clothes in winter and summer – i.e. socks, underwear, t-shirt (under a jumper) etc.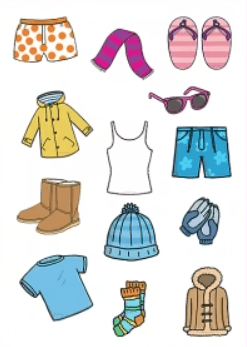 English:
Can you draw a picture of yourself dressed for a Winters day and a Summers day?
PE:
Can you follow the instructions on the video?
https://www.youtube.com/watch?v=txy5xmtrTrs
Let's see if your whole family can get moving to warm up on a cold day!
Lots of love to you all and we'll post more activities for Friday.
From the Nursery staff xxx
Friday 15th January 2021 – WINTER
Good morning nursery children. Today we are going to think about our RE topic of celebrating, then we will play a listening game and last of all an art activity.
First, let's sing our morning prayer:
Good morning, Lord, we praise your Holy name and thank you for giving us this lovely new day. (repeat)
Can you show your family how we make the sign of the cross?
From my head, to my heart, from my shoulder to my shoulder, I belong to God.
RE Mary and Joseph take Jesus to the Temple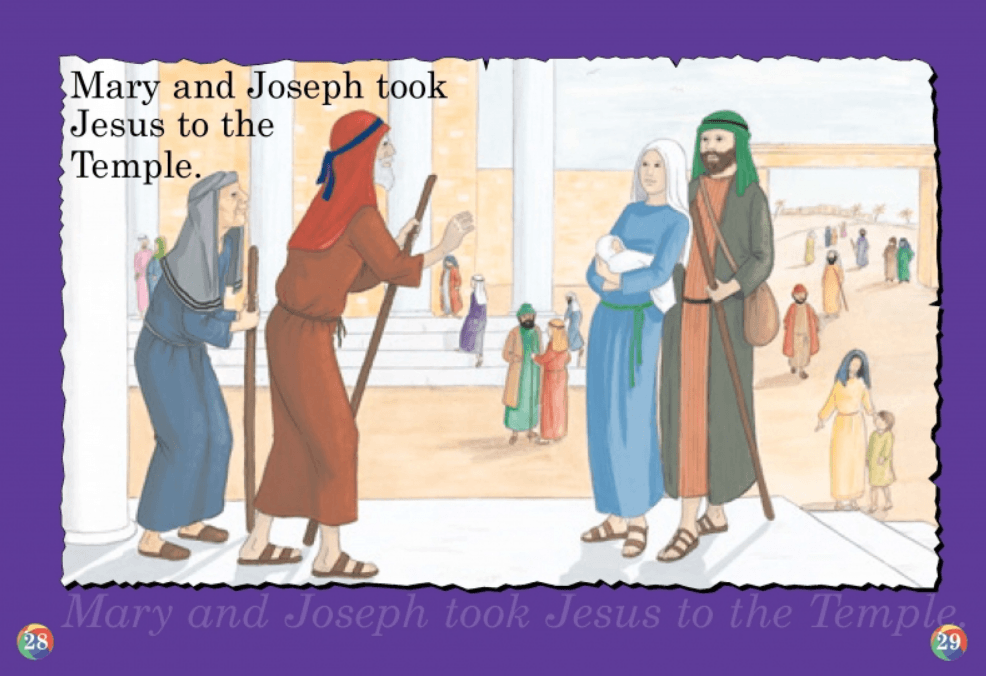 Mary and Joseph took Jesus to the Temple. He was their baby boy and they wanted to thank God for him. At the Temple they met Simeon and Anna who were both old and had been going to the Temple to pray for many years. They were very happy to see Jesus and thanked God for him.
What do you see in the picture?

Why did Mary and Joseph take Jesus to the Temple?

Who were the people that they met?

Why did Simeon and Anna go to the Temple?
Activity – Make some puppets or use your teddy bears to play the characters in the story and re-enact the story.
Listening and attention – Letters and sounds phase 1:
Remember how to be a good listener: Good sitting – sitting still, lips closed, listening ears on and brains switched on to think about the sounds you will hear. Can you guess the sound before the picture is revealed? Watch the video in the link below.
https://www.youtube.com/watch?v=iuYnkMLJ-O4
Art and design
Can you design your own Winter accessories?
Talk to a grown up about your design: i.e. choice of colour/drawing/pattern and why.
Nest week our home learning will be via the online Seesaw app/web page – please ensure you have a code personal to your child so that they can access the activities.
Send an email to your class teacher if you are unsure and we will try our best to help.
We hope that you have a lovely weekend
Bye for now
From your Nursery teachers.