Nursery Week Beginning 11th May
Week beginning 11th May 2020
Hello Nursery children,
Please click the link below to enjoy a weekly Collective Worship with your family.
We hope that you enjoyed your VE Day celebrations last week. This week's theme is Fire Fighters – People who help us.
RE – Good News
Respond: Ask your child if there is anything they wonder about
Ask about how they and others feel when they have good news.
Talk about the joy and happiness the Good News brings.
Ask what they wonder about Pentecost Day.
Ask what they wonder about the Holy Spirit.
Rejoice: Sing and dance to: https://www.youtube.com/watch?v=9cZcJMOQdCU
Renew: Make a card with 'The Holy Spirit is our friend' for a member of your family or a neighbour to share the Good News of Jesus with others.
Writing:
Can you verbally label some parts of the fire engine? e. wheel, ladder, lights, window, flashing light, siren
Can you hear and say the first of each of those words?
Can you draw your own fire engine/fire fighter picture and talk about it as you draw?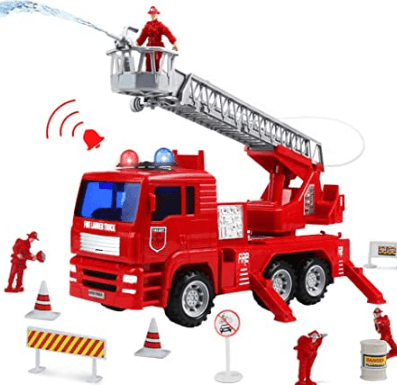 Mathematics:
Fire fighter number search and rescue!
Ask a grown up to hide some numbers (1-5 or 1-10) in your garden/home then crawl through the 'pretend smoke filled room' to rescue the numbers – take them to a safe place and with the help of a number line put them in the correct order.

Knowledge and Understanding of the world
CBeebies – Watch the video to learn how fire fighters put out fires. https://www.youtube.com/watch?v=syWonYeJOQU
Expressive arts and design:
Role Play:
Using chalks – draw a pretend fire on your fence or the ground or in the bath/shower. Then, using a hosepipe – trace around the fire picture to put your fire out. If you haven't got a hosepipe you could use a water bottle and keep refilling until the fire is out! Alternatively, you could draw a smaller fire in a bowl, or on a baking sheet and use a spray water bottle to put the fire out.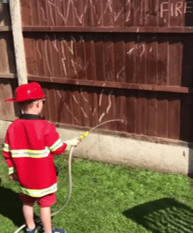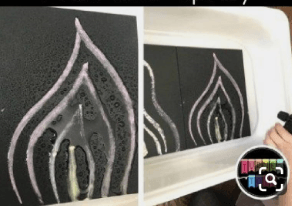 Reading:
Do you have a book about a fire fighter? If so, ask your grown up to read it to. If you don't have one, listen to this online story – can you copy the sounds heard in this story? Once you have heard the story, talk about it with your grown up. https://www.youtube.com/watch?v=4aO-QdtdlAE
We hope that you continue to have lots of fun at home. We are missing you terribly and we look forward to the day when we will see you again.
In the meantime, keep washing your hands, especially before you eat.
God bless you and your family.
Love from the Nursery Team.