Enter text...Youth Sport Trust has lots of different ideas for fun activities you can do at home. Follow this link and you can watch the videos to show you how to complete the activities.

https://www.youthsporttrust.org/pe-home-learning
Reception and Nursery Children - Moovlee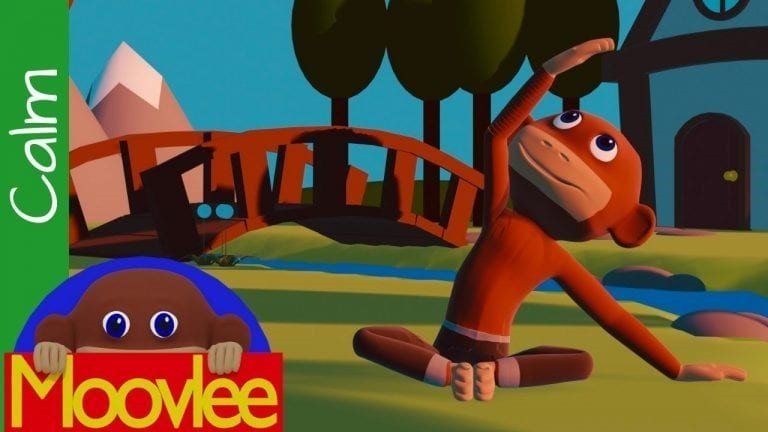 Get fit with a little monkey business! Moovelee is an animated monkey that leads 4-10 minutes workout videos for kids ages 3-5. With a focus on meditation, yoga, and cardio, Moovelee will get your kids moving.
At St Margaret Mary's Infants we are committed to provide quality P.E. teaching across the school. Children are given the chance to play a range of different sports in our lunchtime and after school clubs. We work closely with LSC (Little Sports Coaching) who deliver a wide range of extra curricular clubs. If you wish your child to attend one of these clubs please follow the link below to book them in.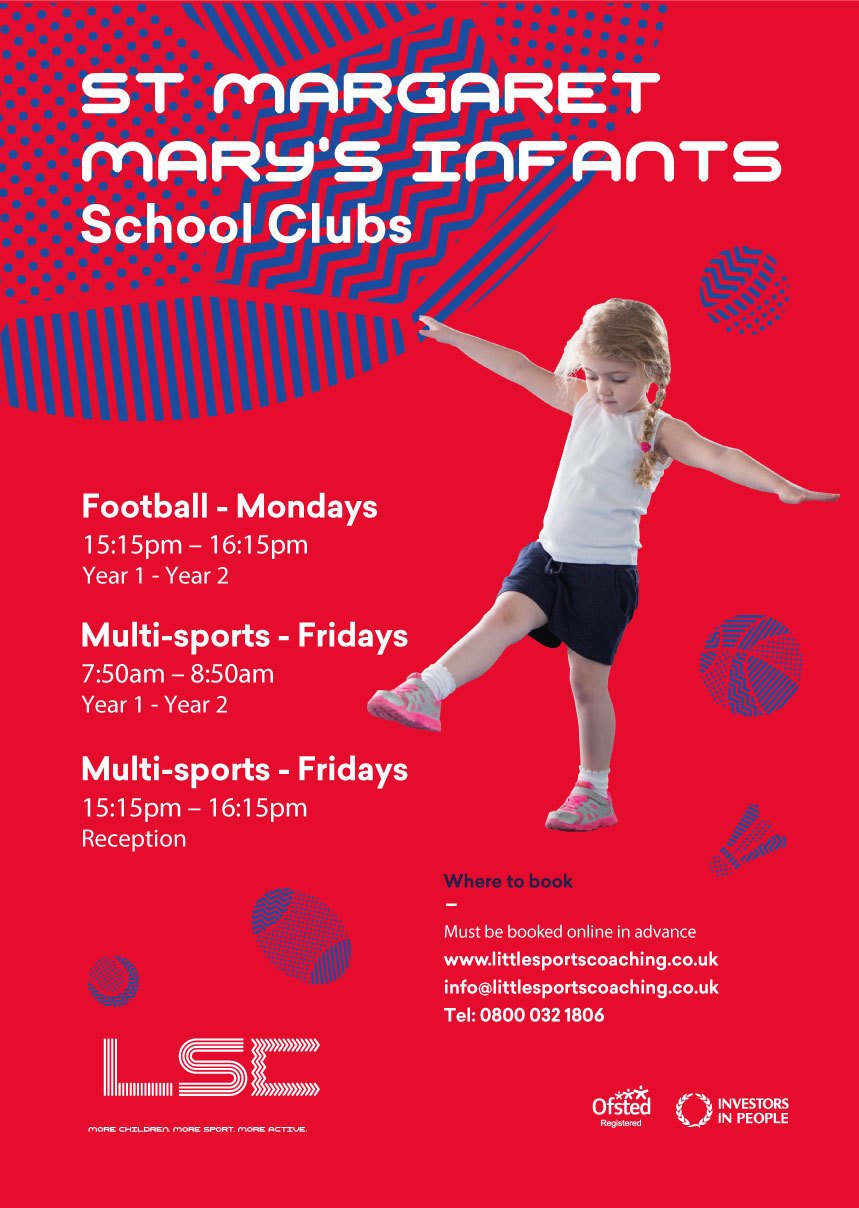 LSC Breakfast Club & After School Clubs at St Margaret Mary's Infant School
What's involved?
Multi Sports: A Multi-Sports programme which includes a wide variety of sports and activities.
Sports such as cricket, dodgeball, hockey, tennis, basketball, tag-rugby, frisbee, tri-golf and many more.
Children will be introduced to and coached in 1 or 2 sports each week, dependant on the duration of the club. All sessions include a FUN warm-up, fun games, skills and small sided matches. These sessions are perfect for a child new to sports but also caters for the experienced sports enthusiast.
Football: Our football sessions are based on the Mini Soccer philosophy, a scaled down version of association football, smaller pitches and fewer players.
Why small sided? A very simple answer – small sided games mean more football and more involvement in the game. It maximises involvement in real football situations. More goals, shots, saves, passes, dribbles, tricks and tackles.
It makes it easier for coaches to observe where players are in their development. All players attack and defend in a game rather than being stuck in one position. More freedom to explore the game and ultimately MORE FUN!
Key Facts
• Children come straight from class (if after school or lunchtime)
• Coaches will be responsible for the children from the end of school until parent/guardian collects
• 1, 1.5 or 2 hour sessions (dependant on school)
• Split into age/ability groups
• Maximum participation at every session
• Olympian of the week awards
• All sessions led by fully qualified coaches
• Age appropriate equipment
• Children work within our specifically designed curriculum
Book now: www.littlesportscoaching.co.uk
Key Stage One
Pupils are taught to:
•master basic movements (on both the dominant and non dominant side of the body) including running, jumping, throwing and catching, as well as developing balance, agility and co-ordination, and begin to apply these in a range of activities
•participate in team games, developing simple tactics for attacking and defending
•perform dances using simple movement patterns.
INTENT
At St Margaret Mary's Catholic Infant School, we want children to enjoy and be excited by P.E, so that they may continue to enjoy physical exercise into their adult like. Exploring many different skills and building their knowledge of dance, gymnastics and games.
IMPLEMENTATION
Children are taught to develop fundamental movement skills, become increasingly competent and confident and access a broad range of opportunities to extend their agility, balance and coordination, individually and with others. They are given the opportunity to engage in competitive (both against self and against others) and co-operative physical activities, in a range of increasingly challenging situations.
Lessons are taught by class teachers and specialist providers to ensure that the children receive a wide experience of dance, gymnastics and games. Through this balance, they are able to build their knowledge and skills.
IMPACT
Children will leave our school, ready for the PE curriculum in the juniors school. They will enjoy P.E. lessons and be able to demonstrate a range of knowledge and skills at 'Age Related Expectations.'
Here is a link to the PE National Curriculum.
P.E. News
Aldi Kits for School

This term we're collecting Team GB stickers with Aldi's Kit for Schools for the chance to be one of 20 primary schools to win £20,000 to build a health legacy at our school!

From 6 September–3 November, when you spend £30 or more in any Aldi store, you'll receive a special Team GB sticker – if our school works together to collect 300 stickers, we will automatically receive an exclusive school sports kit, in addition to entry into the £20,000 prize draw!

Please send any stickers you receive into school with your children, or bring them in yourself, and we will add them to our Aldi's Kit for Schools sticker poster.

The Aldi's Kit for Schools campaign supports the aims of Get Set to Eat Fresh, Aldi and Team GB's award-winning school's programme, which has already beaten its target to reach 1.2 million young people in the UK by 2020, reaching over 1.5 million young people since its inception.

We hope everyone will enjoy collecting Team GB stickers and exploring healthy eating this term. Remember, Aldi's Kit for Schools Team GB stickers are available until 3 November when shopping in any Aldi store. We will keep everyone up to date with how many stickers we have collected, and how many we have to go!

If you want to find out more about Aldi's Kit for Schools you can visit getseteatfresh.co.uk/kitforschools, or get in touch with the school for more information on our plans.

Thank you for your support on this project – we filled 3 posters and look forward to receiving our kits from ALDI
Please find our PE curriculum map below.